While traffic laws and penalties are the same for personal automobile accidents and commercial automobile accidents, there are some important differences to keep in mind if you are involved in an accident with a driver of a commercial vehicle. People often worry that if they are in a traffic accident with someone who is driving a commercial vehicle, they won't stand a chance in court because the company has more money and assets. The law applies the same to a business as it does a "regular person." Commercial vehicles raise several different challenges to consider if you are ever in a commercial auto accident and how you ultimately handle the situation.
Commercial vehicles raise several different challenges to consider if you are ever in a commercial auto accident and how you ultimately handle the situation.
The primary difference between a regular automobile accident and a commercial automobile accident is that larger corporations often carry a higher self-insured limit. This means companies must come out of pocket up to a certain amount before their insurance company will step in the pay a claim. Limits can be as high as $1 million or more depending on the size of the corporation. Therefore, if they are found responsible for the accident, the money to compensate for damages comes out of the company's own pockets—not out from their insurance policy. This can make a case harder to settle because there's a direct impact on that company's bottom line. Reaching a fair settlement can be difficult because it could potentially impact that company's ability to do business.
The attorneys at Frenkel & Frenkel understand challenges like these and offer important information to keep in mind if you are involved in any type of commercial auto accident. What's a commercial vehicle? In addition to 18 wheelers, think large travel buses, Uber or Lyft drivers, Amazon vehicles, delivery vehicles, or work trucks owned by a company. They make up a large variety of commercial vehicles in which an infraction might need specialized law experience, particularly regarding Federal Motor Carrier Safety Regulations. An experienced personal injury lawyer can provide clients with an edge by using FMCSR knowledge in depositions, especially against the safety directors of commercial transport companies, as well as have access to accident reconstructionists in cases where the trial goes to court.
Driver vs. Company Liability
Sometimes, it's not clear whether a company is liable, a driver is liable, who the driver actually works for, or who owns the commercial vehicle. However, the general rule for this is that an employer will be liable for negligent acts that are committed by its employees within course and scope of employment. This means that if the driver was acting in a negligent manner and did not cause the vehicle crash intentionally, the employer or company can be held responsible for a traffic accident caused by a driver. This is not only viewed as a cost of doing business, but companies generally have more money than employees, giving them more opportunity to defend and protect themselves and thus, be held accountable.
Auto Accidents with a Government Vehicle
Incidents that involve government vehicles including state, county, and other municipalities may have a notice requirement that can shorten the statute of limitations to make claims (about 30 to 180 days). If you are involved in a crash with a government vehicle, it is important you contact an attorney immediately to serve proper notice of the claim to the correct entity. These government vehicles also may have limitations on the amount of liability coverage that you can pursue for a recovery. Government vehicles can include accidents with ambulances, police cars, firetrucks, and mail trucks, among other government vehicles.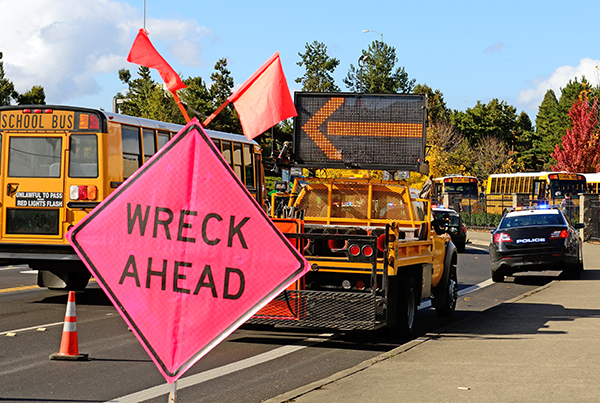 Trucking Accidents
Dallas-Fort Worth is a major north-south and east-west crossroads for 18-wheeler and tractor-trailer traffic. The effects of any miscalculation on the part of a truck driver are greatly magnified because of the sheer weight and volume of the loaded vehicle. Accidents involving 18-wheelesr and tractor-trailers require a specialized knowledge in federal and state laws that drivers must abide by. A personal injury lawyer will work on behalf of the injured victims to uncover the true causes of a wreck, get a clear picture of the nature of the injuries, and present a case for full and fair compensation. Issues to explore include:
A trucking company neglecting to provide drivers with safety training
A truck driver using a cell phone at the time of a wreck
A driver on the road for more hours than is legally allowed in an attempt to meet delivery schedules
A trucker speeding or changing lanes without signaling
A truck driver failing to adjust speed to account for potentially hazardous road conditions, such as rain or construction
A truck driver under the influence of legal or illegal drugs at the time of the accident
Drivers from the U.S., Mexico or Canada who are underqualified
Trucks not properly inspected
Seek the legal counsel of an experienced personal injury attorney with proven results in defending victims of commercial auto accidents involving negligence.
Bus Accidents
Bus accidents are unique since some buses are operated by government entities and some by private companies. Knowing if the bus is a government entity versus a private company is extremely important, as filing these claims is much more complex than filing a regular insurance claim. There are several factors that need to be investigated as to whether the bus driver and company or government entity contributed to the accident:
Was the bus driver properly trained or screened for employment?
Was the bus driver fatigued?
Was the bus driver under the influence?
Was the bus poorly maintained?
Was the bus overloaded or improperly loaded?
When is a business responsible for a car accident?
If the vehicle is being driven by an employee of the business who is on the job or on the clock, that business is responsible because they own the vehicle and because they're responsible for the actions of their employees. Some exceptions, such as the employee not being on the clock or not acting with the course of scope of their employment, can apply.
Next Steps
When you are on the scene of the accident and if possible, find out if the person that hit you was on the job, who his or her employer is, and who owns the vehicle. This will aid law enforcement when they arrive at the scene. Preserve as much evidence as possible in case the commercial vehicle wasn't properly maintained by the business owner. Next, seek medical attention—even if you feel fine at first. Some injuries aren't apparent right away. You may need these medical records when filing a claim. Finally, seek the legal counsel of an experienced personal injury attorney with proven results in defending victims of commercial auto accidents involving negligence.
Connect with a lawyer at Frenkel & Frenkel here. 
Signup for D Exclusive
Get partner offers, discounts, and more delivered right to your inbox each week.