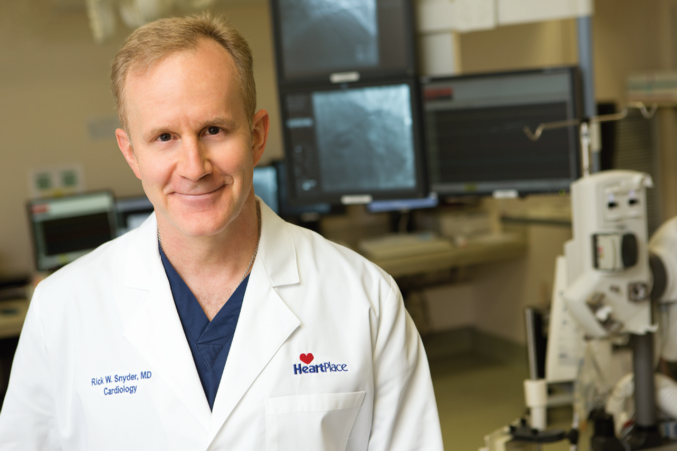 How Can I Keep My Heart Healthy and Prevent Heart Failure?
What are the common causes of heart failure? How can we prevent it and treat it? Dr. Rick Snyder explains.
By D Partner Studio
Published in Sponsored
January 28, 2019
3:38 pm
This article was published on April 10, 2019.
What is heart failure? What are the major heart failure symptoms, and are there any underlying causes or risk factors?
Heart failure is a very broad term that really means that the heart doesn't deliver blood well to the rest of the body. It is an endemic worldwide disease and the only cardiovascular disorder that is increasing, affecting two percent of western populations. Current numbers show that 5.1 million Americans over age 20 have heart failure, and more than 650,000 new cases are diagnosed annually. There are two types of heart failure: weakness of the heart, or systolic heart failure, and stiffness of the heart, or diastolic heart failure. Symptoms of heart failure are the same with both entities–swelling in the legs or abdomen, shortness of breath, and fatigue–but their treatment options are very different. Heart failure often develops after other conditions have damaged or weakened your heart, causing cardiomyopathy. The most common risk factors for developing heart failure include high blood pressure, obesity, diabetes, a heart attack, a faulty heart valve, and a virus. Other causes include excessive chronic alcohol abuse, some cancer chemotherapies, a family history of heart failure, and congenital heart defects.
How is heart failure generally treated?
There are different treatment options for heart failure patients, depending upon the type of heart failure. There are more treatments for the weak systolic heart failure than the stiff diastolic heart failure. For the weak systolic heart failure, standard therapy involves powerful generic oral medications which have extensive data demonstrating their ability to help patients live longer, stay out of the hospital, and feel better. These medications include beta blockers, ACE (angiotensin-converting enzyme) inhibitors, and aldosterone antagonists. In the last few years, a new blockbuster drug, Entresto, was FDA approved based upon dramatic data showing benefit.
Implantable devices are also now considered standard therapy for their ability to improve survival for some of the more serious forms of weak heart failure. Many patients have an Implantable Cardioverter Defibrillator (ICD) to prevent sudden death from a serious heart arrhythmia, which can happen in a very weak heart muscle. Sometimes, for certain qualifying patients, this ICD device is also a pacemaker called a BiV-ICD, which can pace both the left and right ventricles in a way that can strengthen the heart muscle, reversing the damage to varying degrees. This not only makes the patient live longer but also feel much better. I have seen instances where a very weak heart, over a span of just a few months, becomes normal in its ability to pump blood.
For both categories of heart failure, lifestyle changes and risk factor management can dramatically improve the outlook for patients. Diet and exercise are essential to alleviating heart failure symptoms. I especially encourage my patients to lose weight and avoid weight gain. If a weak heart must supply blood flow to an additional 50 to 60 pounds, it puts that much more additional stress on an already poorly functioning circulatory system. It is like putting the engine of a Mini-Cooper in an F250 chassis. Excessive weight can also lead to sleep apnea which worsens heart failure. Blood pressure and cholesterol control are also important in preventing and treating heart failure. Lifestyle changes can vastly lower risk factors and improve quality of life for those already diagnosed with heart failure.
The most common risk factors for developing heart failure include high blood pressure, obesity, diabetes, a heart attack, a faulty heart valve, and a virus. Other causes include excessive chronic alcohol abuse, some cancer chemotherapies, a family history of heart failure, and congenital heart defects.
When should I see an advanced heart failure specialist?
Most forms of heart failure are managed by internists and general cardiologists. However, the natural history of heart failure is frequently progressive, even when the patient is optimally managed medically. If the disease advances to the most serious stages as defined as when the patient no longer responds well to medical therapy and device therapy, which occurs about 10 percent of the time, that is where advanced heart failure specialists step in.
What are advanced heart failure therapies, and when should they be used?
Advanced heart failure therapies include research protocols, IV infusions, or in rare circumstances, transplantation or mechanical circulatory support, known as an LVAD (left ventricular assist device). However, when I see a patient for the first time for consideration of advanced heart failure treatment options, my first task is to make sure their standard therapy options have been truly optimized. Frequently, I find some of the correct heart failure medications are not used or in the right doses. I try to optimize these powerful medical options first. Next, I make sure the right standard device therapies are used, such as BiV-ICD, and that their settings have been optimized.
Only after I have convinced myself that the patient is truly refractory to optimal standard medical, device, and surgical therapies do I begin an evaluation for advanced heart failure therapies. Of these, the gold standard is a heart transplant. Generally, candidates for a transplant include younger patients (under the age of 70) who are less sick and have good family and financial support. If a patient does not qualify for a transplant and they have heart failure due to a weak heart, they are next considered for an LVAD (left ventricular assist device). An LVAD is a mechanical pump that is implanted in the chest which assists the left ventricle, the main pumping chamber of the heart. A driveline exits the abdomen connecting the pump to a controller and changeable batteries powering the pump, which typically sit in a vest. The pump helps the patients feel better, live longer, and perform many normal activities of daily living. One of my LVAD patients lived eight years of good quality life with his LVAD.  Many people may be aware of the LVAD due to former vice president Dick Cheney's implant several years ago when he went on tour and did a lot of show and tell.
For patients who do not qualify for a transplant or LVAD, we offer continuous home intravenous milrinone infusion therapy to help them feel better. I have had several patients on this form of therapy for more than five years.
About the Expert:
Rick Snyder, M.D., is board certified in cardiovascular disease, interventional cardiology, and advanced heart failure and transplant cardiology. He has practiced at Medical City Dallas with HeartPlace since 1996. He is a past president of Medical City Dallas Hospital, the Dallas County Medical Society and the Texas Chapter of the American College of Cardiology. He authored the heart failure review article for the physician members of the Dallas County Medical Society in the Dallas Medical Journal in 2018: " When Failure Is Not An Option".  He currently serves on the Dallas County Health and Human Services Public Health Advisory Committee, Texas Medical Association Board of Trustees and as president of HeartPlace. Dr. Snyder has been listed as a Best Doctor in D Magazine for 13 years. He was also recognized as the 2017 Outstanding Healthcare Practitioner by D CEO's Excellence in Healthcare Awards. Dr. Snyder sees patients at the HeartPlace Dallas office: 972.566. 5700.