A VIP Experience at Uptown's Gem, The Capital Grille
Specializing in creating memorable events from birthdays, to anniversaries, to closing the big deal, let The Capital Grille be your next dining and celebration destination.
By The Capital Grille
Published in Sponsored
December 18, 2018
4:06 pm
Specializing in creating memorable events from birthdays, to anniversaries, to closing the big deal, let The Capital Grille be your next dining and celebration destination.
The Capital Grille prides itself in not only providing the best steaks in Uptown, but building relationships at the same time.
The Chef
Executive Chef Partner JP Dacio is a California transplant with a classically trained background in culinary arts and passion for Filipino/American flair which can be seen in some of his off menu specials and wine tasting dinners.  Chef Dacio oversees perfect center of the plate executions of all dishes The Capital Grille offers.  His support in ensuring quality creations is his tenured kitchen team, some of which have been cooking at The Capital Grille Uptown location since its genesis in 1998.  Most recently The Capital Grille partnered with Hudson Vineyards and Bryant Family Vineyards, with Chef Dacio and team creating an amazing 6 course food and wine tasting menu.
The Food
With The Capital Grille's in house butcher you can get the steak of your dreams, literally. The Capital Grille specializes in dry aged steaks that are aged in house for 18-24 days, and even longer upon request. But unlike other high end Uptown steakhouses, The Capital Grille takes prides in providing the best value for specialty and dry aged steaks in town.  Their 16 oz bone in filet, 40 oz. prime tomahawk ribeye and 20 oz bone in wagyu New York strip all come under $100.  For the seafood lovers out there, the grand plateau is a sight to see.  Oysters, lobster, and shrimp and jumbo lump crab decorate this double decker seafood platter that we dare you to finish.
The Atmosphere
With a private club atmosphere, accented by rich mahogany wood, you get the cozy home feel. Carefully placed throughout the restaurant, you will see classic art displayed of prominent Dallas philanthropists that are always a conversation starter.  Beautiful lighting shines from the chandeliers, live action on display from the exhibition kitchen, and clocks of all the major financial capitals of the world all add to the experience.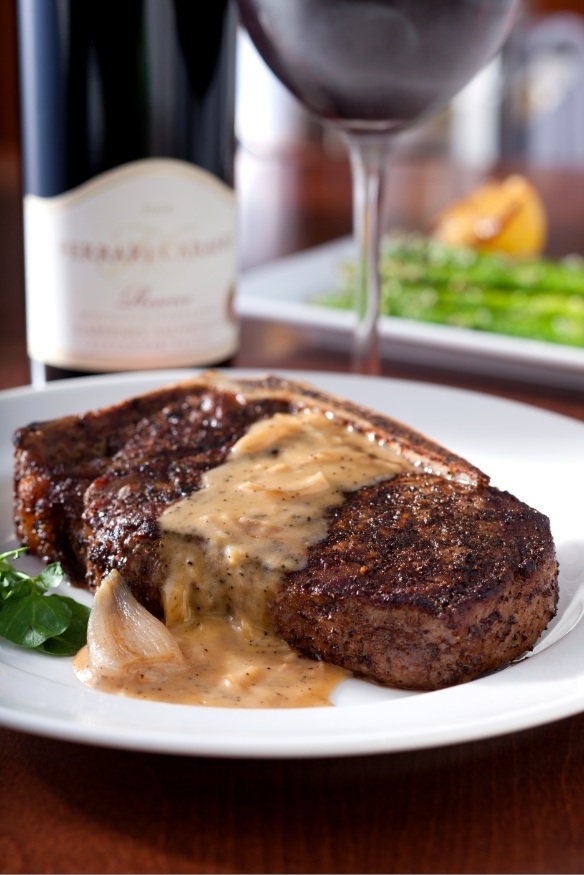 The Event Spaces
Whether it is a corporate dinner or a birthday celebration, The Capital Grille has the perfect space to fit your needs. The Boardroom can seat up to 12 people at a beautiful round table that is perfect for an intimate dinner or a private board meeting.  On the other end of the spectrum is The Wine Room, which can accommodate up to 50 guests in many different setups. Not only can The Capital Grille extensively customize their event space for your event, but they will gladly customize a menu that is perfect for you and your guests.  Sales Manager Kaleigh Lafata is always ready to help tailor your next event to wow your attendees.
The Wine Locker Program
You can store your wine, and drink it too! The Wine Locker program allows guests to have a physical wine locker at our restaurant, boasting a gold name plate and containing your very own wine. All you need to do is show up for dinner, and select which of your bottles you would like to enjoy that evening! There are many benefits to being a Wine Locker holder including having exclusive access to private wines that can be kept as your own or gifted to friends and family. Exclusive Wine Locker events are also scheduled throughout the year.
Call 214.303.0500 or visit Opentable to make a reservation today at The Capital Grille Dallas. Contact Kaleigh Lafata, Sales Manager,  at [email protected] for more information about private dining or the Wine Locker program.