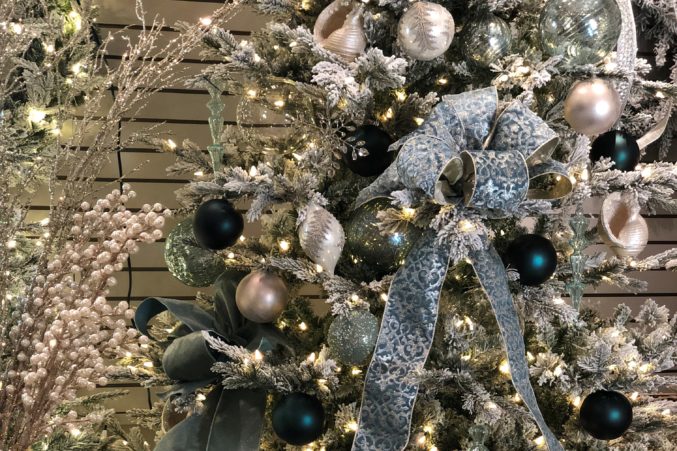 How to Create the Perfect Christmas Tree
Featuring designer Margaret Chambers.
By D Partner Studio
Published in Sponsored
November 28, 2018
7:24 am
Does your Christmas tree end up looking the same every year? As you unpack your ornaments this holiday season, consider these tips from designer Margaret Chambers to elevate your tree's style while incorporating the tried-and-true pieces you love.
Pick Your Palette
Most of Chambers' newer clients prefer light, bright interiors, so she suggests they avoid heavy and dark hues for their tree's décor. Here, she selects soft pastels—such as aquas, creams, winter whites, and light blues—to create a color scheme with her ornaments. This is a not-so-traditional tree, meant to be appreciated at gatherings with family and friends. A "traditional" tree can find its home in your playroom or another similar space.
Choose the Right Height
The top of your tree should be around two or two and a half feet from your ceiling. Chambers chose a stunning flocked tree that stands tall at nine feet, allowing room for a satin bow to adorn the top. Chambers incorporates bows throughout the design, using both satin and velvet ribbon to add dimension and visual interest. (Pro tip: Holiday Warehouse can custom-make a bow to complement your tree's theme.)
More is More
Chambers suggests using at least 10 ornaments per foot of tree space. (On this nine-foot tree, she uses around 90 ornaments.) More is more when it comes to tree decorating; Chambers suggests buying more than you think you need to ensure you have enough to work with. Choose ornaments in different sizes, shapes, and finishes (her selections ranged from pearlized to translucent). She also chose eclectic extras such as seashell ornaments and strands of pearls.
Show Off Your Favorites
Nestle your less expensive ornaments in the branches towards the tree's trunk to fill space. You'll want to save your most beautiful or meaningful ornaments for the outside edges. This way, your jewel-like adornments can be appreciated by your family and guests.