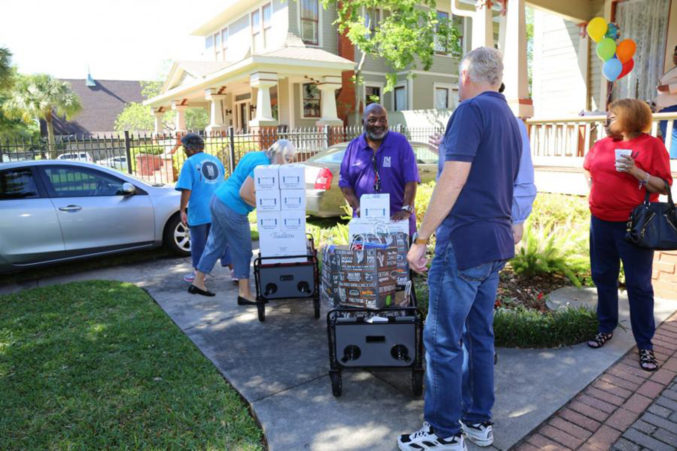 Caring is the Cornerstone of a Great City
Our D Gives campaign ends this week. Don't miss your chance to contribute to the charities that care for our city's residents in their times of need.
By D Partner Studio
Published in Sponsored
November 19, 2018
7:00 am
When Pierce Allman, cofounder of Allie Beth Allman & Associates, looks back on the history of Dallas, he realizes it has always been a city filled with entrepreneurs who are ready to roll up their sleeves and work together to make Dallas an even better place to live. "Dallas is a place where people want to be right in the middle of things that are energizing," he says. "This belief in our civil and service organizations is refreshing, because if we lose faith in those institutions, we lose faith in the future."
Nowhere is the recognition that "caring is the cornerstone of a great city" more evident than in Dallas, and the agents at Allie Beth Allman & Associates take the lead by supporting a variety of causes and charities throughout the city that make Dallas an even better place to live. "We believe at Allie Beth Allman & Associates that you give where you live, and we have a ton of great charities in Dallas that we try to support," says Keith Conlon, general manager of Allie Beth Allman & Associates. "If we can make a small impact on the lives of people in Dallas who are struggling or need help, then we are doing our job as an organization to make Dallas an even greater city."
For the second year in a row, Allie Beth Allman & Associates has teamed with D Magazine to make a difference in the Dallas community with the D Gives initiative. Through November 21, this unmatched effort brings many of the city's 501(c)(3) organizations together in one place. During the initiative, Allie Beth Allman's agents highlight their own "Charities of Choice," which gives them the opportunity to emphasize why these organizations are important to them. With a quick click, it's easy to help fund more than 70 North Texas charities.
A perfect example of rolling up your sleeves and getting involved is Allie Beth Allman & Associates agent Jane Idzi and her work with Meals on Wheels. Meals on Wheels Texas promotes member networking, best practice sharing, education, pilot programs, and the distribution of scholarships and grant funds. "Caring for the least [privileged] citizens is the cornerstone of a great city," she says. "The care of the people who need basic help is the purpose of Meals on Wheels."
"Caring for the least [privileged] citizens is the cornerstone of a great city. The care of the people who need basic help is the purpose of Meals on Wheels."

Jane Idzi
Providing protection and comfort for the most vulnerable in our city is another cause that many of Allie Beth Allman & Associates' agents champion. The Dallas Children's Advocacy Center is an organization that agent Ashley Rasmussen has supported for many years because of a personal connection to its purpose. DCAC is the only agency of its kind in Dallas County, working in agreement with public and private agencies to investigate, prosecute, and provide healing services for child abuse cases in Dallas County. DCAC reduces the re-victimization of the child, removes barriers to investigation and treatment, and enhances criminal prosecution with a distinctive multidisciplinary and united approach to these complex and severe cases. DCAC is often recognized for its expertise in the identification, investigation, and prosecution of child abuse cases; cutting-edge clinical services and programs for victims and their non-offending family members; and community and professional training programs.
Says Rasmussen, "It's important to me because I'm a survivor of child abuse. I didn't have a place to go like DCAC, but I did have a supportive family that helped me through a difficult time. There are so many abused children who don't have supportive families. They need an organization like the DCAC to give them the tools they need to break this cycle, to heal and have a future of hope. Protection of kids should be among the top priorities in any community. Dallas is known for its philanthropy, and we think this is a tremendous organization that needs our [help]. At Allie Beth, we believe that supporting organizations like the DCAC helps make Dallas a better community."
This belief is also evident in the support that the agency gives to Genesis Women's Shelter. Conlon was influenced by his grandparents to support the shelter, which has become his Charity of Choice. "My grandparents were huge supporters of Genesis Women's Shelter, and my family and I are trying to continue their legacy and help an amazing organization," he says. "It is staggering how many women are abused every few minutes in the country, and this is something that we can stand up for and hopefully change. As a dad to a daughter, and another one on the way, I don't want my girls to ever think that abusing women is acceptable, so it is an easy decision to support Genesis."
The Family Place is another nonprofit organization in Dallas with wide recognition for its critical role in helping families affected by domestic violence. The Family Place empowers victims of family violence by providing safe housing, counseling, and skills that create independence, while building community engagement and advocating for social change to stop family violence. It's the largest family violence service provider in North Texas, providing hundreds of shelter beds each night, including the state's only shelter for men and children. Just last year alone, The Family Place served 10,049 clients with 130,996 hours of service. During the past 40 years, it has counseled more than 215,000 clients, provided lifesaving shelter to more than 24,000 women, men, and children, and answered more than 600,000 calls for help. The Family Place has coached more than 18,800 individuals with history of abusive behavior on the importance of healthy relationships. It also reaches approximately 6,000 students each year through a youth education programs.
Debbie Ingram, an agent with Allie Beth Allman & Associates, has been a longtime supporter of The Family Place and its mission. She frequently encourages others to donate their resources and time to the charity because she has seen first-hand how it changes lives. "The Importance of The Family Place cannot be overstated," she says. "This remarkable facility provides a safe haven for those seeking shelter from family violence at a critical time of need. This great organization's funds help house hundreds of people a night in its shelters. They are serving people every day in a meaningful way when they truly need a lifeline!"
One thing that unites Dallas, especially during this season of giving is people coming together for a charitable cause. Says Pierce, "If you need to reinforce your faith in each other, or if you want to express your gratitude for what you've been given, or if it's just compassionate action, to me, giving is part of a citizen's responsibility."
To view a full list of D Gives charities, visit www.dmagazine.com/dgives.