At MidiCi, the laid-back, welcoming vibe is far from pretentious, but the restaurant still takes its Neapolitan pizza seriously. An Italian organization, Associazione Verace Pizza Napoletana, has set precise guidelines for the making of Neapolitan pizza worldwide. It's about more than just ingredients or preparation—a true, certifiable Neapolitan is an artful creation that delights the senses. Here are five traits of a Neapolitan that even a pizza novice will recognize and love.
The Dough
MidiCi's signature chewy dough is made Neapolitan-style with only four ingredients: non-GMO double zero flour imported from Naples, sea salt, pure water, and live yeast. Chefs hand-knead the dough from the center outwards, creating a puffy edge that becomes the crisp crust.
The Toppings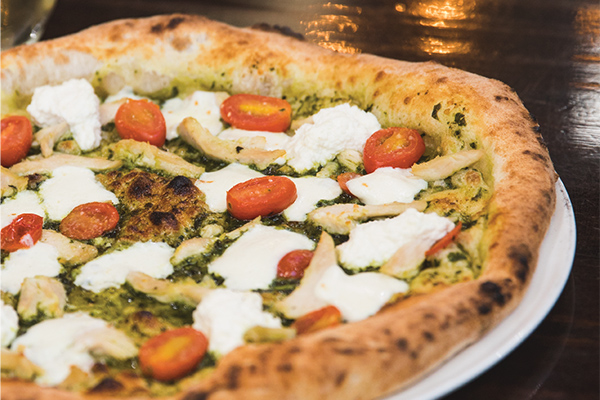 Neapolitan pizza ingredients are traditionally sourced from Campania, Italy. Tomatoes are peeled then hand-crushed to give the sauce a hearty consistency. Cheeses—whether grated, sliced, or cut into strips–must be distributed evenly. Fresh basil is sprinkled on, and a garnish of extra-virgin olive oil is added with a spiral pour.
However, because Neapolitan pizza is an artisanal product, no two pizzas are ever the same. MidiCi embraces this, and prides itself on living up to its name, which means "you tell me" in Italian. Guests are encouraged to customize their pies using the artful flexibility of MidiCi's menu; they can also choose one of the house specialties, from Truffle & Prosciutto to Egg N' Bacon.
The Cooking Process
A Neapolitan pizza is cooked in a wood-fired oven for 60-90 seconds—no baking pans allowed. The finished product folds with ease (this fold is called a "libretto"). Chefs can lightly lift one edge to check the bottom, which should be uniformly crisp, golden, and with few bubbles or burns.
"The Heart" of MidiCi is the central structure housing the ovens, kitchen, and bar. Guests have a view of the action, from pizza prep to final baking stages. "The Heart" is like functional, living art; this concept is echoed by other MidiCi trademarks that add visual interest, such as a real olive tree with branches draping softly over diners.
The Appearance
A focus on color contrast is visible even to the untrained eye. On a Margherita, the marinara sauce's crimson hue is offset by sprinkles of green oregano and white garlic, and the entire pizza is a vision of red sauce, bright white cheese, and lush green basil leaves.
The Smell and (Most Importantly) Taste
A specific scent is another property of a certified Neapolitan. The warm bread aroma should mingle with the acidic notes of the tomato, the savory blend of garlic and olive oil, and the earthy and distinct scent of basil and oregano. The taste of the finished product features a seamless blend of flavors, from fruity tomatoes to creamy cheese. Though MidiCi offers non-traditional menu options, the pizzas are each created to offer balanced scents and flavors.
MidiCi's certified Neapolitan pizza is available across DFW and a new spot is opening soon in Preston Hollow Village. Keep an eye on the opening via Facebook or website.
Get the SideDish Newsletter
Dallas' hottest dining news, recipes, and reviews served up fresh to your inbox each week.