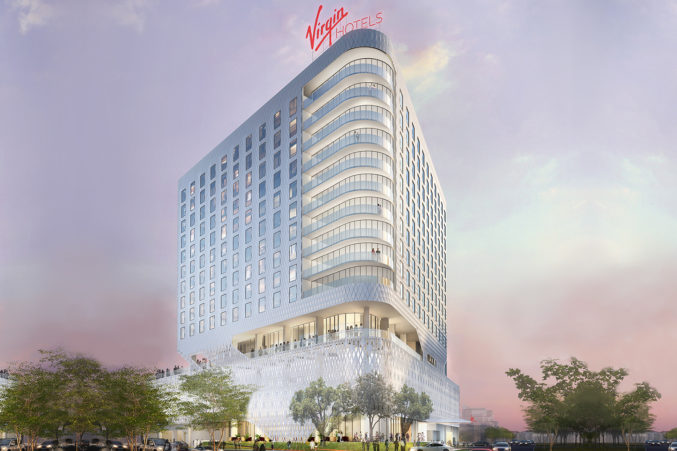 Upgraded: Virgin Hotels Heads for Dallas Design District
The one-of-a-kind hotel experience will open in fall 2019.
By D Partner Studio
Published in Sponsored
October 15, 2018
7:00 am
The cool factor of the Dallas Design District will elevate yet another notch in fall 2019 with the highly anticipated addition of Virgin Hotels Dallas on Hi Line Drive and Turtle Creek Boulevard. Yes, that Virgin Hotels, the lifestyle hotel brand by Virgin Group founder Sir Richard Branson.
The property, developed with Bill Hutchinson of Dunhill Partners, will deliver a one-of-a-kind hotel experience in Dallas—a favorite destination of Virgin, as Virgin America has been flying to Dallas since 2010. Guests can look forward to 200 rooms, including Grand Chamber Suites and Penthouse Suites, along with multiple dining and drinking outlets, such as Commons Club, Virgin Hotels' flagship food, beverage, and social club concept space—plus a rooftop terrace with a pool and gym and plenty of meeting space.
Hutchinson, general partner of Virgin Hotels Dallas and the Dallas Design District, says pinpointing a location for Virgin Hotels Dallas was simple since Virgin Group identifies with so many of the same edgy characteristics that make the Dallas Design District popular.
"The Design District is one of the most significant and important neighborhoods in Dallas because it consists of hundreds of furniture, fixture, material, and appliance showrooms that bring thousands of visitors and millions of dollars into our Dallas economy every year," Hutchinson says. "In addition to this strong economic backbone, the cool art galleries, trendy restaurants, and world-class museums have drawn thousands to the district, which is not duplicated anywhere else. So many young people are living in the Design District now because they recognize and enjoy its cool vibe as well as the experience of combining art, design, food, and nice living options and amenities all within biking distance from Uptown or downtown Dallas."
Hutchinson says Virgin has drawn on the neighborhood's best qualities to create a hospitality destination that will be enjoyed by both Dallas residents and visitors. It is also using local talent, such as architectural firm 5G Studio, to create an artistic hotel with timeless design for a sexy, fun experience. The hotel will be more than just a place to stay or dine. It's an immersive experience that Dallas has been waiting for, he says.
"I am constantly hearing people say how much the Design District has changed in the four years since we purchased it," Hutchinson says. "My slogan was 'Discover Your Design District' because so many people didn't go down there or didn't even know where it was. Even if they did know where it was, they weren't sure whether they could walk into the showrooms or not. It was a quiet, intimidating place where professionals conducted business and the rest of us felt uninvited. No more! It now is open and user friendly for all to enjoy. The neighborhood has been discovered, developed, and enjoyed by urban lovers everywhere."