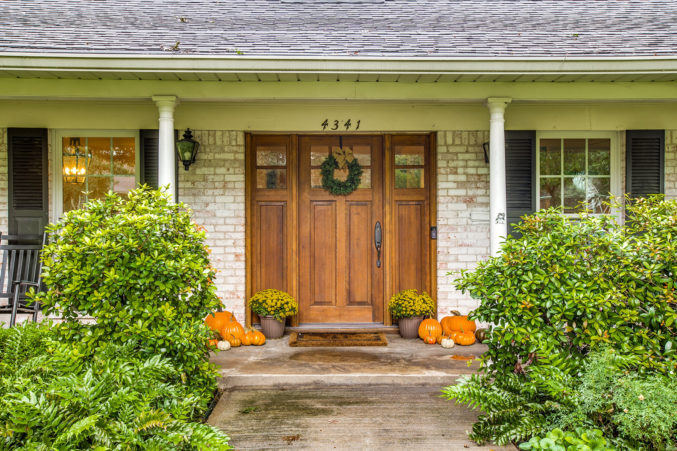 Hallmark House Hits Market With Curb Appeal for Days (and Days)
But seriously, could this be the most picturesque home on the market right now?
By D Partner Studio
Published in Sponsored
October 25, 2018
10:05 am
We don't know about you, but sometimes we stumble upon a house that immediately makes us say, "Wow, that would be a great place to raise a family." That is definitely the case with this lovely home located in North Dallas's North Highland Estates neighborhood. It has five bedrooms, 4.1 bathrooms, and 4,664 square feet of living space that allows for a family to spread out and for the memory-making years to officially begin.
Let's cut right to the chase and talk about what makes this property better than those at comparable price points. For starters, there is a flexible floor plan due to the home's two master suites. One is downstairs, and one is upstairs. Don't you love a home with options? There are also two laundry rooms–one up and one down—although there really isn't a choice in the matter here, we have a feeling both will be getting great use almost immediately.
This property loves having two of everything, and we don't hate it. The kitchen has two dishwashers and two sinks. The gorgeous wood cabinetry and high-end appliances make this room a place that you'll love to spend time regardless if you are a kitchen queen or a takeout king. We also can't wait to see what a design-minded buyer might choose to do with the large den that has sky high ceilings.
And let's not forget about what drew us into this home in the first place—its curb appeal. You cannot put a price on the mature lot that features gorgeous trees and a healthy front lawn. The backyard is just as heavenly, if not more so, with an outdoor kitchen and great patio space for entertaining. Perhaps best of all, this street does not have through access which means it is ideal for letting the kids be kids.
With amazing features and a location in sought-after Withers Elementary School District, this home might make readers panic and try to snatch it before someone else does. One thing we know for sure: it won't last long.
---
The Morguloff Team
214-354-5266
[email protected]
Martha Morguloff and Danna Morguloff-Hayden are a mother-daughter powerhouse representing The Morguloff Team.  Their combined experience in successful sales, knowledge, creative marketing, strong negotiating techniques and high standards of excellence sets them apart from others in this highly competitive profession.
The Morguloff Team has been named top team in the Ebby company for the past 16 years and has been on the Company-wide Top 30 Volume Productions Honor Roll since 1985, and once again named Top Team for 2017.
Martha and Danna were named Super Real Estate Agents by Texas Monthly, fewer than 1% of the real estate agents in Texas were awarded this honor; they have been named Five-Star Professional Agents for reaching a level of excellence achieved by fewer than 7
% of the real estate agents in the area.  They recently were featured as cover agents on Top Agent Magazine.
The Morguloff Team is consistently listed by D-Magazine in the top production category and had been listed in D-Magazine's recent issue of Top Power Brokers in the DFW area.
Danna and Martha were recently inducted into the coveted Ebby Wall of Fame. Only 6 agents in the entire company have so far received this distinction which honors the recipients who have been on the company-wide honor roll consistently for 25 years.
Martha was recently awarded Realtor Emeritus from the National Association of Realtors in recognition of her valuable and lasting contribution to the real estate profession in the Dallas community.
The Morguloff Team invites you to read their testimonials, which will express their philosophy that they specialize in "people", not necessarily houses.  No transaction is too large or too small for this team.  "They are tender with the people and tough on the transaction".
With over 70 years of success, the Ebby Home Team is proud of its standing as #1 in the Dallas/Ft. Worth Metroplex; #1 in Texas and #11 in the nation, as listed by Real Trends, Inc.
The Morguloff Team has expertise, knowledge and patience in advising and assisting their senior citizen clients in making that difficult decision to downsize as their circumstances and seasons of their lives change. Their goal is to deliver beyond expectations.
Their voicemails, emails and their service never sleep!
Areas of expertise:  all of North Dallas, Preston Hollow, Preston/Forest/Royal, Park Cities, Northwood Hills, Richardson and Plano.
Martha Morguloff – 214-354-5266
CRS, SRES, GRI
BBA and MBA Southern Methodist University
Named Real Estate Agent of the Year
Realtor Emeritus – National Association of Realtors
Danna Morguloff-Hayden – 214-354-5266
Degree in Real Estate from the University of North Texas
Team Awards – The Power of 2:
Recently inducted into the Ebby Wall of Fame
Listed in 5 Star Professional
Listed in Who's Who in Residential Real Estate
Named Super Real Estate Agents by Texas Monthly
Named by The Advocate as among the top 25 Preston Hollow agents
The Morguloff Team of two is rated #227 in volume in the state of Texas by Real Trends.