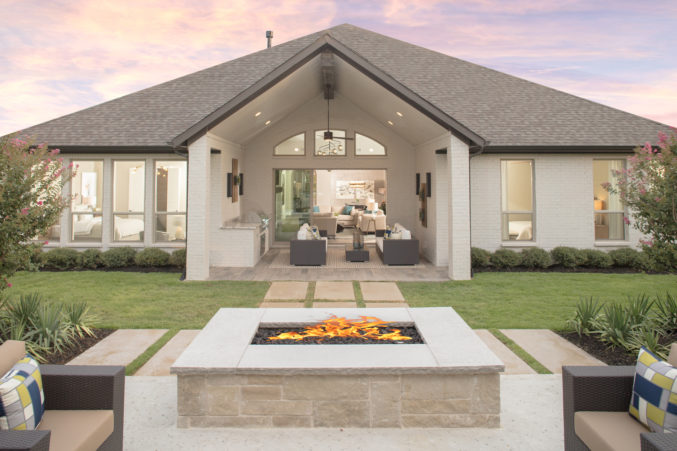 Five Home Building Trends to Try
Make your dream home a reality.
By D Partner Studio
Published in Sponsored
October 31, 2018
7:00 am
When it comes to building a new home, there are some classic touches that never fade—a welcoming entry, a luxurious master suite, and a living room designed with family living in mind. But there are places to have fun with trends, too. Britton Homes and Perry Homes give us five little touches that will make your home look Pinterest-worthy. But wait. There's more good news. Perhaps our favorite trend is saving money! From now until November 30, the home builder company is running their Year-End Savings Event on select homes. And that leaves even more budget for implementing one of these five ideas.
Gold Stars
When you think of gold hardware, the '80s may come to mind, but the 2018 version is a more muted look. Brushed gold looks just right in the master bath, kitchen, or even as a mounted light on the front porch. Think about placing a gold knob on a creamy gray cabinet or a ball light attached to a subway tile backsplash, and your space will be instantly updated.
Kitchen Confidential
The kitchen is the heartbeat of the home, and it's always the primary gathering place for family and friends. Have some fun with it! Try painting the island or banquette of cabinets a bold color. For the backsplash, make it pop with 3D laser cut stone, metal tiles, reclaimed brick, or wider 4×16 ceramic subway tiles. As for countertops, the trend is swaying towards quartz—it adds a natural stone vibe while being very versatile and durable.
Bright Ideas
Lamps, chandeliers, and pendants are the jewelry for the home, yes, but make sure the standard lighting in your home shines, too. Pro tip: Study the natural light levels in the home in the morning, mid-afternoon, and at night to see where you need to add a little glow. Adding recessed cans, pendant lights, under cabinet lighting, and above cabinet lights make a big impact. And for the latest in tech trends—Leviton offers a Wi-Fi light switch that can be scheduled to turn on or off at specific times of day. And don't forget the master closet! Adding a doorjamb light that turns on when you walk into the master is a luxurious touch.
Knock Out
The front door is your guest's first impression, so go for the bold and paint it blue. Teal, royal blue, and navy serve as a great contrast to painted brick. Let go of your traditional, long-held belief that every home needs a stained mahogany front door with leaded glass panels. And remember: it's just paint! When you get tired of the color, contact a door refinishing company to repaint with a fresh coat.
Outside the Box
Fall in Dallas is the perfect time to think about upgrading your outdoor space. Popular trends still include grills, fire pits, and an outdoor fireplace, but don't forget about sliding doors that bring the outside in. Even if the action isn't happening outside, you can still get a great view of your manicured backyard.
For more information on Britton Homes and Perry Homes and their Year-End Savings Event, visit their websites at perryhomes.com and brittonhomestexas.com.