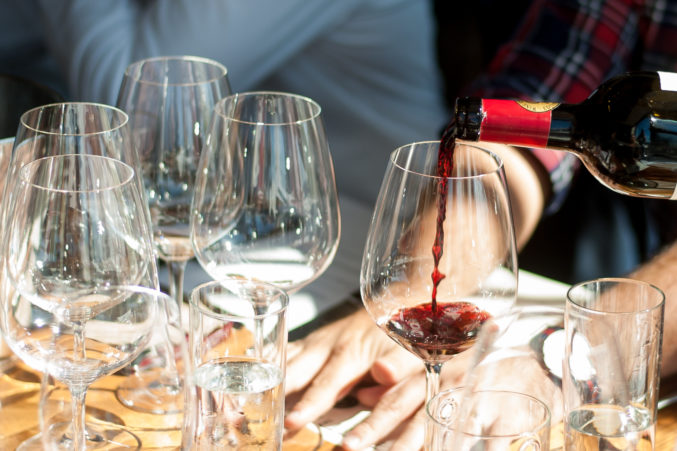 A Beginner's Guide To Wine
We sat down with Ben Coyle, a certified specialist of wine, to get a few pieces of advice.
By D Partner Studio
Published in Sponsored
September 19, 2018
7:00 am
Whether you're searching for an easy-drinking wine that you can sip on any night of the week or a perfect bottle of something truly unique and special for your next celebration, the idea of strolling into a wine aisle that's jam-packed with bottles can be a little intimidating. Fortunately, people like Ben Coyle are here to help (he's a certified specialist of wine with more than 15 years of experience who hosts professional wine tastings on behalf of Languedoc Wines). We sat down to get the scoop on wine tasting and the Languedoc region in France — from how to shop for wine to how to savor the flavors and history in each bottle.
Let's start at the beginning. You're in a store; how do you shop for wine?
Firstly, don't be afraid to experiment and try something new. Start with your occasion and what food you're having, whether it's a casual dinner or a big celebration with friends. Deep reds are great with steaks and savory foods, rosés are really refreshing, and something sparkling is a great complement to any celebration. Get a variety of wines so that you have choices, too.
A fun way to choose wines is to think about the things that you're interested in — if you're curious about wine production in a traditional sense, look for bottles with rich histories made by small producers. If you're into innovation, look for production methods that are a little cutting-edge. If you like eating organic foods, try an organic wine! Languedoc offers all of these.
Ben's Suggestions:
Red: Minervois, Corbières, St. Chinian
White: Picpoul de Pinet
Rosé: Languedoc
Sparkling: Crémant de Limoux
Tell us about wine regions — when shopping for a bottle of wine, where should it come from?
It's a great time to be a wine lover! There's higher quality and more worldwide availability now than at any time in history. Regions like the Languedoc are quickly upgrading through authenticity, tradition, and innovation while still offering tremendous value.
Appellations to look for on the label:
Languedoc
Minervois
Corbières
Limoux
Picpoul de Pinet
Faugères
What would you recommend for wine drinkers who are looking to try something new or unique?
Definitely be willing to experiment, and get recommendations from knowledgeable sources that you meet and come to trust as you develop your palette. When you're shopping for wine, the store associates can be extremely helpful because they're trained to know a lot about the wines on their shelves.
Ben's Suggestions:
Old World: Focus on place (terroir) rather than the grape varietal
Mediterranean Varietals: Grenache, Syrah, Mourvèdre, Carignan, Piquepoul, Grenache Blanc, or Mauzac
What advice would you give to someone who truly wants to understand what they're drinking and where it comes from?
Learn the story, because the more you know about the wine the more you can truly appreciate it. Wine can be a link to history, and it allows us to travel to exotic locations like the South of France by pouring a glass (which is much cheaper than a plane ticket). Think about world history, too — the Greeks, Julius Caesar, Louis XIV, Napoleon, Thomas Jefferson — they all drank wine!
What's the best way to taste a wine (and get the most out of it)?
First, use your nose — most of your "taste" actually comes from the nose, not the tongue. Take careful note of what scents you pick up, and enjoy the primary fruit while also looking for secondary notes. Often times, the savory secondary notes are what makes a wine really interesting — earth, spice, herb (when you're drinking a Languedoc wine, you'll notice garrigue aromas of rosemary, thyme, and lavender coming through).
It's also important to take your time and really savor the experience. Your second sip will be different from your first, and your third will bring out something else entirely. With really good wines, you can still taste them long after you've finished a glass.
Any other tips and tricks for us wine drinkers?
Pairing wine with food is all about experimentation and getting creative. Try cheeses, salami, olives, mussels, lamb burgers — the possibilities are truly endless. And talk about it while you drink! Wine is a centuries-old social lubricant and a definite cause for celebration. Lastly, don't get intimidated and always enjoy your wine. When you're relaxed and having fun, everything tastes even better!
---
To get your own taste of wines from the Languedoc region, look for tastings happening in the Dallas-Fort Worth area during September and October (and find more details here).