If you're building a home or renovating your kitchen, you've probably already considered using natural stone such as marble, quartzite, or onyx as a design element. (And if you haven't, you should take a slab at it.) But don't settle for a Pinterest-inspired cookie-cutter room. Make a splash with a stone trend that is as unique as you. Think: wall-to-wall Calacatta or graphic bookmatched patterns. And who else to go to than Aria Stone Gallery for the latest trends in natural stone.  In celebration of Aria Stone Gallery's fifth anniversary, we share five ways to design with natural stone.
All Clad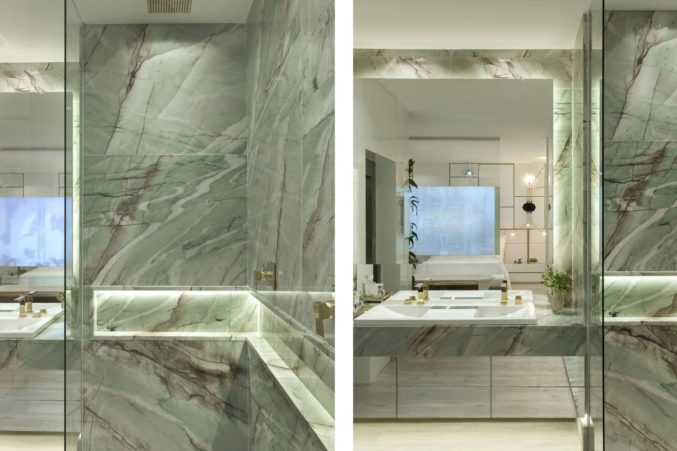 Europeans have been cladding rooms with stone for decades. And why not follow suit with the tried-and-true trend? Instead of only covering a shower wall or backsplash with large tile slabs of quartzite or marble, consider cladding walls, floors, and kitchen islands with the same stone. And it doesn't matter if your home is modern or traditional—the technique translates to either aesthetic based on the execution.
Pattern Play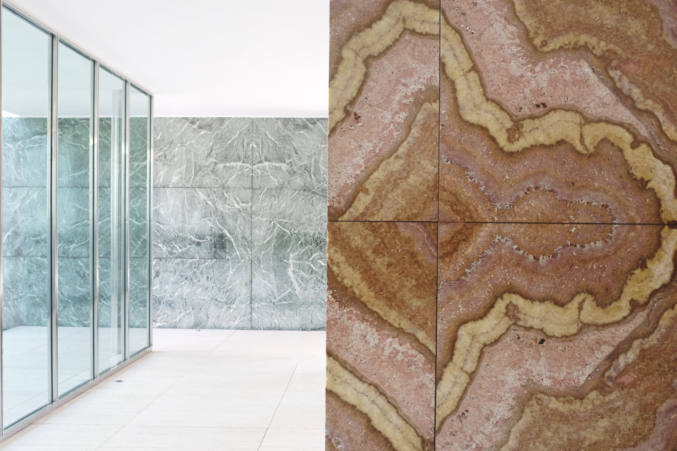 Graphic lines and shapes aren't just reserved for wallpaper. Bookmatched and quadmatched stone tiles are placed together to create a kaleidoscope pattern affect. Not only is it visually appealing with cohesive vein patterning and background color, but you can maximize the slab's yield by choosing the same lot of material to make baseboards and other trims. It's an instance we definitely recommend going matchy-matchy.
Cutting Edge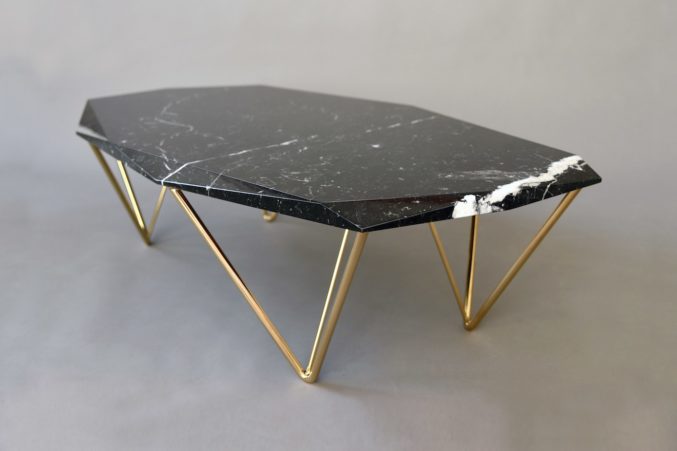 The days of sleek mitered edges are over. Ditch the straight lines and try a custom trim on tables and countertops. Pair a stone top with a metal reveal or wooden details. Voila—your piece becomes a mini work of art.
Linear Lineup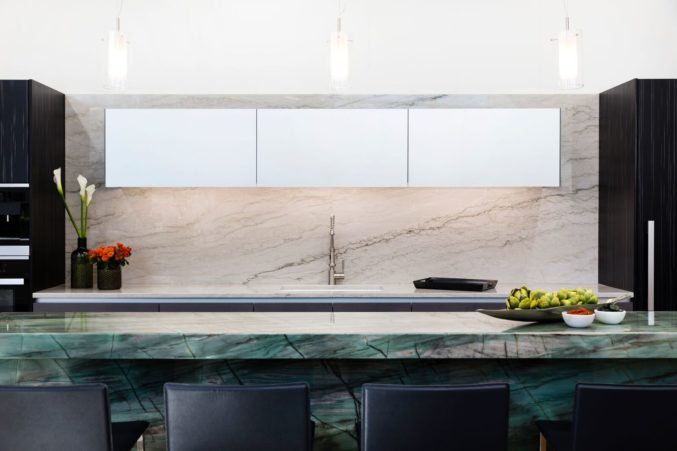 Create a continuous effect by lining up the veins in multiple slabs to continue the vein flow. Veins can give the illusion of a larger slab without a repeated pattern. It also minimizes the look of the seam. Your houseguests will wonder, "How did they do that?" It's our little stone secret.
Integrated Details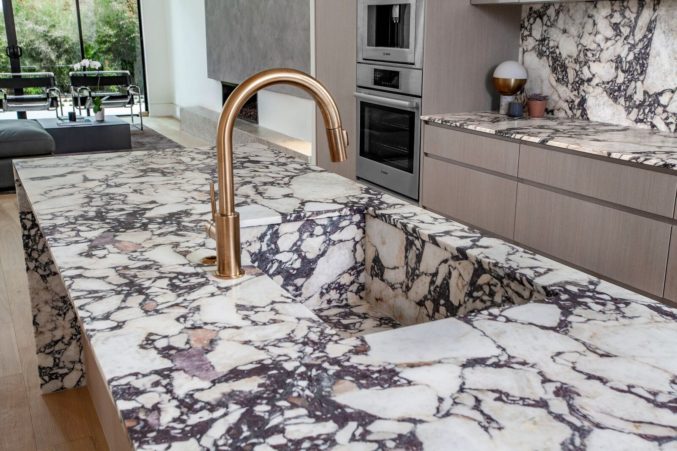 The stone options don't have to stop at walls, flooring, and countertops. A true artisan can customize sinks with marble, clad cabinet fronts, form backsplashes that turn to make a shelf, or craft pop-up outlet plugs or sink drains with stone. These little design details just add to the materials' continuity. Plus, it looks cool.
Aria Stone Gallery is a luxury stone supplier that provides hand-selected, rare stones from around the world.  With a belief that stone is a work of art, Aria displays slabs in a gallery-like environment to best showcase the full beauty of each one.  The owner, Vinny Tavares, frequently travels to the most exclusive quarries from Brazil to Italy to the Middle East, to source the perfect materials (first-quality only slabs/ the 9's and 10's out of a 10 scale) and they pride themselves on being one of the only suppliers to do so.  Instead of trying to fulfill a pre-determined stock list of standard materials, selections are made based on the uniqueness of each stone.  Unique to the industry, Aria sells both to the trade and direct to the public, offering a completely transparent model as they display the origin, size, and price on each of the slabs in the gallery and online.
With that being said, Aria has been pushing boundaries since their grand opening five years ago. Since then they have opened a second location in Houston and a third business line with an e-commerce division of the company. Their business is built on creating one-of-a-kind installations that can't be replicated. That's the real beauty in all of the design features—they aren't just trends; they are timeless design applications using natural stone.
Get the AtHome Newsletter
Enjoy Dallas' best trends, hot properties, and tips from local designers to help you nest in style delivered weekly.