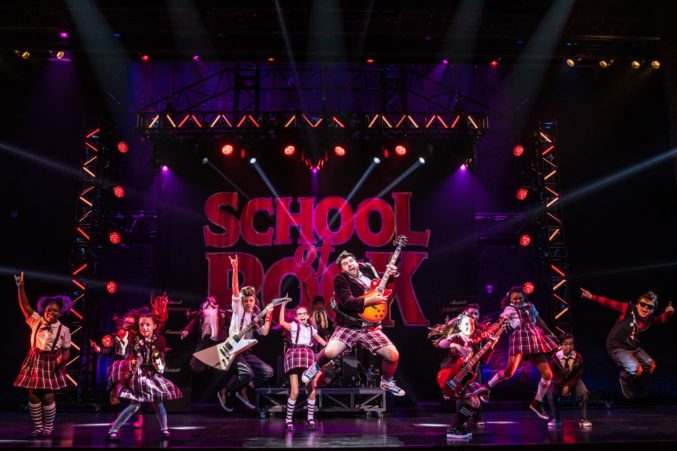 School of Rock the Musical Opens in Dallas on August 15
Featuring a cast of multi-talented kids, the Andrew Lloyd Webber show is a rollicking good time.
In 2003, School of Rock debuted on screen, featuring Jack Black as a die-hard rock-and-roller turned fake substitute teacher who teamed up with a class of grade school students to form a band. The movie was a hit, and it was also the inspiration for School of Rock the Musical, the Andrew Lloyd Webber production that premiered on Broadway 12 years later.
Today, the show features companies on Broadway and in London, and also a North American tour, which kicks off its Dallas run on August 15 at the Music Hall at Fair Park. That'll be your first of 16 chances to see the show before it packs its collective bags and moves on to another city. So go ahead and get your tickets (we'll wait).
Good, now let's take a look at School of Rock's journey from the screen to the stage.
Start With Andrew Lloyd Webber
In 2013, the legendary composer secured the rights to the show, and began plans for a Broadway takeover. With inspiring performances, comedy and soaring musical scores, School of Rock is fun from start to finish. But for Lloyd Webber, it's more than that.
He says: "Hopefully you will also take out of it the central message of the story—which is a very warm and very simple one—which is the empowering force of music."
His next task was to find a creative partner who could translate the movie for the stage.
Add One Downton Abbey Creator
Julian Fellowes is best known as the Emmy-winning creator, writer and executive producer of the hit television show Downton Abbey. So he might not be the first person you'd think of when talking about a funny Jack Black movie. But Lloyd Webber wanted to enlist a major dramatist, calling Fellowes "a very obvious choice, because he's a real craftsman."
Fortunately, Fellowes was already a fan of the film, so was excited to get the call and then get to work.
"Sometimes you have to talk yourself into things, or at least research them, to see if you want to do it," he says. "But I knew I wanted to do it straight away."
Cast Some Really Talented Kids
The kids in School of Rock are no gimmick. They're the real deal—quadruple threat talents who can act, sing, dance and play instruments. To find them, casting directors spend countless hours watching submission videos and attending open casting calls.
Before the show debuted on Broadway in December of 2015, 22,000 children, all between the ages of nine and 12, were evaluated for roles. The result was a cast of kids with talent well beyond their years, who could hold their own next to their seasoned adult co-stars.
Seeing it all come together so seamlessly on stage, you'd never know the remarkable series of events that brought School of Rock from the screen to the stage. But once the lights go down and you hear that first rock song, you'll be dancing in your seat, just happy to be a part of it.