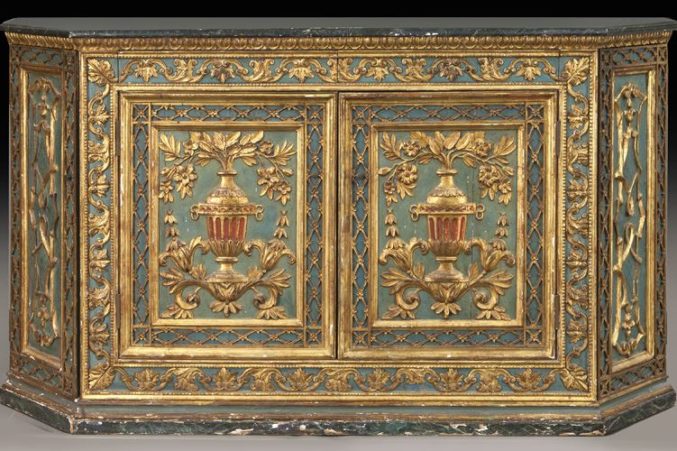 In the Mix
Styling antiques in your modern home
When most of us hear "antique furniture" we think of fussy, ornate or the dreaded big brown pieces better suited for Old Money than our new sensibilities. However, once in awhile you'll come across a one of a kind relic and despite your penchant for all things bright and minimal, find yourself wondering how this Qing Dynasty Apothecary Chest will vibe with your accruement of Design District sample sale and Ikea stragglers from your first apartment (hello Poäng!). Whether it's love at first sight at Dallas Auction Gallery or an heirloom that haunts your storage space, there are some easy ways to integrate antiques into your contemporary space.
Opposites Attract
Designers will tell you, the quickest way to kill your cool factor is to fall into the matchy-matchy decor trap. An eclectic mix of styles and eras keeps the eye moving and guests surprised and delighted. Picture a 19th-century, delicate French dining table surrounded by Louis Ghost Chairs or your mod glass coffee table paired with circa 1830's Gustavian armchairs, their turned legs reflecting in the chrome.
Your Furniture's #bestlife
Unless your antique is a true collectible (and sometimes even if it is) when the choice is between gathering dust in your attic or up-ing your living room game, painting, recovering and repurposing is a must. Often a fresh coat of black lacquer will bring a tired sideboard back to life, for extra points ask for marble remnants at a local stone wholesaler and add a chic new top. Play with bold brass hardware on your scratched craftsmen, pop an oversized drum shade on the gilt lamp you thrift-scored. So often the existing upholstery on antiques is stained, threadbare or just plain sad, give it new life by reupholstering it in vivid silk slub, muted modern mohair or classic cognac leather.
Rethinking Reincarnation
If you're addicted to Pinterest (hello again) you know that just because a dresser was born to hold sweaters and socks doesn't mean it's destiny doesn't lie as an unexpected bathroom vanity. Repurposing antiques in your home allows you to reanalyze their form and function in the modern world. A carved and tufted occasional sofa can become a headboard or try encasing an Asian screen under glass and using it as a table. By applying your take on these outdated items, you'll be adding years to their life and history to your home.
Curate the Chicest Shelfie
Avoid stuffy museum vibes by displaying your collections out and about where your guest can touch and feel. Instead of locking china away in a cabinet, hang your plates on a wall or stack on open shelving. Invite conversation and examination by toping your coffee table with odds and ends from your travels, auction treasure and family heirlooms. Try grouping disparate items in color coordinating collections, bleached bone antlers mingling with a turn-of-the-century Carrara candy dish and modern white ceramics, displayed unpretentiously together.
Did we get you itching to ditch modern and mass-produced? Are you Lusting for rust, patina and one of a kind personality? We recommend buying alongside local and international dealers (and score the wholesale price!); check out our favorite insider source Dallas Auction Gallery for upcoming auction dates. Their September 26 event, The Fine & Decorative Arts Auction, will have tons of antique furniture and accessories. Happy Hunting!