Take "girls' night out" to another level by turning your time together into a complete girls' getaway weekend at Four Seasons Resort and Club Dallas at Las Colinas. After you experience this, a regular happy hour simply won't do. Girlfriends who live all over the Dallas-Fort Worth area can "meet in the middle" at Four Seasons Resort Dallas, as its 400-acre-plus Irving address is centrally located to all the major suburbs.
The first question upon arrival…where to start? Four Seasons makes this decision easy. While everyone is arriving, grab a table on the outdoor patio at OULAW Taproom overlooking the main resort pool. This is where you can sip on fresh, hand-crafted cocktails, wine, and beer and nibble on appetizers while mapping out the perfect weekend to reconnect with your closest gal pals. Take a break and unwind in a luxurious pool view villa guest room before heading to dinner at LAW for a laid-back experience, chef-inspired gourmet food, and cocktails with a Texas twist. Cap off the night by sharing the LAW's signature s'mores–tableside flamed, house-made marshmallows paired with chocolate squares nestled between house-made graham crackers.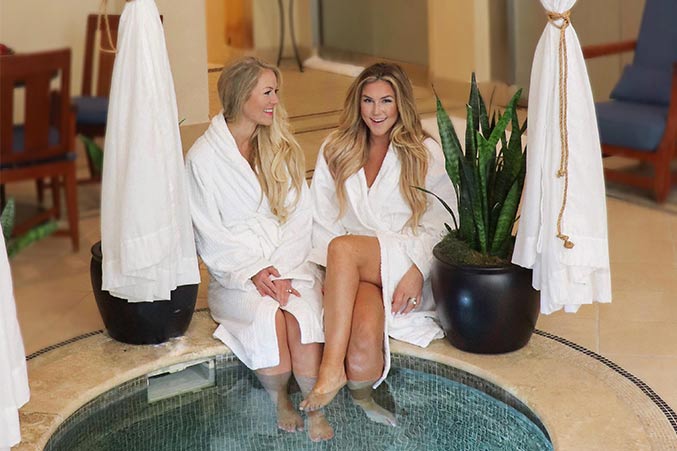 After a great night's sleep, it's time for some (fun) work and reward. First, the work. Get moving with a private Anti Gravity® Aerial Yoga class. Led by group exercise coordinator Meg Plotsky, this highly acclaimed yoga practice, endorsed by celebrities like Gwyneth Paltrow and Lena Dunham, involves a soft fabric hammock connected to the ceiling like a giant swing. You'll travel through various poses while sitting, reclining, or even spinning upside down while suspended three feet from the ground. Next, the reward. Indulge in a Spa'rty in Four Seasons Dallas' Well & Being Spa, perfect for groups of six or more. When this many (or more) people book a 50-minute treatment each, the group gets a Spa'rty coordinator, complimentary spa lunch, a retail party gift for everyone, and 20 percent discount on retail services the day of the treatments. Don't forget to add on some bottles of bubbly to make the experience even more special.
Saturdays are pool days in Dallas, and there's no better place than the pool at Four Seasons Resort and Club Dallas at Las Colinas. Reserve a private poolside daybed and relax in between dips. Stay well-hydrated and nourished with light bites and cocktails (a must-try is the resort's Froze') from the pool bar. Soak up the sun and the VIP treatment with Evian spritzes, cold lavender-scented towels, frozen fruit, and smoothie samples.
Top off the weekend with brunch, naturally, at LAW with plenty of brunch and breakfast favorites and mimosas—just the fuel your girls need to plan the next getaway.
Click here to start your planning now or call reservations at 972-717-2499.
Get our weekly recap
Brings new meaning to the phrase Sunday Funday. No spam, ever.