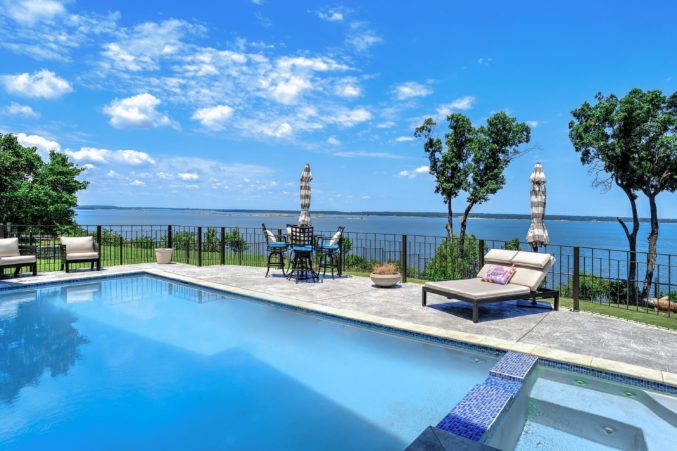 Prime Pottsboro Property Makes Lake Texoma Life Luxurious
Because if Blake Shelton vacations here, so should we.
The ultimate lake house retreat awaits busy Dallas dwellers just an hour and a half due North on the Texas/Oklahoma line. This three bedroom, 3.1 bathroom home has 4,070 square feet of optimal living space and is ideal for a vacation home or primary residence.
The interior is anything but basic (no kitschy vacation décor here) featuring hardwood floors, granite and marble countertops, high-end stainless steel appliances, and fireplaces in the living room, master bedroom, and on the outdoor patio. There is also a custom shower system because there is nothing better than a cold shower after a long day on the boat.
Other features that add to the lake retreat life including electric outdoor sun shades and an outdoor bath. And of course the pool and spa to cool off when the temperatures continue to linger in the 100s. Sigh.
All of the above is nice and all but at the end of the day, this property is all about the stunning views of Lake Texoma thanks to the high bluff on which the property is perched. Both the upstairs and downstairs outdoor living areas showcase a calm, lakefront scene that will never get old whether you are sipping coffee or drinking an ice cold margarita in the pool.
Sold separately but also something to consider is the 45' sea ray and slip at Porta del Sol in Highport Marina to truly complete this vacation home package. Like the property exactly as is? The current owners will consider selling it furnished.
The only real question is what you will serve when you have Blake and Gwen over for dinner.
---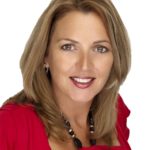 Andrea Bedell
(940)891-3229
[email protected]
Native to North Texas, Andrea Bedell has been serving buyers and sellers for over 23 years. As a multi-million dollar producer, her knowledge and experience as a REALTOR® are enhanced with her knowledge in Title and Mortgage. Owning and operating a Title Company for 7 years, she learned the value of an agent and what defines a TOP agent. Whether you're buying or selling a property, Andrea is a solid professional who will provide expert personal service in all aspects before, during and after a sale. Andrea has consistently excelled and is a member of Ebby's Diamond Circle and is a Star Achiever.