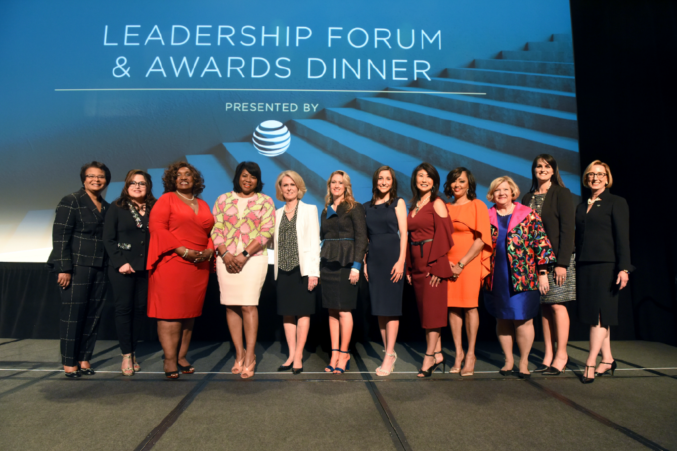 Dallas Women's Foundation Leadership Forum Photo Recap
Presented by AT&T
By Dallas Women's Foundation
Published in Sponsored
May 2, 2018
9:16 am
Dallas  Women's  Foundation  held  its  Leadership  Forum  &  Awards  Dinner,  presented  by  AT&T,  on  April  19  at  the  Omni  Dallas  Hotel.
The  event  featured  keynote  speaker,  Nina  Tassler,  former  chairman  of  CBS  Entertainment  and  author  of  What  I  Told  My  Daughter.  The  Leadership  Forum  &  Awards  Dinner,  co-chaired  by  Effie  Dennison  and  Jan  Sharry,  celebrates  trailblazers  who  are  paving  the  way  for  other  women  to  advance  in  leadership,  and  it  elevates  the  importance  of  gender  equity  across  all  sectors.
The  Foundation  honored  four  women  with  the  Maura  Women  Helping  Women  Award:  Arcilia  C.  Acosta,  Jocelyn  D.  Kidd,  DDS,  Cynthia  Mickens  Ross  and  Gail  Turner.  The  organization  also  gave  the  Young  Leader  Award,  presented  by  Capital  One,  to  Vanessa  Bouché,  Ph.D.  and  Brooke  López.