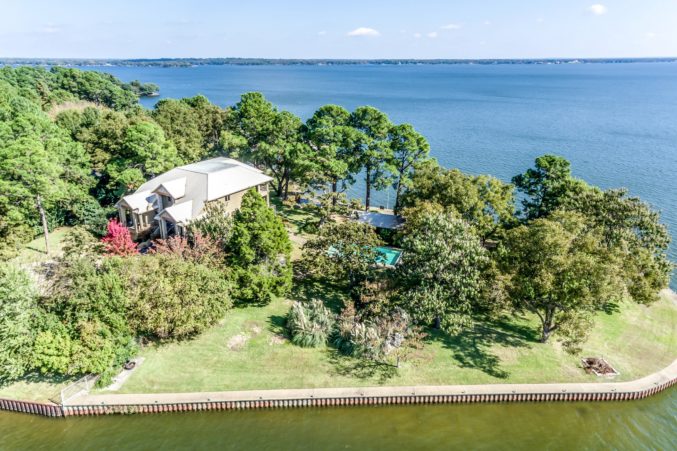 As Summer Arrives, Lake Living Beckons
Take advantage of the lake lifestyle in North Texas
By Ebby Halliday
Published in Sponsored
May 25, 2018
7:00 am
Warmer weather is here and the time is right to take advantage of the lake lifestyle we're privileged to enjoy in North Texas. And, it's true that nothing brings family together like a lake home a short distance from your primary residence. Long, relaxing weekends await at these Cedar Creek Lake and Henderson County area properties listed with Ebby Halliday Realtors.
$1,900,000 | 3 bedrooms | 4.1 baths
A magnificent waterfront peninsula with approximately 500′ of water's edge at the retaining wall

$1,700,000 | 4 bedrooms | 4.1 baths
One-of-a-kind gated, waterfront peninsula with over 1 acre total and approximately 700′ of shoreline.

$1,250,000 | 5 bedrooms | 5.1 baths
Grand lake house with more than 150' of wide open waterfront.
$625,000 | 5 bedrooms | 3.1 baths
A remarkable sanctuary located on a deep-water private cove in a gated community.
$590,000 | 3 bedrooms | 2.1 baths
Resort living on Lake Athens with a saltwater pool.
$539,000 | 3 bedrooms | 2 baths
An unassuming yet charming lake house located on the Trade Winds peninsula.
$475,000 | 3 bedrooms | 2.1 baths
One-of-a-kind custom built log home in a secluded neighborhood. 
$469,000 | 3 bedrooms | 3 baths
Warm and comfortable lake home situated on a half-acre of deep water.
$419,000 | 3 bedrooms | 2 baths
Charming lake house with guest cottage located on the deep side of a protected cove with wide open water views.
$349,000 | 3 bedrooms | 2 baths
This custom waterfront home has many custom features and is move-in ready.


Ebby Halliday serves Cedar Creek Lake from its recently opened office at 314 W. Main St. in Gun Barrel City, Texas. The office is co-managed by respected industry veterans Malinda Brownlee Howell and Ginger Gill and is "home" to an accomplished team of agents who know the ins and out of lake living and how to find just the right lake home for you.
Gill notes that Cedar Creek Lake-area sellers who list with Ebby benefit from expanded exposure for their properties. In addition to being listed in the local MLS, Ebby Cedar Creek listings are also in the North Texas MLS. Simply put, Ebby's listings reach more potential buyers – in particular residents of the Dallas-Fort Worth area, who make up the majority of Cedar Creek Lake buyers.
Says Howell, "Buying or selling a lake home can be complicated. We are thrilled that our Cedar Creek Lake Office offers experienced local agents dedicated to outstanding service and exceeding clients' expectations."
For more information on Ebby's Cedar Creek Lake Office and all of its listings, call 903-340-8590 or visit cedarcreeklake.ebby.com.
To see more homes for sale in the Cedar Creek Lake and Henderson County area, click here.