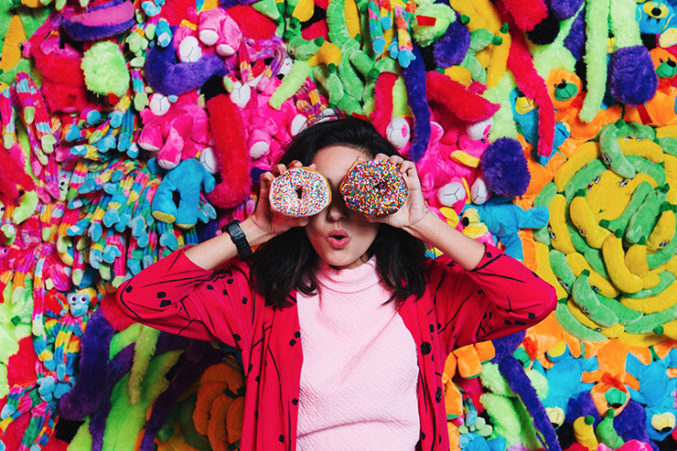 Sweet Tooth Hotel is Dallas' First "Instagram Museum"
Featuring candy-inspired supersized art installations and curated retail.
By Sweet Tooth Hotel
Published in Sponsored
April 9, 2018
10:00 am
Your Instagram feed is about to get a lot sweeter! Imagine a world where candy is larger than life. With fantastical desserts and surprises behind every door, Sweet Tooth Hotel brings together work by some of Dallas's most innovative artists and a curated selection of products and sweets to purchase in The Gift Shoppe. The Sweet Tooth Hotel is a 1,200 sq. ft. experiential art and retail pop up in Dallas, and will be open from May 18 to June 30 at 2316 Victory Park Lane in Victory Park.
Concepted by husband and wife, Cole and Jencey Keeton, Sweet Tooth Hotel delivers five sugar-themed interactive rooms holding art installations based on popular treats including donuts, ring pops, macarons and more. Each room will be thoughtfully crafted by Built By Bender, a design and fabrication shop whose roster includes a variety of clients from Legacy Hall to the City of Plano, with lots of hidden surprises to uncover. In addition, artists Jeremy Biggers, Shamsy Roomiani, Jojo Chuang, and Chelsea Delzell will also contribute their own interactive installations throughout the experience. Unlike a normal museum, Sweet Tooth Hotel invites its guests to engage with the art, pushing every button and opening every door.
In addition to the art installations, Sweet Tooth Hotel offers The Gift Shoppe, where guests can shop a curated selection of goods from brands such as Leatherology, Hairstory, Read Between the Lines, Valfré and JOY Macarons. A rotating selection of work from artists Jeremy Biggers, Shamsy Roomiani, Rob Wilson, Jojo Chuang and Ilse Valfré will also be on display.
Tickets will allow you entry for one hour and can be purchased for $20. There is also a special keyholder ticket for $40 which includes a custom Leatherology keychain and will allow you to unlock hidden surprises throughout the art installation.
It's time to satisfy your cravings. Make sure to get your tickets now as Sweet Tooth Hotel is only open for a limited time!