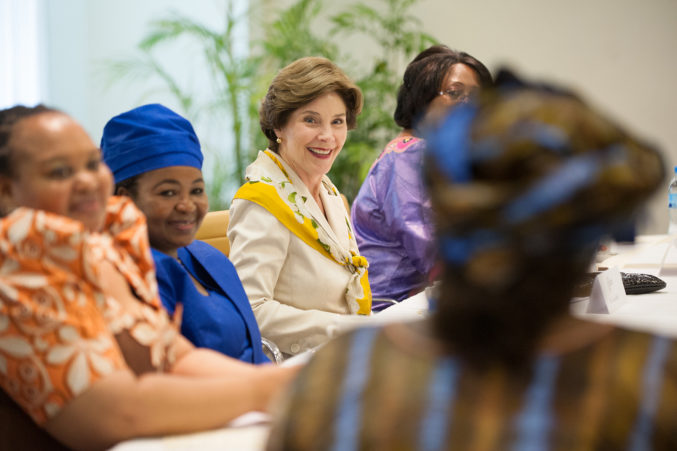 Understanding Laura Bush's Influence and Activism
Bush Center exhibit explores the impact of America's First Ladies
Hostess, teammate, champion, policy advocate. Laura Bush embodied each of these roles while her husband, former President George W. Bush, was in office—often simultaneously.
The former teacher and librarian had hoped to devote her time as First Lady to advocating for literacy and education, but a major world event caused her focus to widen. Natalie Gonnella-Platts, deputy director of the Women's Initiative at the George W. Bush Institute, explains how Mrs. Bush came to be a human rights activist. She says, "September 11th happened, and the spotlight turned to Afghanistan. The brutality of the Taliban was really front and center, and women and girls, in particular, were often the recipients of that brutality. Mrs. Bush was the first person other than a U.S. President to give the presidential radio address in its entirety. … Her radio address called attention to the oppression that existed for Afghan women and girls at that time." Mrs. Bush went on to speak out on human rights abuses in Myanmar (Burma), threats to public health from HIV/AIDS and malaria, and gender equality.
A new exhibit at the Bush Center, First Ladies: Style of Influence, explores Mrs. Bush's leadership and activism, as well as that of every other acting First Lady, from Martha Washington to Melania Trump. Artifacts connected to the women are used to dig deeper into the significance of the role of First Lady.
Among the artifacts connected to Mrs. Bush are a blue Bill Blass gown she wore to a state dinner in honor of the President and First Lady of Ghana, a suit she wore to visit Afghanistan in 2008, and works of art she received as gifts from Afghanistan and Senegal. "Mrs. Bush was only the second First Lady to visit an active war zone, and she visited Afghanistan three times," notes Gonnella-Platts.
Of the Bill Blass dress, Gonnella-Platts says, "The dress is a fantastic representation of the value of state dinners and the idea of soft power. Mrs. Bush was extremely active with regard to building relationships. This happened in the 1500 various functions hosted by the President and Mrs. Bush during their time in office, as well as when Mrs. Bush traveled in support of various policy initiatives… She leveraged her relationships with other first ladies and local stakeholders to highlight the effectiveness of these programs."
First Ladies: Style of Influence includes clothing items, accessories, works of art, books, and other possessions from First Ladies and acknowledges the importance of personal style. However, the exhibit's primary focus is on the women's substance. Gonnella-Platts says, "It's not just about fashion headlines and the social function of the role. … These women are leaders in their own right." She adds, "I hope that people come away with a deeper understanding of the role of First Lady and the affirmation that these stories matter, women's stories matter, women in positions of influence matter, and there's far more to this role than people realize." The exhibit runs from March 1 to October 1, 2018.