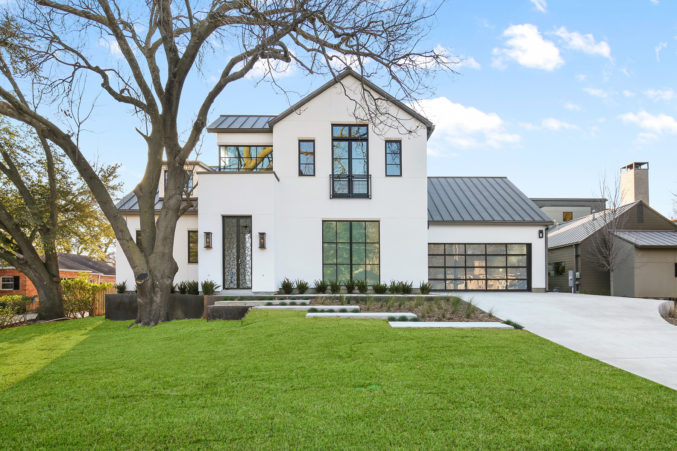 This Bluffview Area Beauty Boasts the Best of Dallas New Construction
And your guests are going to love staying with you. Here's why.
If clean lines make your heart skip a beat, then you are going to want to sit down for this one. Take a look at this exquisite new construction in the Bluffview area that is located in a dreamy location that merges metro living with calming views of nature.
The home has five bedrooms, 6.5 bathrooms and 5,641 square feet that has been hooked up from head to toe with the latest and greatest in interior design and custom construction. The master suite is one for the books. Can we talk about the marble and custom tile work in the bathroom? Or maybe sit for a minute in the closet and daydream about how every shoe, shirt, and slack for you and your partner will have its own space?
We'll never know for certain but we are pretty darn sure that this builder envisioned the future owners of this home as family folk with a flair for having fancy fun. The walk-in pantry, large wet bar, and extra storage supports this idea as does the various niches which provide custom spaces to show off all of your art when hosting guests for happy hour.
The backyard has an outdoor living area that is complete with a grill and fireplace. It backs up to a park off of Shorecrest and has views of nature that are truly hard to come by inside the DFW Metroplex. It is just a matter of time before this magical space has a low profile pool that allows its owners to bask in the North Texas sunshine.
And while this home is simply stunning in every way possible, it is its functionality that makes it truly fabulous and worth a feature. If you take a closer look at the photos, an interior courtyard that looks straight out of a Texas Hill Country boutique hotel rests on the center of the lot. But it is not just any ole' courtyard. This courtyard leads guests to an attached guest suite that also has an office with a wet bar.
So not only can you house your mother-in-law but you can enjoy a cocktail while knocking out some work in the office as said mother-in-law watches the kiddos? Suddenly this pricey home just became priceless.
To see all homes for sale in Dallas' Bluffview neighborhood and surrounding areas, click here.
---
Michelle Hopson
469-583-5441
[email protected]
Professional. Detailed. Experienced.
If these are the qualities you are looking for in your real estate professional, then I am your choice. Buying a home is the largest purchase most people make in their lifetime, and that is of the utmost importance to me. I believe in empowering my clients with the knowledge and information they need to make informed decisions. I strive to give my clients impeccable service, so they will feel confident in referring me to their friends and neighbors.
Each year, more than 90 percent of my business comes from referrals from my past clients and friends. Customer service is my number one priority! I work one-on-one with my clients to make their home buying experience as stress-free and fun as possible!
I am married to a custom home builder and worked for him for several years. This gives me an extensive bank of knowledge about how homes are constructed and maintained, and that is knowledge I can pass on to my clients.
I have been a full-time Realtor since 2002, and I am also a breast cancer survivor!
I will work hard for your referral and look forward to helping you!