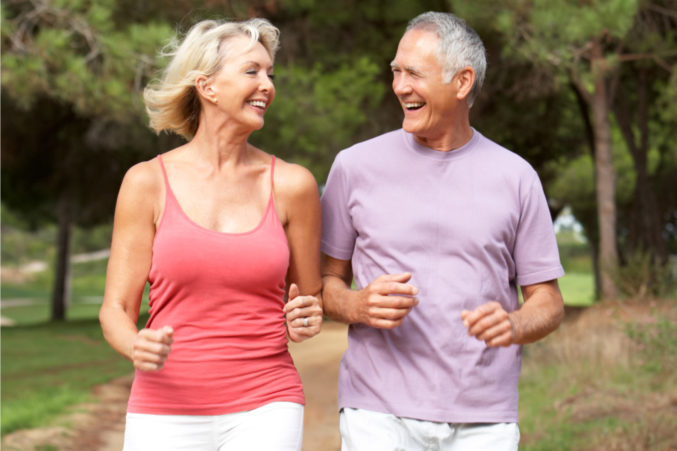 Living Well at Every Stage of Life
Enjoy Optimal Health in Each Decade of Life
When patients ask Dr. Jennifer Attmore what they can do to stay healthy as they age, she doesn't head straight for her prescription pad. Instead, she recommends this: "My favorite medicine is sleep," she says. "Getting enough sleep, along with a good diet and a little bit of exercise, means you are taking care of yourself, and that's better than any pill I could prescribe."
While doctors in all specialties will advocate for preventive medicine first, which includes yearly well visits to a doctor and getting recommended tests and screenings, most people don't see a doctor until they get sick.
"Everyone is so busy these days," says Dr. Attmore, an internal medicine physician at AIM for Wellness, a Texas Health Physicians Group practice. "People are running around and trying to take care of everyone else first, often putting their own health needs last on the list. We rarely see our generally healthy patients until something becomes an urgent issue. With any illness or disease, it's best to be proactive with preventive care and treat early, if possible. We can't do that if we don't see you."
Dr. Nitin Budhwar, a family medicine physician with UT Southwestern Medical Center, says it's easy to become confused because of contradicting recommendations and guidelines which are not in agreement about health screenings and tests, as well as what does and doesn't cause illness and disease. To cut through the barrage of information, Dr. Budhwar recommends finding a physician you trust who you see regularly, perhaps once a year, to discuss individual risk factors based on lifestyle, habits, and family health history.
Eating a healthy diet and exercising four to five times a week stand the test of time when it comes to maintaining good health. It may sound like old news, but it's what gives you the most bang for your buck.

He welcomes an open dialogue with his patients to discuss the latest findings and tailors his recommendations to each patient's individual needs. "With so much information right at our fingertips on our phones and computers, it's easy to get mixed messages about health and the healthcare industry," he says. "This is why it's important to establish with a primary care physician. Maybe you have had no medical problems and live a healthy life. That's great, but if something does come up, it's good to have a doctor to call who knows you and your family history who can help make the best recommendations. It may save you unneeded tests and expense."
In every decade of life, there are recommended tests and screens designed to pinpoint diseases and health issues in their early stages. No matter what your age, one health risk that has caught the attention of doctors in most every specialty is stress. It's impacting the health of Americans more each year. According to research from the Mayo Clinic, stress symptoms can affect health both physically and emotionally. If symptoms go unchecked, you're at risk for high blood pressure, heart disease, obesity, diabetes, depression, and anxiety, among other issues. Headaches, chest pain, severe fatigue, stomach pain, nausea, sleep issues, and muscle tension or pain are some of the most common symptoms of stress. According to the American Heart Association, sudden emotional stress can trigger heart attacks, arrhythmia, and even sudden death. Chronic stress can cause wear and tear on the body that can lead to these cardiac issues as well.
"Stress is a major factor in many of the illnesses I treat," Dr. Budhwar says. "It affects multiple systems, such as the immune system, endocrine system, and cardiovascular system, which are critical for optimal health. My prescription? Change the lifestyle you are leading to reduce stress. I tell my patients to put away their phone when they get home from work. Take a break from the news. Read, go for a walk, enjoy your family and friends. There are many benefits to switching off the world for a few moments. Part of the key to living a happy, long life is to have strong social bonds and connections, which we are doing less of because we are so distracted by our screens. Consider how you are managing your stress, especially if you are in high demand by others. Start as early as you can to avoid stress-related diseases later in life." 
While physicians in all specialties will readily agree that the best time to take charge of your health is now, the following health screening guidelines are beneficial in your 30s, 40s, 50s, and beyond.
30s
For women ages 21-65, continue with your annual well-woman exam, which includes a pelvic exam, every year unless your doctor recommends spacing them further apart. New guidelines show that for some women, every three years is acceptable for a well-woman exam.Women with a family history of breast cancer should ask their doctor about scheduling a mammogram.
40s
Women without a family history of breast cancer should get a mammogram annually starting at age 40.
Ask your doctor about test and screens for heart disease, such as an EKG, coronary calcium screens, chest X-rays, and cholesterol screening. The right age and frequency for these tests will vary depending upon the individual's symptoms and health status, as well as family history. "There is no definitive test that will tell you if you have heart disease," Dr. Attmore says. "Stress tests and other screenings will give an indication that there is a need for further screens or referrals to cardiac specialists."
Discuss troublesome health symptoms with your physician. "The 40s and 50s are usually when signs of disease appear," says Dr. Budhwar.  Symptoms such as loss of weight without trying, shortness of breath without cause, a drastic change in bowel habits, feeling full after eating very little, unexplainable change in personality (such as confusion), seeing flashes of light where there are none, unexplained bleeding, persistent coughing or fevers, or long bouts of depression should all be discussed with your doctor. These can all be the first clues to more serious underlying medical problems. It's important that you not ignore any new symptoms or changes that don't have a good reason to be present, no matter how insignificant they may seem."
50s and Beyond
Men and women should get a colonoscopy every five to 10 years unless there is a family history of colon cancer, then the screenings should begin sooner at the recommendation of your doctor. Bone density screens should begin at age 50, particularly if you have osteoporosis or signs of the disease.