While new things abound at
Revolver Brewing
, their philosophy remains true. Their beer is for drinking, not collecting. Lead by brewmaster Grant Wood, Revolver's recently added some exciting items to its lineup, and after 6 years on the scene, they've decided to offer their beer in cans. As Grant notes, "this has been a long time coming," and it finally came to fruition just six weeks ago.
In addition to the cans, the primary lineup is changing with the release of the Long Range Pils. "It's a traditional style. It's easily recognizable and people understand what it is, but we can have a little fun with it, and I can use some really lovely ingredients to bring a specific character to our pils," Grant says. It's a German-Style Pilsner that uses water from Revolver's hometown of Granbury, Texas, a bohemian pilsner malt and a somewhat non-traditional hop for pilsners, the American Mosaic hop.
"I can use some really lovely ingredients to bring a specific character to our pils
It boasts a subtle complexity and offers Revolver drinkers the first of their beers with less than 6% alcohol. Now alongside the Sidewinder, Full Tang and the much beloved Blood & Honey, The Long Range Pils gives Revolver a new upgrade that will feel familiar to lovers of their beers. For Revolver Brewing, the most important and characteristic aspect of their beers is the finish, that which brings about the desire to come back for more.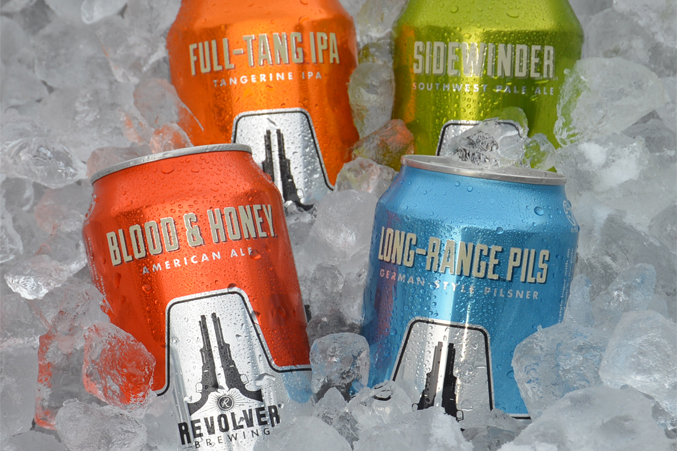 So, with their new facility pushing out 6,000 cans per hour, it's not hard to find those beautiful 6 packs boxed in that bright clean design so well recognized across North Texas, which makes for plenty of opportunity to come back for more. Go get some.
Get the SideDish Newsletter
Dallas' hottest dining news, recipes, and reviews served up fresh to your inbox each week.