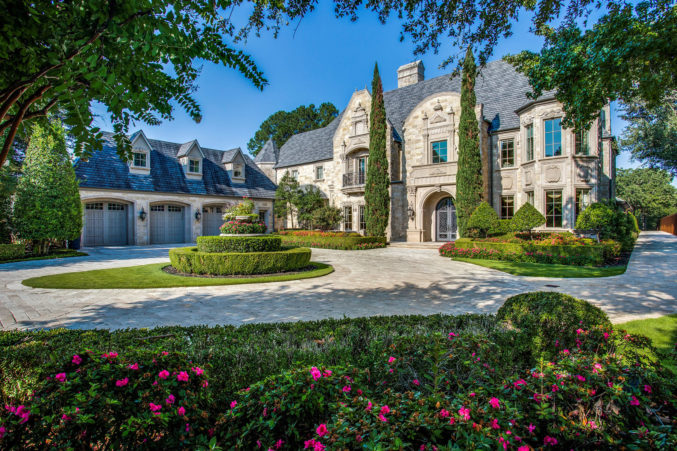 The Wall Street Journal Is Giving This Sprawling Estate Some Love
After you see it, you'll know why.
There are people who are looking to buy a luxurious home in the DFW Metroplex and then there are people who are looking to buy a full-blown estate in which you may or may not ever need to leave home in order to enjoy all of life's luxuries. If you are one of the lucky ones who falls into that rare second category, we've found the ideal property for you in Colleyville.
This home has seven bedrooms, seven full bathrooms, and measures in at 17,902 square feet. And while that might seem way too big, it takes a lot of space to house a movie theater, workout center, gourmet kitchen, game room, and multiple offices. A private elevator whisks its inhabitants from floor to floor. As if anyone who lives in a house like this would ever dream of having it any other way?
This home is for the lover of an opulent abode rid of modern touches and flushed with fabulous collectibles from past and present. Some of the extravagant extras found at this property include splashing fountains modeled after the pastoral French countryside and Paris, a 30-foot ceiling with a hand-blown Venetian chandelier, and a hand-painted mural by Dallas artist Penny Graham.
The extreme elegance spills out onto the outdoor living area which has a sparkling, saltwater diving pool and spa. There is a cabana with a wood-burning fireplace, built-in grill, refrigerator, and sink to prepare and host any meal outdoors. The Wall Street Journal named it one of their prestigious "Homes of the Year" and we can't help but think the lush gardens, peaceful courtyards, and pristine landscaping had something to do with putting this palace on that list.
This home is located just 15 minutes from DFW Airport, 30 minutes from downtown Fort Worth, and 40 minutes from downtown Dallas. If you are in the market for an extremely luxurious property with literally every bell and whistle under the sun, welcome to your new Colleyville chateau.
---
Gina Wilson
817-366-6665
ginawilson@ebby.com
Gina Wilson epitomizes integrity, energy, hard work and creative service, and brings each of these traits to every detail of a real estate transaction. She has a reputation for possessing an unwavering commitment to providing her clients with extraordinary service. Gina desires to partner with you and your family not only in locating a home, but also in providing the necessary information to meet the needs of each family member. In addition to successful negotiation skills, she believes communication with buyers or sellers is the key to making each transaction seamless.
To her real estate business, Gina brings the expertise and experience she acquired working alongside her husband to build and manage a successful commercial real estate development company. She has also owned several other companies, including an architectural firm, an interior design firm, a construction company, a photography business, a wedding cake business and a retail-clothing store. Each of these businesses provided her with knowledge and experience she now uses to aid clients in making smart home buying and selling decisions. As a result of her homebuilding experience, Gina's clients receive the added value of identifying design and construction issues when buying, selling, building or remodeling.
Gina lives and works by the principles of honesty, loyalty, and integrity. She loves traveling and spending time with her family. Three grown daughters (and their husbands) and two granddaughters keep life exciting. Gina is a longtime resident of Colleyville and has knowledge of all the surrounding areas as well as Possum Kingdom Lake, where she owned a home for several years.
SaveSave
SaveSave
SaveSaveSaveSaveSaveSave