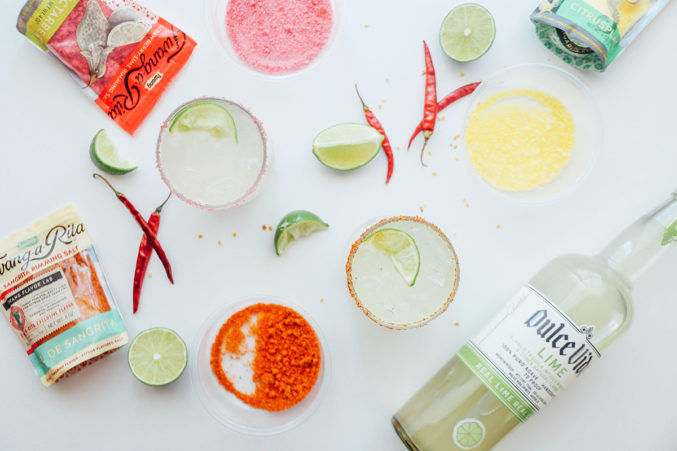 Everything is Better Con Twang
Spice up your backyard fiesta with these recipe ideas.
By Twang
Published in Sponsored
August 29, 2017
9:30 am
Cool off with these traditional Latin inspired recipes made better 'con' Twang. BBQ parties are aplenty and being poolside is a necessity during the hottest months of summer. First up, the mysterious Paloma where some historians state the sweet and sour cocktail originated from an old folk song, of the same name, back in the mid-1800s. Add some Twang-a-Rita Paloma Love grapefruit rimming salt for an added burst of 'sabor'.
Twang-a-Rita Paloma

Ingredients:
1.5oz Tequila Blanco
1.5oz Grapefruit Juice
1.5oz Topo Chico
.5oz Simple Syrup
2 Lime Wedges
Grapefruit Twist for Garnish
Twang-a-Rita Paloma Salt
Instructions:
Rim a glass with Twang-a-Rita Paloma Salt and set aside.
In a cocktail shaker, add lime wedges and simmple syrup and muddle together.
Add remaining ingredients and shake with ice until chilled.
Strain drink into the Twang-a-Rita rimmed glass and top with Topo Chico.
Garnish with grapefruit twist.
Pair the Paloma with a simple ceviche and you're on your way to the most chill day. Most Latin American countries have their own versions of ceviche. The one thing in common is that they all feature raw seafood marinated in a variety of citrus juices and spices. Add Twang's new Mango-Chili ZAS Super Seasoning to your ceviche recipe and take your taste buds to the next level.
Mango-Chili Ceviche

Ingredients:
12 medium raw shrimp (cleaned and chopped)
¼ cup of fresh lime juice
1 small mango, peeled and chopped
1 small Avocado, cut into chunks
1 red onion, finely chopped
¼ cup of fresh cilantro, chopped
1 Tomato, chopped
1 jalapeno, seeded and finely chopped
ZAS! Mango Chili Super-Seasoning
Instructions:
Toss the shrimp in the lime juice enough to cover all the shrimp. Let sit for 15-20 minutes.

Once the shrimp is opaque, add the mango, avocado, tomato, red onion, jalapeno and cilantro. Toss to combine all ingredients. Add more lime juice and let it sit in the refrigerator for another 15 minutes.
Remove and sprinkle on the ZAS! Mango Chili Super-Seasoning before eating.