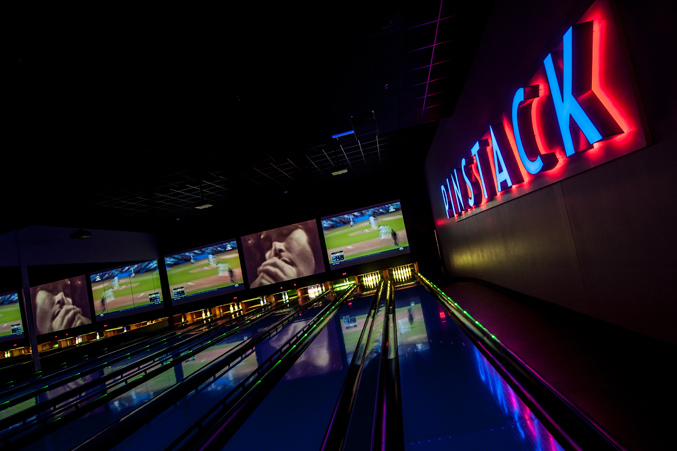 7 Unconventional Venue Ideas For Your Next Celebration
Make sure your next party venue puts the "fun" in functional.
Trying to throw a killer birthday party, professional retreat, work event, or all-around fantastic soiree? Fortunately for you, Dallas has a long list of interesting and unorthodox venues that are available to make your next shindig an event to remember. Here's a rundown of some of our favorites—from karaoke and brewery tours to boozy biking, bowling, and venues that break the mold.
Test Out Your Bravery On A High Ropes Course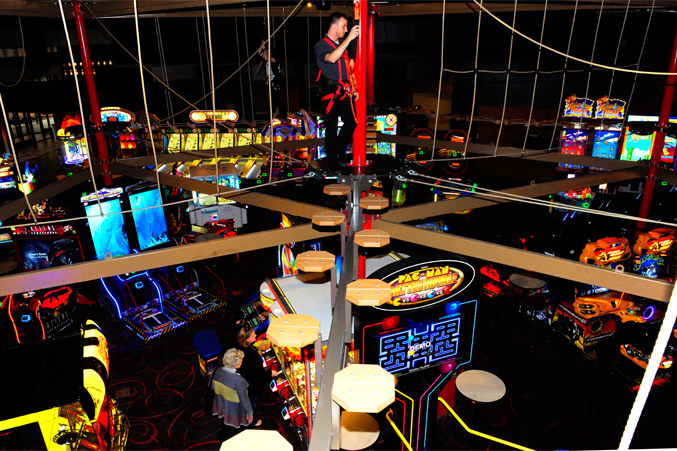 Ever wonder how confident you'd be while suspended 20 feet above hundreds of video games and simulators? Now, you can! Host your next group event at Pinstack Bowl's high ropes course, which is perfect for team building in groups of all ages, if you're looking to learn about focus, risk taking, and the satisfaction of a job well done.
Try Your Survival Skills At An Escape Room
Ever wonder what it'd be like to be trapped inside a room with several of your closest friends or coworkers? Learn how to cooperate and problem solve while you tackle a lighthearted and mysterious puzzle that includes breaking your way out of a "sealed" room using clues and learning how to work together. Depending which of Dallas' Escape Rooms you visit, you'll be able to take your pick from themed experiences that range from Wild Western bank heists to Medieval-inspired adventures—just make sure you and your friends figure out how to escape before the clock runs out.
Perfect Your Technique At Bowling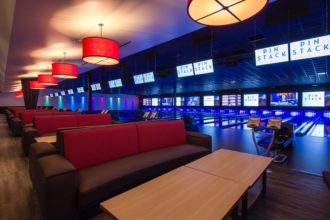 If you're looking for an unconventional party space complete with an energetic activity for your guests to enjoy while also taking advantage of food and drink service, Pinstack is the place for you. With 28 modernized lanes, this truly isn't The Dude's bowling alley. And if you're not into bowling, Pinstack is also home to a variety of other attractions that include a two-level laser tag arena, bumper cars, a rock-climbing wall, high-ropes course and hundreds of video games and simulators. Once you've played enough to work up an appetite, ask your lane-side server to bring you a food and bar menu. The West Plano location is already open, and Pinstack will be expanding to Las Colinas and Allen later this year for your partying pleasure.
Bike While You Drink (Responsibly, Of Course!)
If you've ever considered throwing a boozy soiree with the whole city of Dallas as your backdrop, the Dallas Party Bike is the private party option you've been searching for. Just gather 14 of your closest friends and embark on a 2-hour bike boozy bike ride through the city, stopping at your favorite bars and restaurants as you go. You can also bring your own snacks, wine, and beer on the party bike—they'll even provide the cooler.
Take Out Your Frustrations On Your Co-Workers At Laser Tag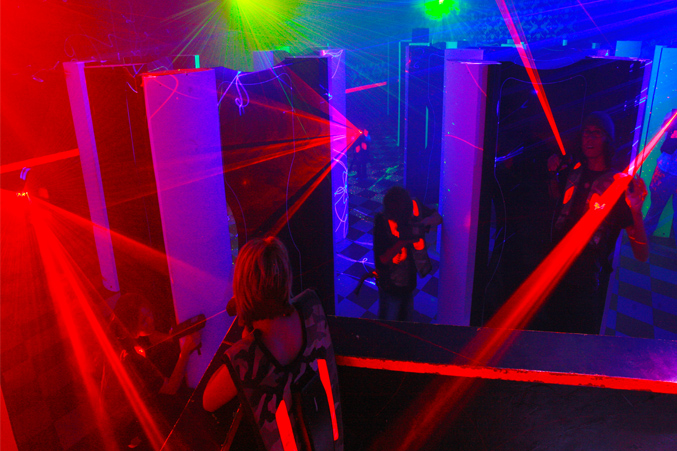 We all have that one co-worker who we'd really like to see lose a game, so consider this your golden opportunity. Plan your next party at Pinstack Bowl, and take advantage of its two-level laser tag arena "where it's every man for himself." Quite unlike the team-building ropes course, you can crawl through fog and dodge obstacles while you shoot laser beams at your co-workers. (Pinstack also has a Laser Maze for a less intense but still optically exciting game of logic and adventure.)
Get Artsy & Host A Tipsy Painting Class
There are several Dallas-area venues that offer tipsy painting classes, so take your pick and get your palette ready for a night of light artistic instruction as you sip on the beverage of your choice. At Lakewood's Pinot's Palette, you can host a private party or a corporate event and they'll supply the wine and beer and let you choose from a selection of painting styles to try your own brush at. At DFW's various Painting With A Twist locations, you can bring your own drinks and socialize in the space (for an additional fee) before or after your 2- or 3-hour painting session.
Have A BYOD (Dog) Party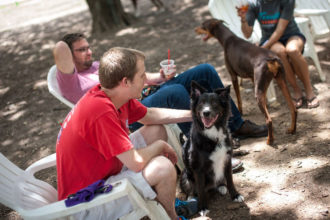 Who says your four-legged friends have to miss out on any of the fun? Mutts Canine Cantina sure doesn't, and it will even host a variety of parties for man's best friends—plus your human friends, too. Depending on the theme and occasion of your party, Mutts will tailor party menus, reserve tables, provide treats—you name it. The menu even has selections for dogs, so nobody will go hungry or thirsty at your next gathering.