Packing up your family and relocating to a new home can be both stressful and expensive, whether you're moving across the country or just down the street. So what can you do to control the seemingly ever-multiplying moving expenses? Here are a few tips that might help.
Put Your Smartphone To Work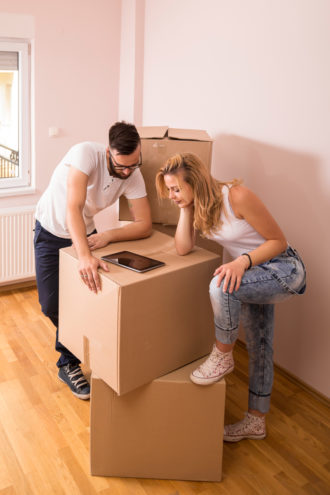 There's an app for just about everything these days, from neighborhood watch and garage sale apps like Nextdoor to convenient moving list-builders like Shortly. And there are a whole bunch of apps like Letgo that you can use to sell your old stuff, not to mention the classics: eBay and Craigslist. Downloading a couple of free apps to keep your lists organized, automate your search for new furniture, or find leftover boxes and supplies from a neighbor's recent move can streamline and simplify the details so you have more time to pack (and unpack). And once you're all settled, there are a variety of smart home devices and apps from service providers like Direct Energy to make sure you stay connected and efficient.
Be On The Hunt For Bargains
Whether you're searching online, using an app, or clipping coupons the old fashioned way, be sure to keep your eyes peeled for deals on everything from packing supplies and home repair items to cleaning services and the actual truck rental and heavy lifting. Dollar stores can also be a great place to cheaply stock up on cleaning supplies, paper products, tape, and more. And if you change your address online with the USPS right away, they'll start forwarding your mail and send you a welcome packet full of coupons to your new address.
Do As Much Detailed Research And Cost-Projecting As You Can
As tempting as it might be to go with the first good-looking company or low price you see, take the time to research different companies, costs, and service options when planning every facet of your move whether you're renting a truck and hauling it all yourself, hiring a crew of skilled movers from a local company, or using a flat-rate shipping container service. Consider building a spreadsheet or downloading a template online to help you keep all of your research and anticipated costs organized, and if you don't already have one, build a monthly household budget that you can start sticking with from this point forward.
Keep Track Of Your Expenses And Claim Deductions Later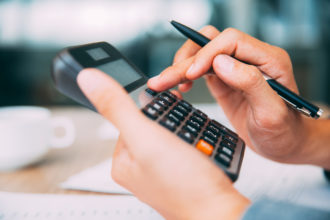 Make sure to keep detailed records of all of your moving expenses, because you might be eligible to claim moving expenses as a deduction on your federal income tax return. Some eligible expenses include the cost of gas or vehicle mileage, rental trucks, short-term storage, boxes, and costs of hotels on long moves. Some charitable donations you might make while moving, like donating gently used appliances and furniture, are also potentially eligible.
Get The Best Deals On Service for Your New Home
In addition to carefully choosing your utility shut-off dates at the home you're leaving to avoid paying for extra time you don't use, shop around before choosing the service providers that you'll use at your new place. Top tier energy providers like Direct Energy offer a variety of fixed rate electricity plans with extra perks! If you tend to use a lot of energy on the weekends prepping for the upcoming week with rounds of laundry and cooking, be sure to check out Direct Energy's Free Weekend plan (it offers the most free weekend hours in Texas). Or if you're interested in shopping for a cause and helping to provide solar lights to those in need take a look at their Give Brighter plan.
Direct Energy's family of home services brands – One Hour Heating and Air Conditioning, Benjamin Franklin Plumbing and Mister Sparky offer dependable, top-tier service seven days a week, 365 days a year. Whether you need an HVAC tune up before the start of summer or help maintaining your home's system, they are the ones to call.

Get the D Brief Newsletter
Dallas' most important news stories of the week, delivered to your inbox each Sunday.