Dallasites eat more enchiladas than any other Tex-Mex or Mexican dish, by far. Enchiladas started as a simple Mexican street food: corn tortillas dipped in chili sauce. (In Spanish enchilar, a form of the word enchiladas, means to season with chili peppers.) But the slightly more complex version most Americans are used to eating include fillings and toppings. While these versions are common in Tex-Mex cuisine, the fillings and toppings actually have their roots in Mexico as well.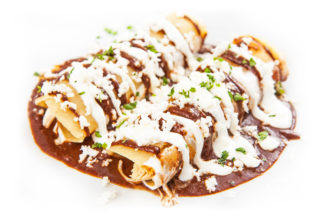 Enchiladas recipes date back to the earliest Mexican cookbooks from the 1800s. Additional historical texts suggest that even the Mayans filled corn tortillas with meat—in their case, fish. As it turns out, each region of the country fills and dresses its enchiladas in different ways (if it's going to fill and dress them at all). Fillings can include meat such as chicken, beef, seafood or pork; beans; potatoes; vegetables such as carrots; and cheese. Toppings can include cheese, sour cream, lettuce, olives, diced onions, red or green chili peppers, salsa and cilantro.
One unique variety of enchiladas is called Enchiladas Mineras ("miner's enchiladas") and it originates from the Mexican state of Guanajuato. Mining has traditionally been a huge industry in this north-central state, with most of the effort today being put into digging up gold and silver ore. According to its name and recipe, Enchiladas Mineras are hearty enough to fill up a miner during his workday. These enchiladas start as stale tortillas, which are dipped into guajillo chili salsa and hot oil to make them pliable. Next they are stuffed with fluffy ranchero cheese and topped with diced fried potatoes, carrots and raw onions. They are sometimes also served with chicken on the side for some added protein.
Even if you aren't working a shift in the mine tomorrow, you can still get your fill of Enchiladas Mineras at Komali—the award-winning, contemporary Mexican restaurant in Uptown. For four Wednesday evenings this October (October 5th, 12th, 19th and 26th), Komali is featuring the eats and drinks of Guanajuato, which includes many famous dishes such as this version of enchiladas. Reserve your seat at Komali's monthly "Tastes of Mexico" feast by calling (214) 252-0200 or visiting KomaliRestaurant.com.
Get the SideDish Newsletter
Dallas' hottest dining news, recipes, and reviews served up fresh to your inbox each week.