In the U.S. we generally consider popsicles the neon-colored frozen treats that are made of water, sugar and artificial fruit flavors. But in Latin American culture, ice pops are quite distinctive. Known as paletas (or "little stick" in Spanish), these frozen concoctions are only slightly sweet and are made from a variety of fresh ingredients including flowers such as hibiscus, fruits such as pineapples or cucumbers, spirits such as tequila and spices such as cinnamon or chili pepper. Sometimes Mexican-style paletas are even dipped in chocolate and sprinkled with chopped nuts.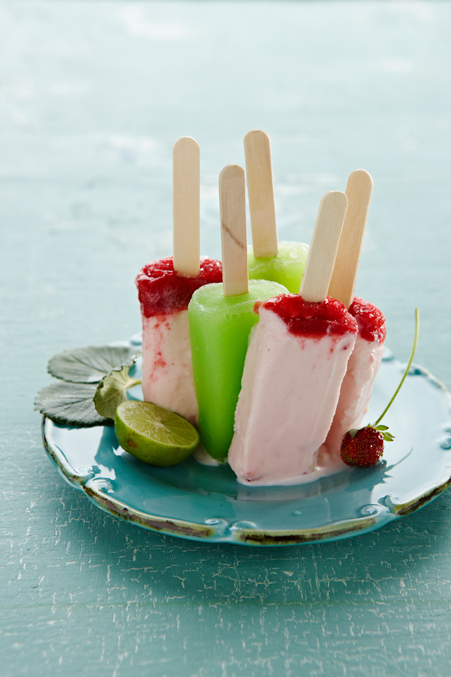 As you can see, paleta flavors reach far beyond the typical "red" or "blue" popsicle flavors that Americans have come to know. And paletas are usually made by hand from natural ingredients. To make, cooks first purée their base ingredients with a bit of water or fresh juice. Many paletas include the fruit chunks that remain after puréeing, but they could also be strained out at this point. Next the blend is spiked with spices and/or sugar as needed to make refreshing combos like chili-watermelon, strawberry-horchata or tequila-lime. Finally the pops are frozen in molds with wooden sticks.
In Mexico and in many Mexican-American communities, you can buy paletas and helados (ice cream) from street vendors who sell them from pushcarts. At Komali —the award-winning, contemporary Mexican restaurant in Uptown— you can finish your meal with a variety of authentic Mexican desserts right at your table. Reserve your seat at Komali by calling (214) 252-0200 or visiting KomaliRestaurant.com.
Get the SideDish Newsletter
Dallas' hottest dining news, recipes, and reviews served up fresh to your inbox each week.