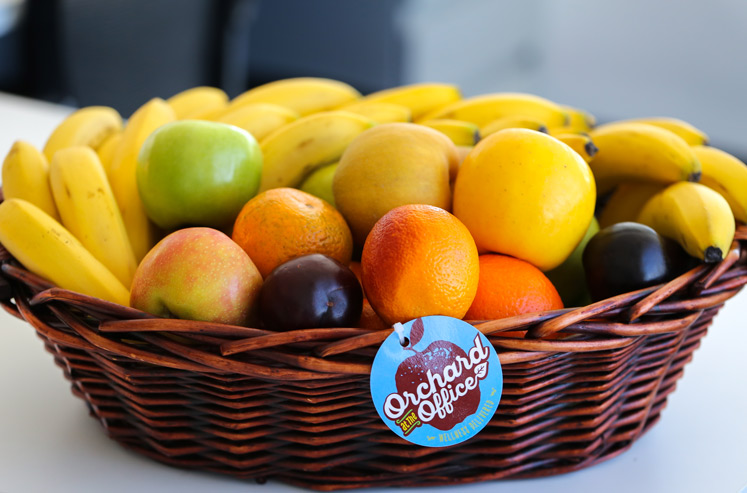 Orchard at the Office
Delivering wellness to offices…one bite at a time.
By Orchard at the Office
Published in Sponsored
February 26, 2016
10:15 am
As a concept, wellness has become a cultural concern that has found firm footing in the corporate environment. Businesses are increasingly recognizing the link between healthy lifestyles and productivity, and are willing to allocate resources to providing everything from smoking cessation materials to aerobic instruction. There are even insurance providers willing to reimburse entrepreneurs who take steps to contribute to the well-being of their staff. Weight loss challenges, yoga classes, fruits and vegetables in the break rooms and board rooms – these all contribute, figuratively and literally, to a healthier bottom line.
In the Dallas/Fort Worth Metroplex, one company has taken up the challenge of delivering wellness to offices…one bite at a time.
Richardson, Texas-based ORCHARD At The OFFICE has a singular mission: to deliver fresh fruit to the businesses of north Texas. By putting together a variety of baskets of top-quality produce, they allow companies small and large to eat healthy with minimal fuss. But these folks are not mere "grocery-getters": their knowledgeable and energetic staff knows their fruit facts. By viewing their clients as friends, and seeing themselves as partners on a mission to provide health and great taste, ORCHARD At The OFFICE has grown from a two-man effort into a round-the-clock operation dedicated to the cause of healthy living.
"It's an amazing response," says Kevin Long, founder and Chief Banana (as it says on his card). "People welcome the difference." He should know. He first got the idea when he was employed as a director of an advertising firm, and decided to experiment with bringing in bananas and apples in lieu of the more sugar-centric morning munchables. The result was gratifying: "they attacked the baskets! They were really excited." So much so that Long got the confidence to take his idea and start his own enterprise in 2010. As time has gone by and the business has expanded, so have the offerings: customers can receive the ever-popular bananas, apples, oranges, a variety of pears, citrus, stone fruits, grapes and berries. "Helping our friends find the right mix for their office is part of the fun," says Chris Buchanan, the Marketing Wiseapple.
Their friends certainly seem satisfied. Monday morning sees a flurry of activity at the company's headquarters, as baskets of fruits in all manner of inviting colors are loaded into a slew of vehicles to find their way into office kitchens throughout the Dallas/Fort Worth area. The drivers operate as the primary point of contact with their friends and serve to answer questions and note any special accommodations. Regular deliveries are made, special events are scheduled, and even a few gift baskets are dropped off by those wanting to give other companies the gift of health.
For the Chief Banana, that's what it all comes back to. "Fruit is a gift on so many levels. It's a gift to yourself."
ORCHARD At The OFFICE can be reached at 972.295.9091 or [email protected].