Hoang-Kim Cung just turned 30, but her resume is already a mile long: competitive figure skater, news anchor, former Miss Nebraska USA, first Vietnamese-American woman to compete at Miss USA, and now a successful influencer. The Dallasite's blog, Color & Chic, showcases her personal style, from her polished yet attainable wardrobe to the pieces in her newly purchased home. We asked Hoang-Kim to tell us more about how her style has evolved since she started Color & Chic, her favorite places to shop in Dallas, how she formed a strong community on Instagram, and the significance of sharing Vietnamese traditions with followers.
This interview has been edited for length and clarity.
You've been blogging since college. What have you learned about yourself, and what are you most proud of?
I want anyone who reads my blog, checks out my Instagram, or watches my YouTube videos to feel like they just hung out with their best friend. I want them to feel rejuvenated, a little bit smarter, more capable, and like they can tackle the next task. I'm most proud of the representation I've been able to offer. I hear from followers who say it's so nice to see someone who looks like them, or that they're also a child of immigrants. And hearing from people who are taking care of loved ones (I care full-time for my dad who suffered a traumatic brain injury and has dementia) always makes my heart swell.
You're a former journalist. How did your storytelling and communication skills translate to blogging?
I always wanted to be a storyteller. My ability to easily communicate my thoughts and be thorough is rooted in my journalism background. My time in news was incredibly rewarding, humbling, and taught me to have grit. However, I also want to give credit to pageants–I competed for over a decade and learned how to communicate with strangers, be concise, and be confident when public speaking.
How has your style evolved since you began Color & Chic?
I absolutely love color, but I do think I wear a little less of it now. That's not to say my life doesn't have color in it, but maybe in a slightly more understated way. I still gravitate toward classic pieces you can wear year after year–cost per wear is so important to me. I also never thought I'd be in the home interior space and I've really enjoyed inspiring others to make their house a home.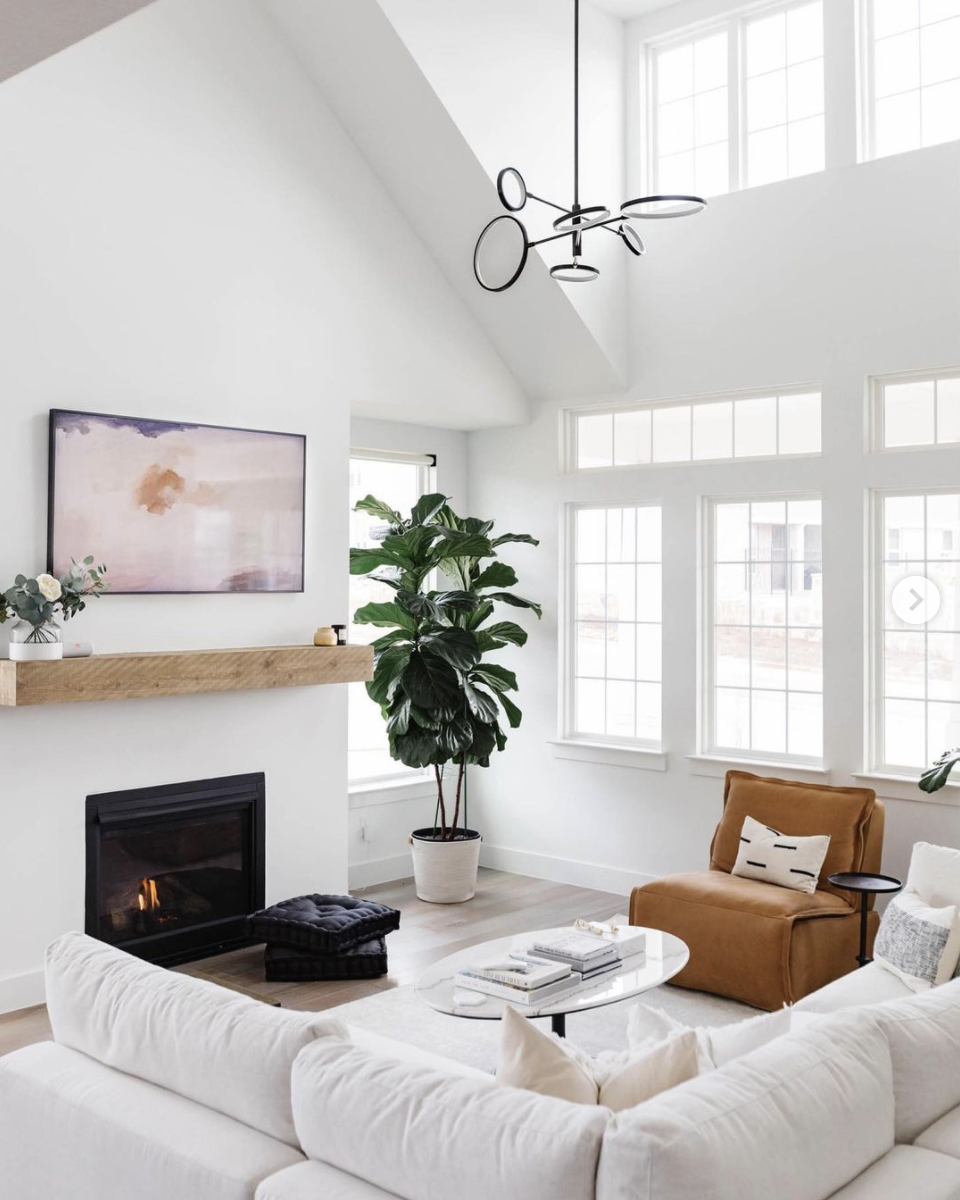 What piece of clothing makes you feel most confident and most like yourself?
I recently got this bright yellow dress with pockets and it's one of my favorite purchases in the past few years. It has long sleeves and an A-line silhouette, plus yellow is my favorite color. I think everybody's closet should have pieces that make them feel like the best version of themselves.
Where are your favorite places to shop in Dallas?
I'll always be partial to Nordstrom. My competitive figure skating career started at the Dallas Galleria when I was 8 years old and I remember in 5th grade my older sister bought me a pair of $50 jeans from Nordstrom. It was a lot of money for us, but I remember those jeans made me feel like a million bucks. I do a lot of online shopping, but shopping (or window shopping) at West Village, Legacy West, or Highland Park Village always puts a smile on my face.
You recently bought a home with your fiancé. How would you describe your home decor styles? What has it been like to merge them together?
Fortunately, we both love a modern transitional style. Johnny isn't much of a risk-taker when it comes to interiors, but he knows what he loves when he sees it. It's been great picking out every single piece of furniture and talking about adding personality to our home. We're currently working on adding wall molding to our bedroom.
As you work on wedding planning, how are you translating your personal style into your wedding aesthetic?
During the wedding planning process, our constant thought is we want to look back in 50, 60, or 70 years and think that everything still looks beautiful. We are classic, but we love adding modern touches. I'm wearing an Áo dài (a Vietnamese long dress) for our tea ceremony and Buddhist ceremony. For the tea ceremony, we are going with something traditional; for the Buddhist ceremony, more understated and contemporary. I'm thrilled about my gown for the reception, which is more of the typical white dress and I feel so beautiful in it. We're going to have fun with our rehearsal dinner outfits! I'm thinking of either a white tuxedo look or a jumpsuit.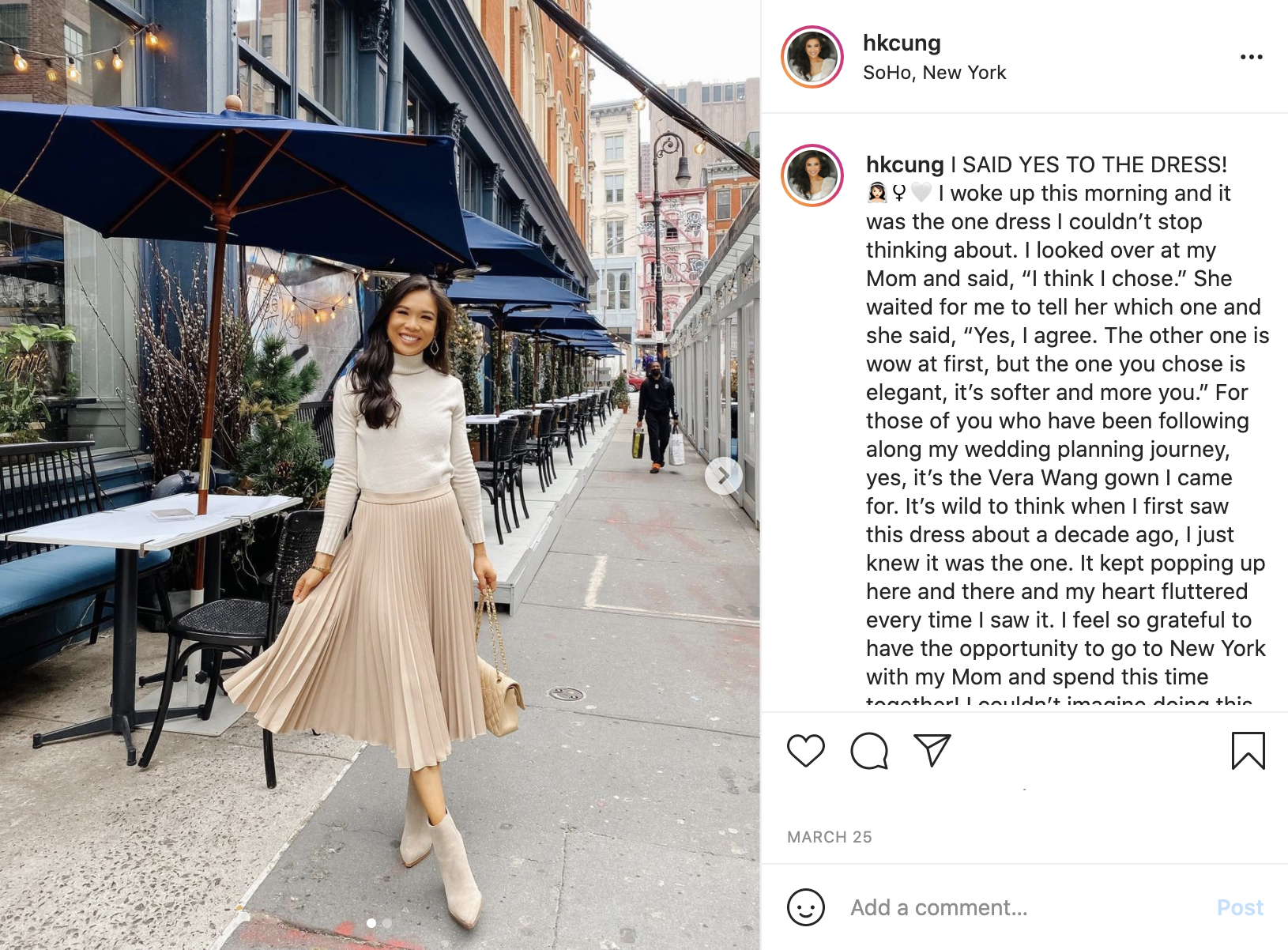 How have you shared your Vietnamese culture with your followers?
Vietnamese was my first language and it's so important to me to maintain that culture, especially as Johnny and I want to have kids someday. I love sharing the language, the food, and right now as we are wedding planning, the customs! This year, I also teamed up with other Asian American bloggers to share our Lunar New Year traditions, which got such great feedback from my followers.
You've formed a strong community on Instagram. How did you create those connections, and how do you maintain them?
It's always been my belief that if someone takes time out of their day to say something nice to you, you should take time out of yours to say something back. I absolutely love chatting with my followers, getting to know them, and have an impact on their lives, even in the smallest of ways.
Get the AtHome Newsletter
Enjoy Dallas' best trends, hot properties, and tips from local designers to help you nest in style delivered weekly.