Highland Park Village just got a new burst of color. Designer Lele Sadoughi, known for her eponymous line of embellished headbands and accessories in punchy shades, just opened her first storefront. Last night's buzzy grand opening celebration featured sparkling streamers, a headband painting station, and an outdoor garden party.
"I'm especially excited about Dallas because it's a bit of a homecoming for me," Sadoughi says. "I was born and raised here. It feels really special to have the premier flagship store in Dallas."
Sadoughi has been in the fashion industry for twenty years: leading teams at J. Crew and Tory Burch, designing jewelry and accessories, and establishing her own brand. Until now, Sadoughi's pieces could be purchased online or at 150 global retailers like Nordstrom or Neiman Marcus. With the development of Sadoughi's new flagship store, a jewel box nestled inside Highland Park Village, Dallasites can finally shop their favorite pieces in person.
"It's really about creating an experience that is open and cheery and bright and colorful," she says of her brick-and-mortar. "It's about having a space like this that feels like a big dressing room where you can come with your girlfriends and just try stuff on and walk out with things that are new."
Sadoughi and her team have been working for months to launch the Highland Park Village location. Though rain delayed some of their plans, Sadoughi has loved hopping on a plane more often to see her family in Dallas. She also gets her Tex-Mex fix whenever she's in town–Velvet Taco is her restaurant of choice.
Sadoughi's decision to open a storefront in Dallas was also driven by her existing customer base here. Her gem-studded headbands and floral earrings are often spotted on notable North Texans, like Bravo's Kameron Westcott and D'Andra Simmons, both of whom attended the grand opening fete. Of course, Sadoughi's popularity isn't limited to locals; her ubiquitous headbands are also loved by A-listers like Jessica Alba, Olivia Palermo, and Drew Barrymore.
Dallas shoppers can expect to see exclusive treasures in Sadoughi's store. Yesterday, she unveiled a longhorn headband, as well as a red, white, and blue bouclé as a nod to SMU.
Not exclusive to the Dallas location, but exciting for Sadoughi and her team nonetheless, is a collaboration with women's clothing and swimsuit brand Solid and Striped. "It's not just headbands. The collaboration has expanded into hats and visors and it's become a big part of our business," she says.
Sadoughi's success proves that accessories can be the star of an outfit, not merely an afterthought. "Often, people start their look with a dress, but I love to start with accessories," she says. "You can build a foundation with a solid color and update it with different looks, and really create your own." She refers to the process of styling an ensemble around an accessory as the "Lele Look."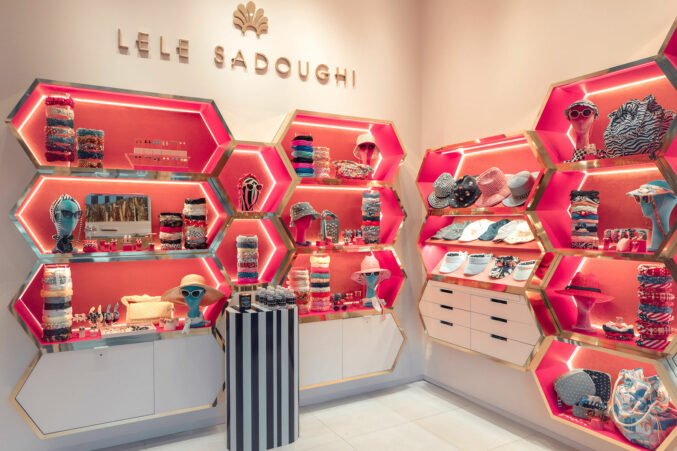 Over the past year, Sadoughi and her team used social media more than ever, hoping to connect with followers and learn more about what they needed and wanted. The biggest takeaway is that Sadoughi's products offer inspiration and happy moments through difficult times. During the pandemic, styling a full outfit was daunting, and accessories were an easy way to feel put together. Sadoughi also recalls a customer who had to cancel her wedding, then bought a jeweled headband as a little indulgence to make herself feel better. In moments like these, says Sadoughi, she feels a true sense of community among her customers.
"I had never done a live Instagram before the pandemic," she says. "It's been so rewarding to hear what people are saying, what they're wanting, and what makes them happy."
Lele Sadoughi's storefront is located at 67 Highland Park Village. Stop in Monday through Saturday from 10 a.m. to 6 p.m. or Sunday from 12 to 5 p.m.
Get the AtHome Newsletter
Enjoy Dallas' best trends, hot properties, and tips from local designers to help you nest in style delivered weekly.