Kendra Scott's cheery, candy-colored jewelry has been ubiquitous in Texas for nearly two decades. The Austin-based designer operates over 100 stores nationwide, including 21 in Texas and seven in the Dallas area. In April, as Gov. Greg Abbott formulated a plan to re-open businesses, he recruited Scott to represent the retail sector on his Strike Force advisory panel, calling her "a talented designer, passionate philanthropist, and driven entrepreneur." We sat down (virtually) with Scott to learn about the challenges of leading a company through a pandemic, how she stayed connected to her loyal customers despite stores shuttering, and what she's looking forward to this holiday season.
To start, let's chat about retail during the pandemic. I'm sure many, if not all, Kendra Scott locations were forced to close temporarily. What was it like for you to lead your team through that?
Over the years, some of the greatest learning moments that brought me to this place of success felt like terrifying challenges at the time. And closing our stores mid-March was a challenge unlike any we'd ever faced. But I am grateful for my talented team, their creative thinking, and their quick action to best serve our customers and our employees.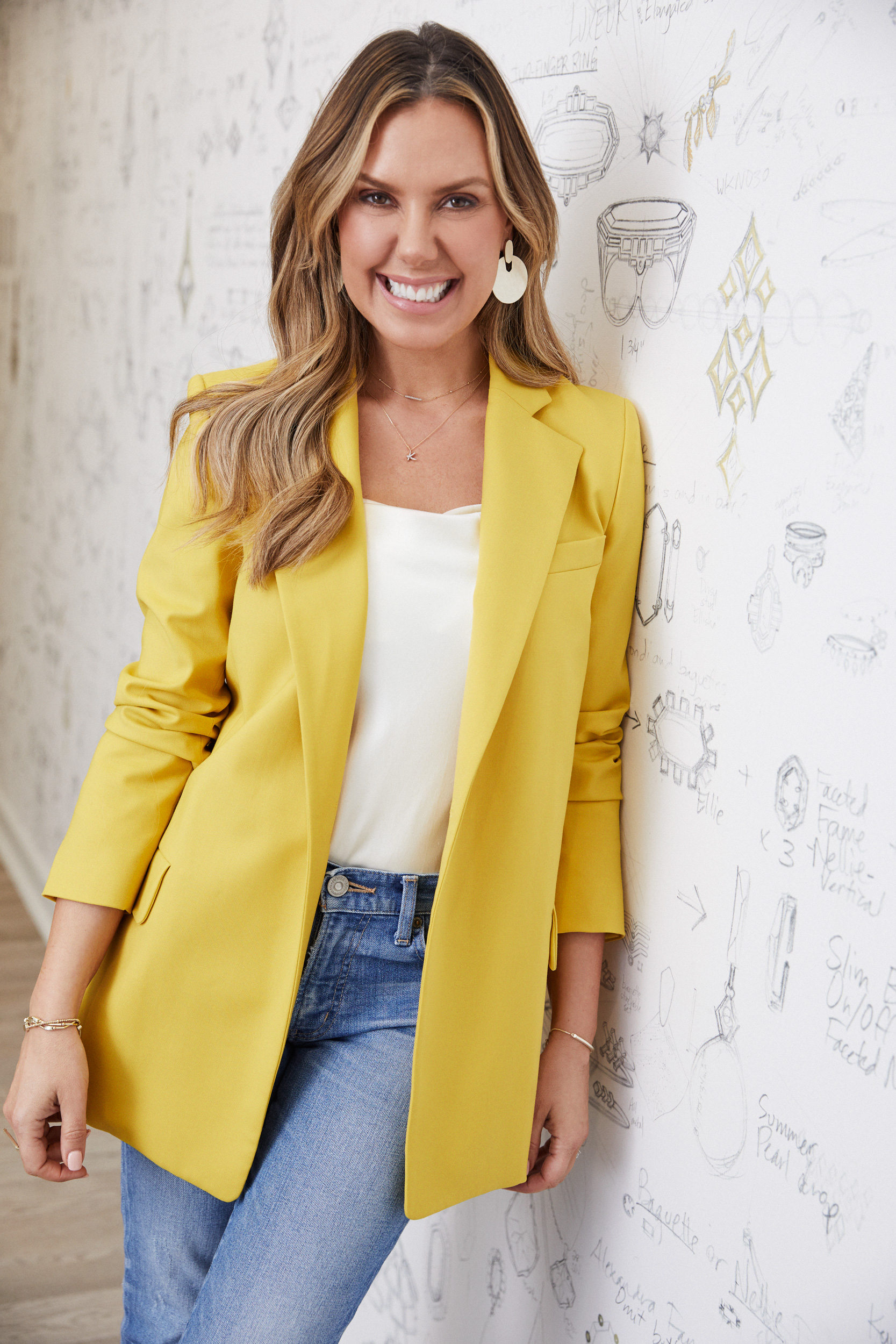 When COVID-19 started to threaten our business, we worked quickly to fast-track initiatives and programs that we hadn't planned to roll out for months or even years, like our curbside pickup initiative and our virtual try-on service, which uses augmented reality to let customers "try on" earrings via their smartphone. [We also] transitioned some of our philanthropy initiatives to a virtual model, like Kendra Gives Back (a community-giving initiative where organizations host Kendra Scott shopping events and receive 20 percent of the proceeds) and Kendra Cares (which gives pediatric hospital patients the opportunity to custom-design complimentary Kendra Scott pieces). Since I began this business, I have been inspired to use our success as a platform to do something even more powerful–to give back to others in a meaningful way. [That's] why philanthropy is one of our three core pillars, and why philanthropy became our guiding light in the face of a national pandemic.
I also had the honor to join Governor Abbott's Texas Strikeforce, working with both medical and business experts in Texas who provided advice and insights to the governor on how best to re-open Texas safely and quickly. That was a great support to help us navigate reopening in our home state and in our other markets.
Many retailers have changed their messaging in the past few months. How did Kendra Scott modify its consumer outreach strategy and social media presence during the pandemic? 
Our business model has always been rooted in customer interaction and experience. So while we shifted our messaging to speak to the pandemic, we didn't pivot greatly from who we are at our core. What we did prioritize right away was store safety messaging. [We used] custom emails, [messaging] on our website, and even videos that showed our customers how to safely shop with us.
How has the Kendra Scott shopping experience changed, both in-store and online?
I built our store model around the consumer. At most other jewelers, products are behind locked glass cases. I wanted people to be able to touch and try on our products, and have fun when they were in our stores. The reason we continue to succeed in retail is because of that connection we created with our customers. Now, in the wake of this pandemic, we have worked diligently to create a new experience that still feels innovative and engaging, while keeping safety and comfort top of mind.
Our business model has always been rooted in customer interaction and experience. So while we shifted our messaging to speak to the pandemic, we didn't pivot greatly from who we are at our core.
The experience of physical retail can't be fully replaced digitally, so I think there will always be a market for in-person shopping. While I like to think we will get back to a place of normalcy, we are all learning as we go and shifting our strategy around our customer's needs. We're continuing to lean into our entrepreneurial spirit, listen to our customers, and innovate. We are outfitting all of our 108 stores with automated capacity monitoring and heat mapping for added in-store safety. Additionally, we're rolling out a virtual queuing program, which will let our customers get in line if their local store is at capacity, or quickly locate the products on their wishlist and check out as soon as they enter the store. We will be integrating shoppable QR codes into our virtual shopping and styling appointments to more easily direct customers to products.
The holidays are approaching! Can you tell us about your upcoming holiday collection?
I am so excited about this year's winter and holiday collections. I think customers will be surprised and delighted to see new styles that play on vintage themes and jewel tones, but they'll also see well-known and well-loved Kendra Scott classics. My personal favorite piece in the collection is the Vivian Statement Earrings. They're perfect for any holiday occasion, whether you're cheers-ing in person or over Zoom.
Many consumers are facing financial hardships this winter due to COVID-19. How will this affect the world of retail, and how is the Kendra Scott brand adapting?
We understand this holiday season is unlike any we've seen before, but we also anticipate it to be a busy one. We just opened a new Dallas distribution center that will allow us to fulfill orders faster, as well as provide seasonal employment opportunities to Texans.
We're excited to announce an exclusive partnership with Favor. From October 21 through December 25, Favor users can order same-day delivery on a limited assortment of Kendra Scott jewelry. This will be available to any customer within a 7-mile radius from our Texas stores. It's a first-of-its-kind retail partnership for Favor.
Because this is still a difficult time for many, we want to provide our customers with incentives, perks, and savings. We're launching a new loyalty program, Kendra Cash, where customers can earn $20 in Kendra Cash for every $75 spent from October 15 to 18. Kendra Cash can then be redeemed when the new collection launches during November's peak holiday shopping period. We also just launched complimentary engraving for our sterling silver and 18k gold vermeil collection online, which makes a wonderful and personal gift. Finally, our holiday gift guide will include options at every price point, including beautiful pieces under $50. We want to spread the joy that comes from the gift of a yellow box to everyone this holiday season.
Get a first look at the 2020 holiday collection with the gallery below.
Get the AtHome Newsletter
Enjoy Dallas' best trends, hot properties, and tips from local designers to help you nest in style delivered weekly.