Since March, certain products have become unexpectedly in demand: Lysol wipes, puzzles, kiddie pools, and … luxury sneakers? Despite a crumbling economy and a non-existent social scene, North Texans are buying up streetwear during the coronavirus pandemic. PCH LA, or Please Come Home, is a streetwear store and label with locations in Los Angeles and the Galleria Dallas. The store has had its busiest months since opening almost two years ago during the outbreak, despite closing its mall storefront for a period during the earlier stages of lockdown. 
"Business has certainly been better during the pandemic, oddly enough," says co-founder Scott Norris. The shop owners attribute the increase in business to people saving money on activities like bar-hopping, traveling, and attending concerts. Even if it's done from home, shopping provides a little thrill. 
"What I look at the store as is kind of like when you get a new haircut and you feel great about yourself–guys just want to feel better about themselves. Maybe retail therapy is their solution to feeling better, so they have a little extra money and they come to the store and shop whether they have somewhere to go or not," says Norris. 
"And you can post on Instagram from anywhere," adds fellow co-founder Larry Singleton, "even during quarantine."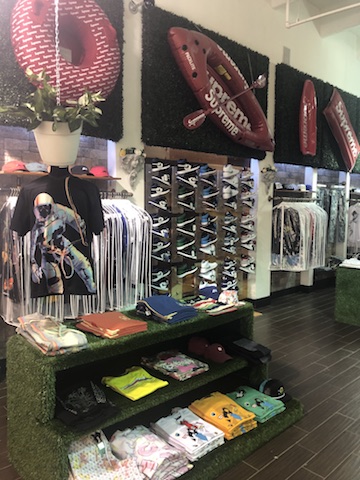 The two men founded the store in October of 2018 after working in the streetwear industry together for years. Their idea was to bring to Dallas the hypebeast shopping experience that's usually found in New York City or Los Angeles. They do both retail and resale, creating the perfect storm of hard-to-find items from a short list of coveted brands like Supreme and Billionaire Boys Club. In addition to its own eponymous clothing line, PCH only sells about 10 other brands, many of which aren't available elsewhere in the region. 
"I feel like we have a pretty solid eye for what's coming next, but also more importantly, with the position that we're in now, people look to us to create these trends and tell them what's next, and what's going to be hot.I think that the consumer really trust us, at this point, to, to know that if it's in my store, it's probably something pretty cool," says Singleton. 
Lifelong sneaker head Ian Thomas curates the store's shoe selection. His own footwear obsession made him a valuable liaison for securing the goods. 
"I started out as a collector, just collecting shoes for over 10 years. Along that journey, I was one of those kids that wasn't able to get those shoes–they would sell out too fast and whatnot. Through a lot of networking and connections that I've made, I was able to source these products [for the store] and share that experience and that joy of being able to get an item that's hard to acquire," says Thomas.
Access to ultra-popular streetwear is rare in Dallas, but it wasn't just the fashion that Scott and Larry wanted to make accessible, it was the whole luxury streetwear shopping experience. The two men built the store with their own hands (and the help of Norris' father) to emulate the style of West Coast shops. 
"The layout of our boutique is very LA-style, something you would see if you go on Melrose or Fairfax. We essentially brought the LA shopping experience to Dallas. That's a big part of what plays into the name; Please Come Home was about bringing the style back here to Texas," says Norris. "The type of exclusive items that we carry are not just in cities like Dallas, Houston, Austin…it's really meant for LA, New York, that's where it's thriving. We're able to bring that to Dallas, and that's something that the general public is really gravitating to." 
Get the FrontRow Newsletter
Get a front row seat to the best shows, arts, and things to do across North Texas. Never miss a beat.