I write this from my couch, where I am still trying to figure out the most professionally productive seating position whilst wearing a casual, black jersey dress. I point this out because today was the first morning in quarantine that I didn't reach for leggings or sweatpants–and I'm feeling kind of good about it. 
We have nowhere to go, nothing to get ready for, but we can still have fun getting dressed every day. (Hell, make it multiple times a day! We have the time for costume changes.) A study conducted in my apartment this week showed that quarantine-rs feel up to thirty percent less "bleh" about themselves and the general state of the world after finally putting on real clothes. 
By real clothes, I don't mean jeans–I'm not a psychopath. It's more about finding things that make you feel good and put-together because that's one little factor that's in our control. 
I virtually browsed some local shops and designers to find my favorite picks for comfy, low maintenance clothing. Check out these stylish loungewear looks from Dallas-owned businesses.
Tribe Alive's Design-Your-Own Everyday Crop Set
Fort Worth-based, ethical fashion brand Tribe Alive has a chic matching set, made from summery linen and soft cotton, that's available in five colors. It's flowing yet flattering, and versatile enough that you'll have it in your rotation long after the quarantine ends. You can mix and match the colors, but I'm obsessing over the monochromatic look of the organic linen in the bright pink "orchid" shade.
Available in sizes XS-SL.
Favor The Kind Tie Dye Pajamas 
Ok, I know these are not technically "real" clothes, but what is real, anyway? I've seen a lot of memes lately about life being a simulation and I'm not unconvinced. That's to say, throw on some cotton candy-colored PJs and enjoy your life. They're cute enough to make their runway debut on your allotted daily walk.
Top available in sizes XS-L; bottoms available in sizes XS-XL.
Buy the Top for $64 Buy the Bottoms for $44
Keep Your Hopes Up Crop Top from Flea Style 
If dressing up doesn't brighten your mood, maybe this optimistic crop top will. The shirt, made by Dallas-based family business The Sweet Hive and sold online by Flea Style, is super soft cotton in a rosy mauve. It's not super cropped, so you can wear it with high waisted jeans without baring midriff.
Available in sizes S-L.
El Chuy's Dallas Bike Short 
A cult favorite among streetwear-loving locals, El Chuy takes a simple but effective approach to design, emblazoning each garment with 'DALLAS' or 'OAK CLIFF.' They have a nice, unisex hoodie for $40, but I've been eyeing the biker shorts for a while now. They only come in one size, and that size looks pretty short/small. Still, it seems like an appropriate sartorial risk to take right now.
One size fits most.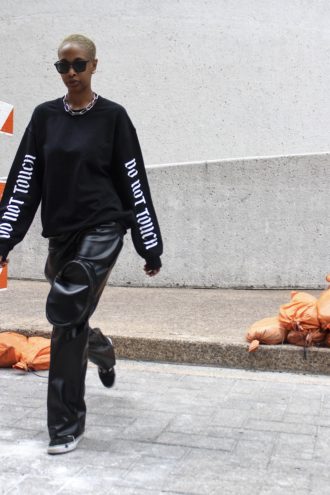 Do Not Touch Sweatshirt by Smith II 
Dallas designer Charles Smith II's "Do Not Touch" series has taken on an entirely new meaning this season as we re-learn how to live in an infected world. I wore my Smith II DNT hat on my daily walk yesterday and got a few funny looks–but you'd better bet people kept their six-foot distance. Stay stylish, stay cool, stay safe.
Available in sizes S-5XL.
Harkensback's Knotted Overalls 
Bishop Arts-based clothing brand Harkensback has a naturally cozy yet sophisticated look. These overalls say "I'm cute and probably an artisan of some kind," but they will never say "I've been sitting on the couch for ten hours," even if it's true. It's made of gauzy black linen, but not the fussy kind you need to worry about zealously ironing. Bonus: It has pockets!
Available in sizes S-XL.
Get the Living Newsletter
Get the insider's guide to the best in Dallas style, beauty, and wellness delivered right to your inbox each month.