Dallas designer Lela Orr is one to watch. In just five years, she has graduated from Parsons School of Design, competed on Project Runway, and co-founded a sustainable fashion brand, Ferrah.
Her Dallas-based label creates ready-to-wear pieces, bridal gowns, and custom looks with a feminine and distinct aesthetic. Each design embraces a contrast between structured tailoring and ethereal fabrics. Since the beginning, Ferrah has used natural, locally-sourced, and ethical materials.
Orr grew up in Monroe, Louisiana, and studied business at Tulane University in New Orleans before heading to Parsons for graduate school. In 2015, she created Ferrah's first collection for a thesis project.
"As a student, I never thought that this collection would become a brand," she says. "[I focused on] what I loved and what inspired me, making something beautiful and from the heart."
Orr then approached Fashion X, asking to participate in Dallas Fashion Week despite being a new designer. Her request was granted. When orders started pouring in, she saw a demand for eco-luxury fashion and relocated to Dallas. Orr met designer Lea Nyland at another Dallas runway show shortly thereafter. Nyland, who was born and raised in Denmark, studied fashion in Barcelona and worked at Zara as a womenswear designer before relocating to Dallas. Orr and Nyland officially founded Ferrah in 2017; though Nyland now lives in London, she remains a Ferrah partner and designer.
Nyland and Orr have vastly different skillsets, but each designer is critical to the collaborative design process. "Lea is a separates designer," says Orr. "She makes a great tailored jacket–that's her strong suit. She's a little bit more of a tomboy than [I am]. I love dresses, that classic look, but I make it fresh, clean, and modern."
Nyland handles most of Ferrah's detailed design work, like painting and embroidering by hand or by machine. Orr, the business graduate, manages Ferrah's financials. In all, the Ferrah team is tiny: just co-designers Nyland and Orr, the brand's PR director Cameron Owen, and a handful of interns.
Last November, Owen produced Ferrah's first runway show for Collection VI. (He was just 21 at the time.) The show's title, Aerial, reflects the inspiration for Collection VI. Orr and Nyland wanted to capture the childlike wonder of laying on the grass and looking up at the sky and clouds. The co-designers also drew inspiration from aviation, envisioning women soaring to new heights, taking flight, and feeling light as air.
"We used textiles that were voluminous, that showed movement," says Orr. "Raw silks, organic cotton, things that are light and breathable." The resulting pieces are mostly flowy and oversized, with definition only at the waist. While largely neutral, the collection incorporates hints of electric pink and lime.
Models for Collection VI ranged from size 00 to 18, and Orr is proud that Ferrah's pieces are crafted to flatter women of all body types. "You should feel like your best self when you wear [Ferrah]," says Orr. "The brand's name means 'joy' in Arabic. It's got to bring you joy, it's got to feel light and fun."
This March, Ferrah will replace its by-appointment-only studio in downtown Dallas with a brick-and-mortar storefront in Trinity Groves. Walk-in customers will now be able to shop ready-to-wear pieces in person, like slip dresses, silk scarves, and Bolero hats. The storefront will also function as the atelier for Ferrah's custom clients and brides. The brand's studio space, where each piece is handcrafted, will be housed in the back.
"[I love] working face-to-face with customers," says Orr. "Seeing what people love, how we can improve, and sharing our story about our sustainable mission."
Sustainability is at the heart of everything Orr does. While at Parsons, she learned about the Rana Plaza disaster. (In May 2013, a poorly built garment factory in Bangladesh collapsed, killing over 1,100 workers.) "It took my breath away," says Orr. "These people tragically lost their lives working in [these conditions in the garment business]. This industry is filled with brilliant people that come up with creative solutions every day. I thought, why can't we be better?"
The brand incorporates natural fabric and dyes whenever possible, and most materials are sourced from Dallas and East Texas. When local sourcing isn't an option, Orr avoids ordering from overseas and tries to use ground shipping. Everything is designed, draped, dyed, and constructed in-house.
Nothing goes to waste–scraps are repurposed into accessories, and extra fabric is donated to quilting guilds. "Fashion is the second biggest polluter after oil and gas," says Orr.
Ferrah has never used fur and no longer uses leather. Orr is currently exploring plant-based leather alternatives. (Traditional vegan leather is made with plastic and chemicals, and is not environmentally friendly.) Orr plans to use Piñatex, a sustainable and non-toxic leather alternative made from pineapples.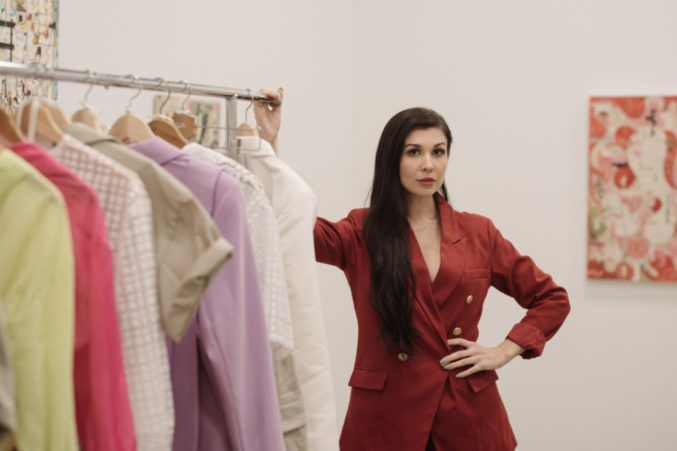 Orr shared her eco-friendly ethos with America while competing on Project Runway's 17th season in 2018.
Though Project Runway was a lifelong dream for Orr, the self-proclaimed introvert never applied–she was nominated by a friend. "Going on national TV sounded terrifying," she said.
When Orr found out she had made the cut, Nyland and the Ferrah team were thrilled for her. "For a brand like ours, you can't pay for that kind of exposure," says Orr.
Orr tried to stay true to Ferrah's aesthetic, but with only 12 hours or so to complete each challenge, some styles had to be watered down. "I [had to think], what can I do that is inspired, still feels like Ferrah, and is true to me, but within that timeframe?" One of her highest-scoring creations was a gown created for an Elegance Challenge. "That was the most 'me.' I love to make an elegant gown for an elegant woman," she says.
Orr appeared in nine episodes and placed eighth in the competition. Her biggest takeaway from the show: "I'm a very competitive person, but I realized I didn't need to look around at [what other designers are doing]. I focused on being the best in what I do. It was such a learning experience to see that growth play out on TV."
Shop Ferrah's ready-to-wear looks at ferrah.co. For storefront updates, follow @ferrahofficial.
Get the AtHome Newsletter
Enjoy Dallas' best trends, hot properties, and tips from local designers to help you nest in style delivered weekly.