One morning earlier this month, Dallas designer Yasmina Johnston used a black marker to draw a line from her heart to her neck. She said it was merely an impulse to visualize her energy. As the new fashion director of Toni & Guy, Johnston says she's fueled by these "burning heart" episodes, as she calls them, which she defines as impulses that fuel her creativity in painting and designing. Her demeanor is unassuming but bold, seemingly meek but surprisingly assertive. While Johnston is based in Dallas, her unique nature caught the eye of a major British haircare company.
Toni & Guy calls upon Johnston to style edgy wardrobes for editorial books and events. Previously, she's worked as an artist with FLOCC studio and at Traffic LA at the Joule, creating window displays and styling clients from across the world. She focused on highlighting a client's personality rather than forcing quick-fading trends. Johnston hosted her first art show in June of this year, showcasing a series of artwork at FLOCC studio in Oak Cliff. Her new job hasn't stopped her from painting, either. She is currently finishing up commissions and hopes to host another art show in the future.
I sat with Johnston and Richard Rivas, director of marketing and communications for Toni & Guy, to learn more about the designer. The following interview has been edited for length and clarity.
Can you briefly discuss your art career?
Johnston: I heavily painted when I was around 20, stopped, and just turned 32, so it's been a journey up until this point. This past December I got commissioned to do an art piece and hadn't painted in 10 years because I've been working or doing fashion. Somebody else was interested in a painting, and it started rolling, which eventually led to a sponsorship at FLOCC studio. After three months, I hosted my first art show.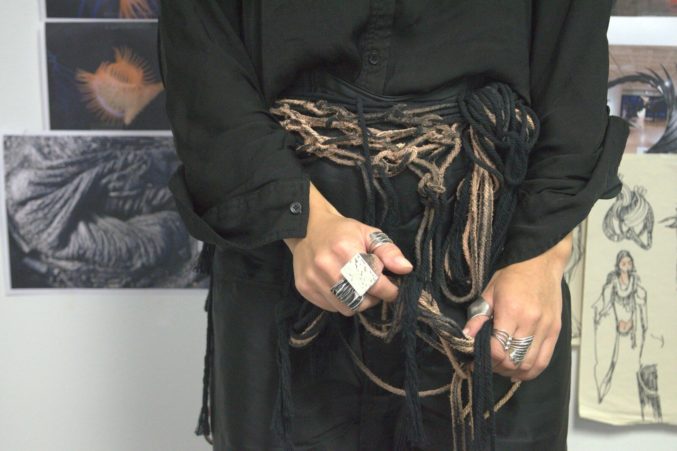 What was your inspiration behind your art show?
Johnston: There's one particular painting I did of me nude when I was 19. I was with someone at the time who was very controlling, and he made me throw away many of my works when I was 20. One of them was that painting. I still see that image in my head. It's crazy—I remember going to the Dumpster in tears, so I recently recreated that painting. I felt like it was important. Although I consider myself a modest person, I felt for that moment I needed to do that. The other women portraits I did for the show highlighted the women that support me. Some are artists and creatives, some are not, but I felt I needed to put attention to them because they don't get enough appreciation.
What did this show mean to you?
Johnston: I have never spoken about this, but when I was at the studio for the first night, I didn't know what was going to happen. I thought I was going crazy, like, what does this all mean? That first night I was there alone and have never cried so hard, and that burning energy was there. I really wouldn't be here in this position if I didn't go through what I went through in that show.
Who inspires you?
Johnston: You would think as a woman, other women inspire me, but I'm very inspired by the male artist. They have such a strong message, and with our culture, as men, they don't want to show that vulnerable side of themselves. I admire men who express they're struggling with something mentally or emotionally. It's beautiful. Franca Sozzani (the late editor of Vogue Italia) is someone I love. She completely changed Vogue and went into work every day thinking she was going to get fired, but was OK with it because it was for the future of fashion. When I did windows at Traffic LA, I went in with that same attitude; I'm going to do it until someone says no.
What role does a fashion director play for Toni & Guy?
Rivas: Our culture is driven by hairdressing and fashion, whether it be street or couture. Our influences are everything European, but we want to bring it to the U.S. It's great to have Yasmina with her attention to detail and ability to pull out inspiration from architecture or from way back in the day. We have her as the eye and pulse of fashion and work closely with her on how we bring that to the market.
What project are you currently working on?
Rivas: It's the busiest time of the year, as we're gearing up for our 23rd creative release, and photograph on November 4 and 5 in Dallas. Yasmina helped coordinate our collections, like how she described wearing things differently; one of our models is wearing a men's jacket but it looks like a dress and has a fringe to it, it's very unsuspecting.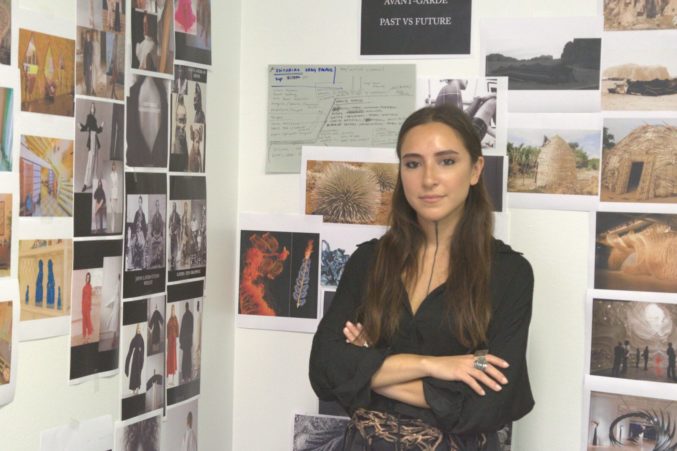 How would you explain your style?
Johnston: For me, I want to push women in a more serious manner. They can be feminine, simple, but always classic. Toni & Guy's aesthetics – especially classic cuts from the '80s – created specific cuts that allowed the female to have an identity for themselves. For me as well, I don't like garments that tell me how I'm supposed to wear it. Why can't I wear a garment backward or upside-down? I don't allow the garment to wear me; I dress the garment. Toni & Guy is a great platform, and the beauty, hair, and fashion industries are hand-in-hand. I think it will marry beautifully because my ideas for women aren't specific.
What are you most proud of in your journey as a creative?
Johnston: I had to push through a lot emotionally, mentally, and physically, but, to me, that was all necessary. Now, I'm not afraid. I was afraid for a long time. I'm not afraid anymore of anything. Except for God. I believe in my work, and whatever is coming in front of me, that's what I'm supposed to do. If there's an obstacle, I understand it's only necessary for the future, but I believe it's supposed to be something important.
Get the FrontRow Newsletter
Get a front row seat to the best shows, arts, and things to do across North Texas. Never miss a beat.