You Should Probably Get to Know M Street Studio
11 years after launching her affordable, Dallas-based jewelry line, Becca White has finally hit her stride — and earned shout outs in Vogue and Vanity Fair. 
Becca White has had an Instagram for her jewelry and leather brand, M Street Studio, since 2015. But if you scroll all the way through the account, you'll catch a clear aesthetic shift right around January of this year. The photos, much like the pieces themselves, become more simple and streamlined. "It takes a lot of trial and error to get to the right place, where your brand really feels like you," says White. "The best thing I've done for my brand and designs is to just cut our all the fussiness, and get down to things that are clean, simple, and beautiful."
The trained metalsmith credits necessity for helping hone her style. After making the move to Dallas from Austin, where she had an apprenticeship with a fine jewelry maker, she launched M Streets Studio out of her home in the Lower Greenville neighborhood in 2007. "It was right around when the recession was starting to hit, and I think it really changed people's outlook on fine jewelry," says White. "I wanted to make things that were under $100, that were easy-to-wear, and that I could make out of my house."
A friend with damaged lobes looking for earrings inspired her shift from stonework to the lightweight acrylic pieces that currently occupy her Instagram. "I've really gone to this minimal place where things are super clean and modern," says White. The chemistry major is currently working to develop an even lighter weight acrylic acetate for future pieces, and recently introduced small, simple gold hoops that can be paired with interchangeable acrylic shapes. "It offers a lot more versatility," adds White.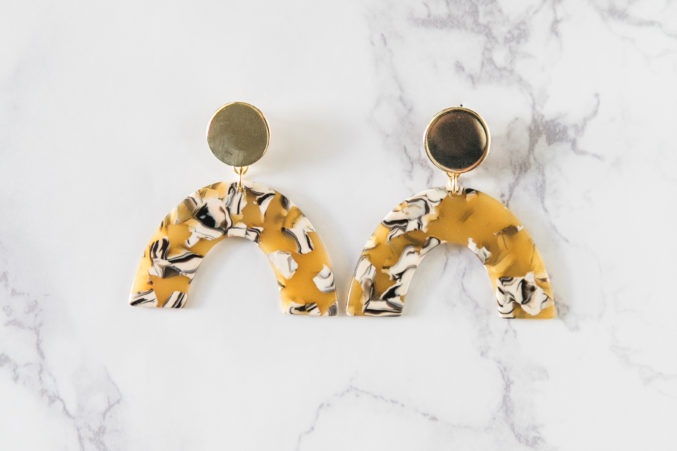 It's fortunate White found her aesthetic stride — 2018 has already proven a big year for the 11-year-old brand, thanks in part to Instagram and influencer culture. "I've gotten a lot of exposure on social media, which has led to being picked up in a lot of UK publications. I've been in Vanity Fair and British GQ. I'll be in British Vogue in December," says White. "The last six months have been crazy. I've made jewelry my whole life. I started casting and making metal pieces when I was in high school. It's been a long road to here."
More Modern and Minimalistic Dallas Jewelry Brands to Know
Opal Milk
Founded by painter Myriah (Rye) Shaw, OpalMilk is a cool-girl source for effortless home goods, artwork, a bit of apparel, and stunning jewelry, made with natural materials such as quartz, 18k gold, and silk.
Tribe Alive
The sustainable, eco-friendly Fort Worth brand is known for its clean-lined clothing, but Tribe Alive is also an excellent source for handmade jewelry. Their newest collection features 18k gold and cotton tassels, and is crafted by female artisans in Honduras.