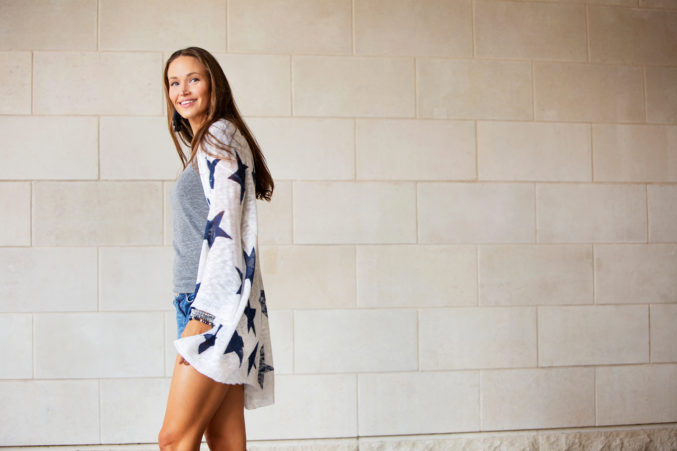 Charlotte Jones Anderson Offers Stylish, Subtle Game Day Apparel at The Dallas Cowboys Studio
Fashion meets football at the new Star boutique.
Looking at our social calendars for the months ahead, female football fans may be experiencing the quiet dread of sporting shapeless t-shirts and less-than-flattering caps. Charlotte Jones Anderson and retailers at The Star are hoping to provide an answer to these closet complaints with the opening of Dallas Cowboys Studio.
Situated inside Fans United at The Star in Frisco, the boutique offers the Cowboys' sizable female fanbase apparel that goes beyond the stereotypical cap and t-shirt options. Jones Anderson hopes to empower women and draw attention to the idea that women have a strong voice both in fashion and in the sports world. All apparel for sale was designed by women and is exclusive to The Dallas Cowboys Studio.
At Friday's media preview, Jones Anderson pointed out a few of her favorite pieces, including a grey sweater that reads "Football Mom," and a lightweight, white sweater with a bold, blue star. She also highlighted a line of see-through handbags by Kori Green, wife of singer Pat Green — a chic answer to AT&T stadium's clear bag policy.
Many pieces in the boutique are tastefully decorated with a simple, straightforward star. The subtlety is intentional, offering an option for fans who'd prefer not to paint their faces blue and silver. Jones Anderson also praises the collection's affordability — items within The Dallas Cowboys Studio range from $35 to $100.
Merchandise will rotate each month and part of the proceeds will benefit a chosen charity, starting with Dak Prescott's Faith, Fight, Finish Foundation, which honors the quarterback's mother.
The Dallas Cowboys Studio will open Saturday, September 8th, and a pop-up location for those wanting to purchase clothing at AT&T Stadium will be open beginning September 16th.