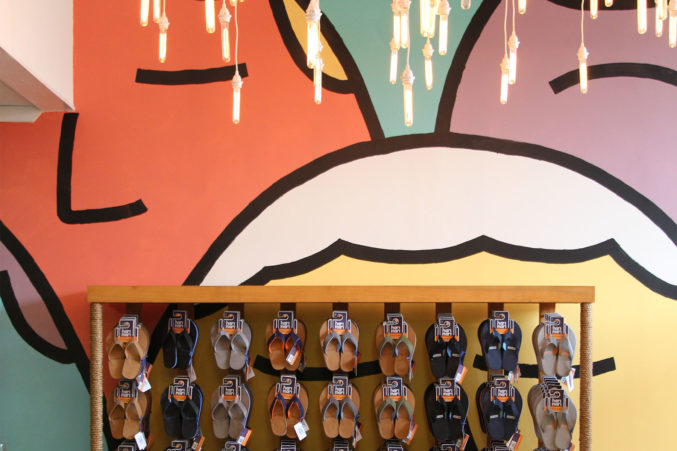 How Hari Mari's Art-Filled Shop in East Dallas Came to Be
What was intended to be a warehouse is now one of the coolest shops in Dallas.
When Hari Mari moved their offices to a warehouse on South Haskell Avenue, they didn't expect any visitors. "We thought we wouldn't have to do a storefront. People would have to physically get in their cars and drive to see us because of where we are," says Lila Stewart, who co-founded the brand with her husband Jeremy in 2012. "But people did."
Perhaps it was because of Tim Rogers' defense of grown men wearing sandals, in which he also mentions deep discounts at Hari Mari's East Dallas office. But more likely, it's that people just feel really passionately about those supremely comfy sandals. And they should.
The socially conscious brand began with a philanthropy (pediatric cancer research) before settling on the product, but it didn't take long for the Stewarts to find their focus. The aha moment came during a visit to St. Bernard Sports (which coincidentally was the first retailer to carry Hari Mari). The couple had been living and working in Jarkarta for three years, and realized that there hadn't been a change to the store's sandal selection since they left the country. A year and a half of intensive R&D later, the couple debuted their Hari Mari brand, with a focus on premium, comfortable footwear (a memory foam toe piece makes all the difference) that infuses a little color. The best part (besides Flops for Cancer, of course): No break-in period.
So it's understandable that people would wade through the box-filled warehouse to score their favorite shoes. "We thought, 'well maybe we should do something to be a little more friendly for our customers,'" says Lila.
2018 has been big for the Hari Mari team so far. Nordstrom took the brand nationwide this year, they have a new premium leather collaboration with Peter Millar that's been picked up by Neiman Marcus (who we imagine are quick finicky when it comes to carrying flip flops), and just last month, they debuted their first real storefront with the help of local artists Kyle Steed and Will Heron, whose colorful murals line the walls. Stop in to pick up a pair from every collection, including Hari Mari-branded t-shirts and tumblers, and even get your shoes monogrammed on the spot if you're into it. Your feet and conscience will thank you.