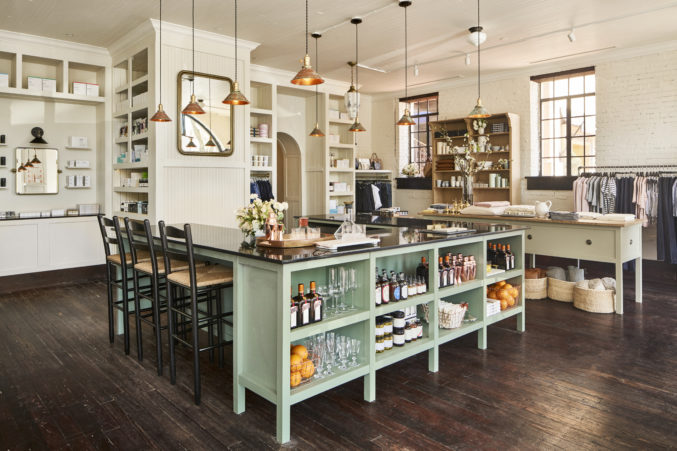 5 Reasons to Visit Dallas' New Goop Pop-Up
Paltrow's store is stationed in Highland Park Village for two months. Here's what you need to know.
Four years after Goop, the luxury, wellness-focused lifestyle brand to top all other luxury, wellness-focused lifestyle brands, first popped up in Highland Park Village, Gwyneth Paltrow's store has returned with even more to offer. Situated in the former Billy Reid space, Paltrow's airy aesthetic sets the scene for the Goop-approved mix of clean beauty essentials, Goop label apparel, vitamins, and the infamous jade eggs, along with Paltrow-penned books and luxe kitchenware surrounding a Cointreau-filled margarita bar.
We stopped by for a drink during yesterday's press preview. Here are five reasons we'll be back.
1. Margarita Mondays
Margarita Mondays are a good reason to go anywhere, but the pop-up's margs, which include seasonal produce, Cointreau, and the juice from what we'd dare to guess are organic carrots and limes, make for a particularly Goop-y draw.
2. Kid's Corner
Each section of the Goop store is thoughtfully culled, but the most fun one by far is the children's section, where you can find everything from Papoose felt toys from Nepal and a calming mist filled with Reiki-charged crystals to organic Manuka honey pops for kids.
3. Goop Hearts Texas
Every good pop-up has exclusives, and Goop's limited-edition offering does not disappoint. Paltrow herself designed the French linen tablecloth by Summerill & Bishop, which retail for $765, featuring the word "Texas" hand painted onto the fabric. Only 25 were made, so step to it.   
4. Now You're Cooking
Coconut butter, matcha sticks, CAP Beauty's Pink Mountain Salt, and Paltrow's cookbooks pepper the cooking section, but Goop's collaboration with French kitchenware Staub, with their white ceramic bases and bold brass handles, steals the show.
5. Goop for All 
There are plenty of hefty price tags (see the French linen tablecloth above), but the Goop shop isn't as expensive as you might think. For every $185 bottle of Vintner's Daughter, there's an under-$100 line like Herbivore Botanicals, along with plenty of other affordable cooking or beauty basics to commemorate that time Gwyneth Paltrow had a store in Highland Park Village.