Jaffrene Islam, a vintage fashion buyer and blogger who sells jewelry and refurbished finds online as The Lounge Cat, melds South Asian and American influences into her own distinguished style. A first-generation Bengali whose parents immigrated to the U.S. in the '90s, Islam is inspired by her cultural roots to fuse traditional accents with modern fashion.
Islam's website sells everything from vintage jhumka, a South Asian staple in the jewelry industry, to wool suits and silk blouses. I met with Islam at Commissary to discuss her work and style, including her obsession with kimonos and a penchant for wearing bathrobes in public.
What's the inspiration behind the name "The Lounge Cat?"
Cats have always been a motif in my life. I was born in August, so I am a Leo, but also I'm Bengali and the national animal is the Bengal tiger. I have always just loved cats and always had cats growing up. Right now, I have an all-black cat and his name is Genius, but I also have a cat back home in Plano named Lola. They're basically my children.
Do you have any favorite vintage shops in Dallas?
I don't want to give away the main stores I shop at, but I have found some good vintage shops. I highly recommend Lula B's. The Oak Cliff shop has a setup where the top is how those antique malls are, with booths and random stuff. If you go down to the basement there are still booths, but it's just packed with vintage clothes. It isn't priced like a thrift store, obviously, but it's great if you're looking for something unique. I actually am obsessed with bathrobes, and I recently found a vintage men's robe from Lula B's. It's so warm and comfortable. Yeah, I wear robes in public—totally trendy.
Where do you shop if you're not in a vintage store? 
Eighty percent of my wardrobe is thrift, but I do like stores like TenOverSix—they always have the most unique designers. I don't really like going to the mall unless I need to pick up some really basic underwear from somewhere. But, Etsy is great as well. Like, I was looking specifically for a kimono with quilted padding inside and I found it on Etsy.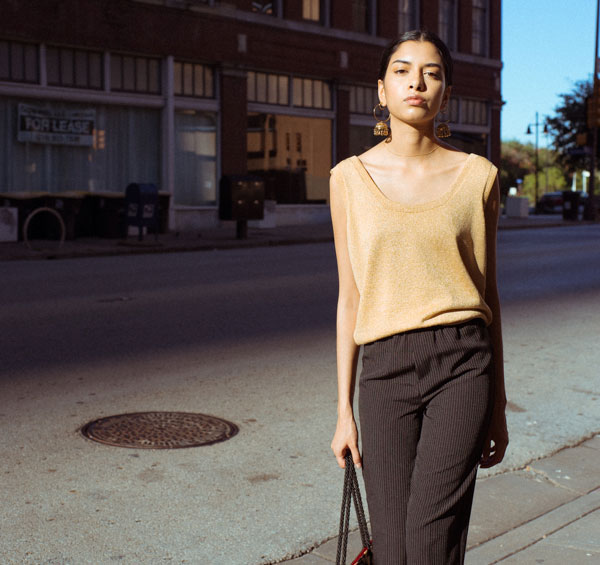 What is the inspiration behind the names of the jewelry sold on your site?
My earrings are named after Bollywood actresses from the '60s, '70s, and '80s. I have always been inspired by that era with the way the movies were shot back then. Their hair and makeup was so precise. I also liked their attitudes. Sharmila Tagore, she always picks strong female characters and sometimes plays an attitude of "hard to get."
How do you cross South Asian trends with American fashion?
I try to dress as comfortably as I can. I just love that in South Asian culture you can drape loose tops and scarves in a way that's almost kimono-like. I wear a lot of kimonos day-to-day with layered jewelry. I try to keep my outfits a little simple and make the accessories the statement pieces. For example, jewelry on my site would look great with jeans, t-shirt, and sneakers compared to wearing them with a dress.
What is your take on cultural appropriation in the fashion industry?
It definitely exists. Like, how bindis are used for decoration. I think just understanding where those pieces come from is pretty important. I try to do as much research as I can before I wear something. I've been really into kimonos and I find Japanese kimonos online and in-store and then, I think, "Is it wrong to wear?" I do research to find out if it's just a kimono used for work or if it's used for a wedding ceremony. 
Where do you see yourself next?
I hope to keep doing vintage, of course, because I think it's important to continue recycling. And hopefully I'll continue to work with jewelry. I want to travel to Bangladesh and work with the factory workers and artists there to create something sustainable, because factory workers are not paid fair wages for creating quality clothing.
Get the AtHome Newsletter
Enjoy Dallas' best trends, hot properties, and tips from local designers to help you nest in style delivered weekly.