Todd Oldham Has Designed the Most Dallas Dress Ever
And (shocker) you can only buy it in Dallas.
The most Dallas dress that anyone could ever own was probably just designed by '90s style icon and Texas native Todd Oldham. It also probably won't fit you — unless you happen to be a young girl sized 4-6, 6-8, and 8-10. Though the Texas Dress dress was created exclusively for Forty Five Ten, it joins a slew of little printed dresses and new fashion-inspired craft kits for Oldham and Tony Longoria's youth-focused brand, Kid Made Modern.
"Texas is so unique and all of these things [on the dress] are just built into my brain," Oldham said. "What I love about Texas is that it's so sophisticated and modern. It's a special place and this dress celebrates all the great historical monuments in Dallas."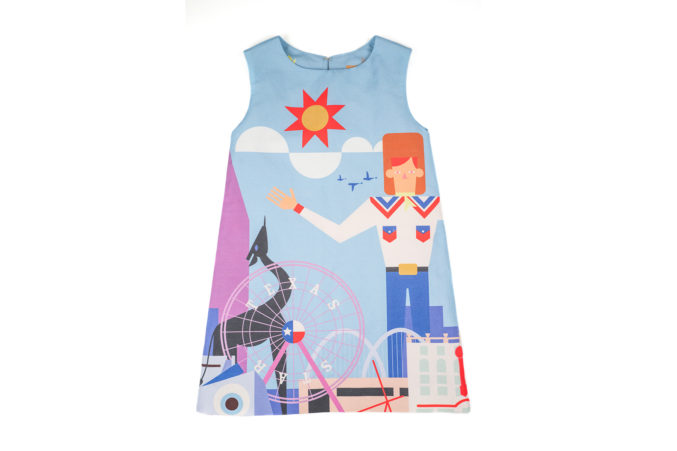 The dress may be for little girls, but that doesn't mean we all can't appreciate its iconic Dallas symbols. If you look closely, you'll notice everything from Big Tex to the Reunion Tower. There's even more classic Texas symbols, including a bluebonnet and an armadillo, hidden on the inside of the dress. While Oldham says he has no plans to make the dress in adult sizes, he did share that he has plans to expand both the clothing and the creative tools within Kid Made Modern. We caught up with Oldham last week at Forty Five Ten to fawn over the dress and check out the rest of the new items in the collection, which includes everything from a giant, diamond-shaped crown to a ukulele decorating kit.
How are you enjoying your time back here in Texas?
Oh, I always enjoy my time back here. I was born in Corpus Christi. I've lived here off and on, but it always feels very familiar.
How did you come up with the idea for Kid Made Modern?
Among the many things we do, this is one of the things that brings me the most joy. It's putting creative tools into the hands of young folks. I know that having a creative outlet saved my life as a kid, and I know it does for so many people. It's like seeing an idea coming from the air and bloom in front of you. It looks like pencils and crayons and fun stuff, and it is indeed, but in my heart and ideas, it's much, much deeper.
Let's talk about this Giant Crazy Crayon. It looks really cool!
It's really, really fun. It's one crayon, but it's made up of five different tones, so it allows you to see color and color proximity and the way it goes together. Growing up in Texas, where it's so unbelievably hot in the summer, I once left my little plastic thing of crayons in the car and they all melted together, which was way more fun anyway. I never forgot that! So, Confetti Crayons came from all those hot summers in Texas cars.
What other fun things do you have?
We like the idea of making things that you remember when as a grown up. You can actually have dress that matches your toys. We're very excited about it. This is the debut collection and we're just going to keep growing. We're going to expand on the craft offerings, too.
SaveSave
SaveSave
SaveSave
SaveSave
SaveSave
SaveSave