Patrick Coddou joined Lockheed Martin Aeronautics as a mechanical engineer straight out of the University of Texas in 2008, and ended up traveling the world selling fighter jets to American allies. His job took him everywhere from South Korea to Israel to Poland to Italy. But he couldn't shake the desire to do his own thing and he took to designing a modern version of the injector razor on nights and weekends. Last January, Coddou left his full-time gig to put all his focus on Supply—a brand he hopes will become a one-stop shop for everything men's grooming. So far, so good. I caught up with the Fort Worth entrepreneur to ask him about his startup journey.
So how did you start Supply? Did you know you wanted to reinvent the razor, or did you just want your own company?
It's more the second thing you mentioned, and the first was a way to get there. I had a good job but, man, ever since I was a kid I've always wanted my own company, you know? Just wanted to do something on my own and never knew how to do that or had the courage to leap. After seven-and-a-half years in this corporate job I realized that I better do something now or I'm going to wind up being here for 40 years like all the other people I work for—which is fine, nothing wrong with that, but not what I wanted. So razors just happened to be the idea I had at that time. I got a new idea every month, and that was just the one that I decided, you know, I'm just going to do this.
Did your experience working for Lockheed Martin help you launch your own business?
I'd say more "no" than "yes," because everything you see we've done ourselves and had to learn—the Kickstarter video, the whole campaign, photography, copy, video editing, video filming, product design, packaging design, running a business, accounting, bookkeeping, customer service, designing a website—all of it we had to learn from scratch. I learned a lot of great things at Lockheed Martin, but none of them had to do with running a small e-commerce business.
You've had great success with your Kickstarter campaigns. How did you get the word out?
So for our first campaign two years ago, it was a lot of work. We spent probably two months ahead of launch telling people about what we were doing, reaching out to blogs and press, and we were lucky to just have some really amazing friends and family that spread the word for us. And then we had a really great press hit our first day of the campaign with a website called Uncrate. It just kind of all went from there. In that first campaign, we raised just under $80,000 in 30 days.
And the Single-Edge Razor 2.0 you launched this summer?
Think of it as iPhone 6 versus iPhone 7. We took all the feedback from our first product, which always seems to have a few bugs no matter what product you're talking about, and we kind of ironed out some of the kinks. We launched version two in May and then by the end of June we had raised a little over a quarter million dollars.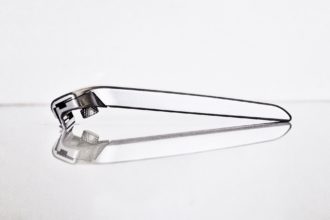 So what do you call this razor? Is this a re-creation or a re-thinking?
We reinvented the single blade razor our grandfathers used. What that means is it uses a single blade that you replace just the blade, not a whole five-bladed cartridge. There are literally millions of guys who are realizing that these old-style razors not only shave better, but they're cheaper in the long run because the blades are only 45 cents apiece.
A lot of guys search around, they have trouble with ingrown hairs or irritated skin, and they've tried every razor on the market. Their search leads them to single blade razors. And that's my story personally. I have sensitive skin. I used to hate shaving and using those five blade razors. So my search brought me to this old style of razor. I loved it so much that I thought, You know, I think I can make one of these and show more people what these are. [Ed. note: More on the science behind single-edge razors versus multi-blades (oh, the ingrown hairs!) can be found here.]
What was your wife's reaction when you told her you wanted to start your own company?
We wouldn't be doing this if it weren't for her. She knows that I'm way more excited about my work now, even though what I did was fun. There's a certain passion and joy I personally find, and I think most people find, in building something with their own hands. She's encouraged that, and we've been able to flourish and grow under her support. She's the other half of the company. She basically keeps all of our customers happy and tells them about our new products, and then I make the products and ship them out.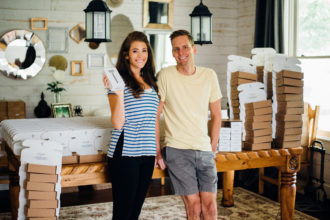 So what's next for Supply?
We've got a whole line of grooming products right now, a shaving cream, an after-shave, a body wash, and a lotion that's all made here in Fort Worth. It's all handmade. We've got a couple accessories, and we're going to roll out more products in the future like a travel case and a stand for the razor. We want to be more than just razors. By the end of next year, our goal is to own the bathroom.
Do you have any advice for young entrepreneurs?
Just put your head down, stick with it, and work hard. I know that's kind of cliché, but it's not easy. There's this entrepreneurial culture right now where people think they can start these online businesses and then become millionaires overnight just because they have a good idea. It's a lot of work. So if somebody's not willing to put in the nights and weekends and learn all the aspects of running a business, then this sort of thing is really not for them.
You can check out Supply's products here or see the razor in person at DLM Supply in Oak Cliff. Also, heads up, entrepreneurs: Coddou has kept a journal of his experience, covering everything from his Shark Tank audition to his disastrous first round with manufacturing. It's worth a read.
Get the D CEO Newsletter
Stay up to speed on DFW's fast-moving business community with weekly news reports, interviews, and insights.