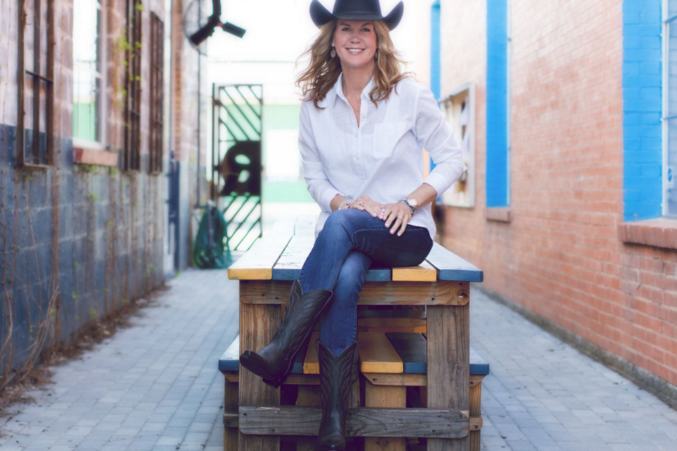 Get a Pair of Vegan Cowboy Boots in the Design District
Kat Mendenhall is bringing cruelty-free fashion to Dallas with her vegan lifestyle boutique.
Being vegan isn't just about what you ingest; what you put on counts, too. Kat Mendenhall, owner of vegan boutique, MendRT, has been reminded of this on several occasions.
At vegan-centric events, vegans regularly mistake the cruelty-free designer's cowboy boots for leather. "We were at a vegan event in Portland last fall," Mendenhall says. "People came up, and they were like, 'What are you doing here?' They can't tell the difference."
After selling her boots online for a few years, Mendenhall opened her brick-and-mortar vegan boutique last month at 1130 Dragon, Suite 240C. (It's in the same building as Laura Rathe Fine Art.) Inside, you'll find everything from polyurethane purses to bath and body products like soap and lip balm made without animal products or animal testing.
"My mission is to have high-end products in a place where vegans don't have to check the labels," Mendenhall says. "I'm a hat person. I always have to read the label, and it usually says wool."
Mendenhall, a Texas native, grew up around cattle ranching and has always loved cowboy boots. Seven years ago, she committed to a vegan diet for health reasons and quickly became passionate about it, leaving a 28-year career in sales management and taking a course at New York City's Main Street Vegan Academy.
Mendenhall admits she would have worn cowboys boots to the academy had she not found herself stuck behind a cattle trailer while driving. "I had seen it a million times before," she says. "But this time, I made that connection, and then I learned about all the ill effects of the production of leather at the academy."
But she couldn't give up on cowboy boots, so she decided to learn how to make them animal friendly. Four years ago, a Google search for "vegan cowboy boots" produced no results. Inspired, she started creating boot designs. But it took considerable effort for Mendenhall to find a boot maker in Texas with an interest in producing a vegan cowboy boot. She contacted 25 different companies and five responded, mostly to advise her against pursuing the idea in an industry that some call a dying art.
Tomasso Arditti, an El Paso-based handmade boot purveyor, was interested, and they started working on the first prototype two years ago. Determining the right material was the greatest challenge. Mendenhall knew of European fabrics used for hats and shoes overseas but wanted something nationally sourced. She dismissed PVC material as a cheap alternative to leather and eventually decided on a specific texture of synthetic organic material with a polyurethane base.
Durable, pliable, and breathable as animal leather, Mendenhall calls it vegan leather. With prices below leather boots customized and handmade with similar high levels of craftsmanship, she hopes to appeal to customers who are not vegan. "Sustainable, environment-friendly products are a better choice," Mendenhall says. "But you don't have to sacrifice quality and luxury."