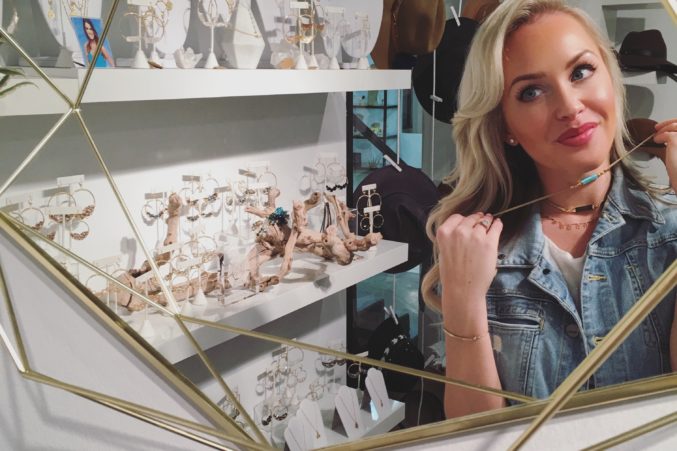 Get to Know Dallas Jewelry Designer Rory Ashton
JoJo Fletcher rocked her delicate necklaces in almost every episode of 'The Bachelor' and 'The Bachelorette.'
By Caitlin Clark
Published in Shopping & Fashion
August 22, 2016
8:00 am
Photos courtesy of Rory Ashton
There's a reason Dallasite JoJo Fletcher was chosen from a lineup of 28 eligible women to be The Bachelorette (an unprecedented title for a Bachelor runner up). Her sparkling personality and solid sense of humor were key, but her sartorial choices certainly gave Fletcher an edge. The Texas girl effortlessly rocked everything from cowboy boots to ball gowns but never lost touch with her original sense of style. There was one designer who remained a constant in Fletcher's ever-changing on-screen wardrobe: Rory Ashton.
We caught up with the local designer to learn more about her relationship with everyone's favorite reality TV lead and how The Bachelor franchise has affected her small business.
Did you know JoJo before she went on The Bachelor?
My husband has been friends with her brothers for a while, and I met her when she was in college at Baylor. She's been buying jewelry from me for a long time. I actually call her Joelle.
Did you know she'd be wearing your jewelry on the show?
I had no idea. I texted her when I saw, and she was wearing the Victoria necklace in almost every single episode of The Bachelor.
She got a few more pieces before she went to film The Bachelorette. I didn't know when or what she'd be wearing. I know she probably gets gifted a lot of jewelry, so it means a lot that she chose to wear mine. She was completely herself on the show. That was a pleasant surprise.
What was it like seeing your pieces displayed on such a huge platform as The Bachelor?
I was pulling all-nighters just trying to make necklaces. We've gotten so many orders of that turquoise choker. We sold almost 1,000 orders of those chokers in the week of The Bachelorette finale alone. It's been great.
Has the exposure affected your business?
Show Me Your Mumu started using my jewelry in their catalogues about the same time as The Bachelor started. Since then, we've gone from being carried in 20 stores to 120 stores across the U.S. I went from three employees to seven. If JoJo was wearing something on TV, I wanted people to be able to get it and not have to wait. I was just trying to make the pieces as fast as I could.
What's next for Rory Ashton Jewelry?
I just launched my new collection, Desperado. Joelle picked up some pieces before she started doing press. There's a really cool thick ribbon choker called "Desert Rose"—Joelle has that in red. I'm also going to be reintroducing the Dainty Victoria necklace in turquoise.