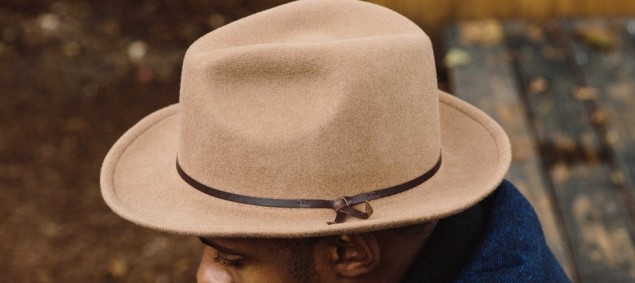 If you've been around our site much, you probably know Matt Alexander's name. He showed up in this story about garments made in Dallas. He's been on the podcast a couple times. This week his company turned two years old. It's called Need. It's an online store that sells a different curated collection of manstuff every month. Have a look at the anniversary collection that went up yesterday. There's some good stuff. But in particular, I invite you to read Matt's pitch for the hat he's selling. As someone who has struggled to write ad copy himself (my work for BC Powder was ahead of its time), I thought it was pretty well-done:
These are treacherous waters, but I'm going to do my best to articulate the sheer brilliance of this hat.

First, for all of you instantly arching an eyebrow at the sight of the word "fedora," I'm with you. Fedoras are, on a spectacularly diverse amount of levels and spectrums, terrible.

We agree.

Second, we're not going to broadcast that hats are for everyone. They're not necessarily the easiest thing to pull off and, in some cases, your head might be weird.

It's okay. I have a weird head, too. Heads, generally, are weird.

Today, though, there is a distinct trend toward wearing early-twentieth-century-esque wide-brimmed hats. And, at Need, we do not hate it at all.

It's a refined, albeit hard-to-perfect look. But, when executed correctly, will instantly up your style by several thousand percent.

For me, I've been dabbling for the past few weeks. And although you'll get looks, you'll also get more compliments in a day than you've otherwise received in your life.

People respect the effort. And, when worn well, it can be a strikingly good look.

So, we're bringing you a wide-brimmed hat from the team at Yellow 108. It's American-made with 100% merino wool, featuring a 2.75" brim and salvaged leather tie.

Paired with a white t-shirt and some raw denim, you might stun yourself with what this simple addition can do for you this Fall.

We dare you. Try it out.
Get the D Brief Newsletter
Dallas' most important news stories of the week, delivered to your inbox each Sunday.