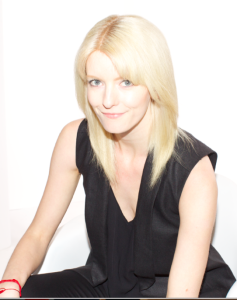 In its year and a half as a brand, AYR has been heralded by fashion editors and customers alike for its simplistic-yet-luxe approach to basics that line the walls of every woman's closet. But that's not a surprise, given the women behind the brand. Co-founders Maggie Winter, brand director, and Jac Cameron, design director, both have extensive backgrounds in fashion with Winter coming from J. Crew and Cameron from Calvin Klein. Although mainly an online brand, AYR is only sold in Nordstrom locations in LA's The Grove, Dallas' NorthPark Center, and Nordstrom Bellevue Square.
Winter and Cameron will be at Nordstrom's NorthPark Center location from 1-4 p.m. Saturday, where they'll discuss AYR's Fall 2015 line. In anticipation of their appearance, the designers talked to StyeSheet about AYR's beginnings as well as the new line. 
With a focus on denim, what was your motivation behind launching AYR?
Maggie Winter: We want to create a new line for everyday life. Now more than ever, we need our clothes to be versatile – they need to work as hard as we do! Denim is the foundation of our line because it's the hardest-working, most versatile thing in the closet. The brand's name, All Year Round, reflects our approach. We want to make things you'll want to wear, every day, all year round.
Jac Cameron: Fit and quality go hand-in-hand. Great-fitting clothes don't just come from the cut of the cloth; the fabric plays a big hand. Because our items are meant to be worn year-round and interchanged easily, we wanted to ensure quality and design that stand the test of time.
You each have substantial experience within the industry, with Jac coming from Calvin Klein and Maggie from J. Crew. How have your experiences translated into and helped shape the AYR brand?
MW: We've been so fortunate to work for some of the best retailers in the industry. We've learned the fundamentals–the importance of great product first and foremost. Working with Andy Dunn and the team at Bonobos has taught us the importance of great customer service and has introduced us to the spirit of imagination an innovation. So it's really been the best of both worlds, traditional and digital. With wash, Jac's an artist; but with fit, she's a surgeon. There is no better person for the job of creating a perfect pair of jeans.
Simplicity, accented with a touch of luxury, seems to be a consistent theme within your brand. What, or who, has influenced AYR's design?
MW: Thank you for noticing that! We really don't believe in flashy labels or logos, and we like to say that good, considered design is our signature. I feel inspired by the women on our team, our day-to-day adventures, our travels. Our influences evolve each season, but I think architecture is one of our constant references. We pay a lot of attention to the materials we use, and we think about each piece lasting a long time, so it's a relevant influence, season after season.
JC: I'm a huge fan of beauty and practicality, and that's what our customer is really looking for–clothes that work for multiple occasions. We wanted to simplify wardrobing, both in product and process. Women are educated consumers and lead full, busy lives. We've spent years shopping for ourselves, searching for that brand that offers excellent design, an edited assortment, and easy accessibility. For us, AYR is the answer to that search.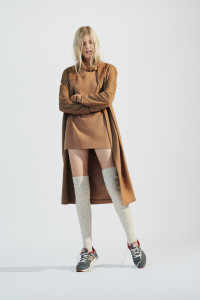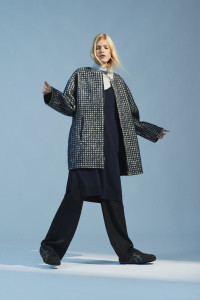 With your Fall 2015 line launching in Dallas soon, what are some of the collection's standout pieces?
JC: The Draft Jacket (sleeveless blazer) is the perfect transitional item for fall when you don't want to wear a jacket yet. Wear it with a blouse and black trousers for the office. It also goes back to bright blues and denims for a casual look. You can also toss it over a chunky or fine-knit sweater for a more evolved version. The Camel Robe is versatile. Throw it on top of yoga clothes or over your favorite dress to go out. Always feel put-together! It's great because it's a third layering piece when it gets frigid. The Cube Coat pairs perfectly with a casual bottom and works in place of a blazer over a skirt for work. It's like wrapping yourself in a cozy blanket! The unique slope of the shoulder gives both structure and fluidity to the fabric.
What were some influences that helped shape the line?
JC: Fall represents a collection of pieces based upon the principals of tailoring and the strictness of the line. The idea of "strictness" took shape when looking back to Horst P. Horst and Le Corbusier's uncompromising approach to building their aesthetic. Our focus was to build up the garments from being casual and unconstructed and take them to a more tailored, precise place. Shoulders get stronger; waists are more defined through shaping lines; pants are exact in their form. Even the interiors of the garments are focused, as minute detailing exudes a polished approach to interior finishing.
Get the AtHome Newsletter
Enjoy Dallas' best trends, hot properties, and tips from local designers to help you nest in style delivered weekly.