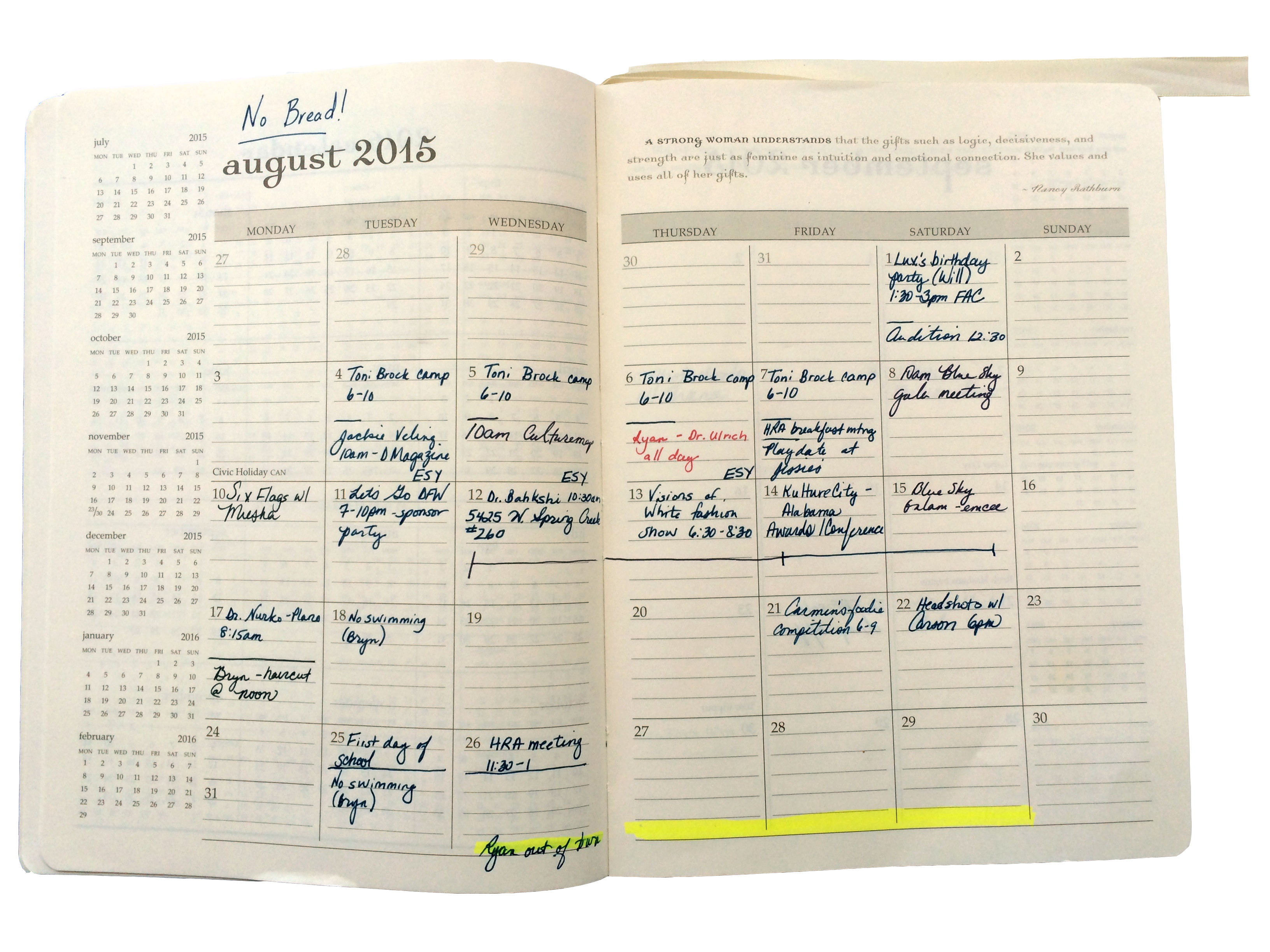 Day Planner Diaries: Dawn Neufeld
Dawn Neufeld will be the first to tell you she doesn't actually like being this busy. She simply "hustles out of necessity," filling her days with freelance legal work (She is a licensed attorney.), charity work, auditions, and caring for her family. Neufeld, who was a cast member on VH1's "Football Wives" in 2010, is also writing a personal memoir about her experiences in reality TV as well as life after the NFL and caring for a child with autism. For Neufeld, it's a labor of love­­. Passion is what keeps her motivated, even on the days when she wakes up "looking like Beetlejuice."
Her myAgenda is how she turns that passion into plans. A product of momAgenda, it's the most tricked-out planner we've seen so far, with places to write your grocery lists, party RSVPs, and even your mechanic's phone number. This is perfect for Neufeld, who says she writes down everything. And she doesn't see herself slowing down anytime soon. "I really believe, 'To whom much is given, much is required,'" she says.
How do you tackle an exceptionally busy month?
I try and focus on the finished product instead of the actual work—when you know you have a couple days off or you know you're going to be done with a big project. It gives you something to look forward to. I do big rewards. Once a year I try and get down to the Lake Austin Resort, which I just adore. That's kind of become my go-to reward every year. Work hard, kick butt, and you know that come June or July of every year, you can take a nice little trip. I go alone for four or five days. It's a little bit of heaven in Texas.
What do you do when you simply need to take a break?
I have learned to say no. It's so difficult to do sometimes, but I have learned to say no and to not feel bad about it. That's one of the biggest things I've had to overcome, and I think that's a struggle a lot of moms have. There is never enough time to do it all, so it's really about prioritizing. I look at my planner, and I see for two weeks straight that it's insane, so knowing that, I have a couple days open in the middle. I will keep those open. I will go out of my way to say, "No, I'm going to need a break." I'm not scheduling anything those days. If someone wants to have a meeting, then I say, "OK, I'm available these days, but not these days." I'm no good to anyone if I'm worn out and tired.
Your No. 1 live-or-die tip for organizing?
Expect that there's going to be discord and a lack of organization sometimes. I think I've learned to roll with the punches. Things come up. Meetings come up. I can have my whole day scheduled out and get an email from my agent at 8 o'clock the night before that says, "Hey, you've got an audition tomorrow at noon." You've got to learn to be a little flexible. To me, that is the key to organization, because if not, the stress of trying to stay so on task is almost stifling. Know there may be kinks in the road, and that's OK. It's life!
Planner Details?
myAgenda Desktop (August 2015 – December 2016) in shimmering cobalt
JACKIE VELING WAS A D MAGAZINE SUMMER 2015 EDITORIAL INTERN.