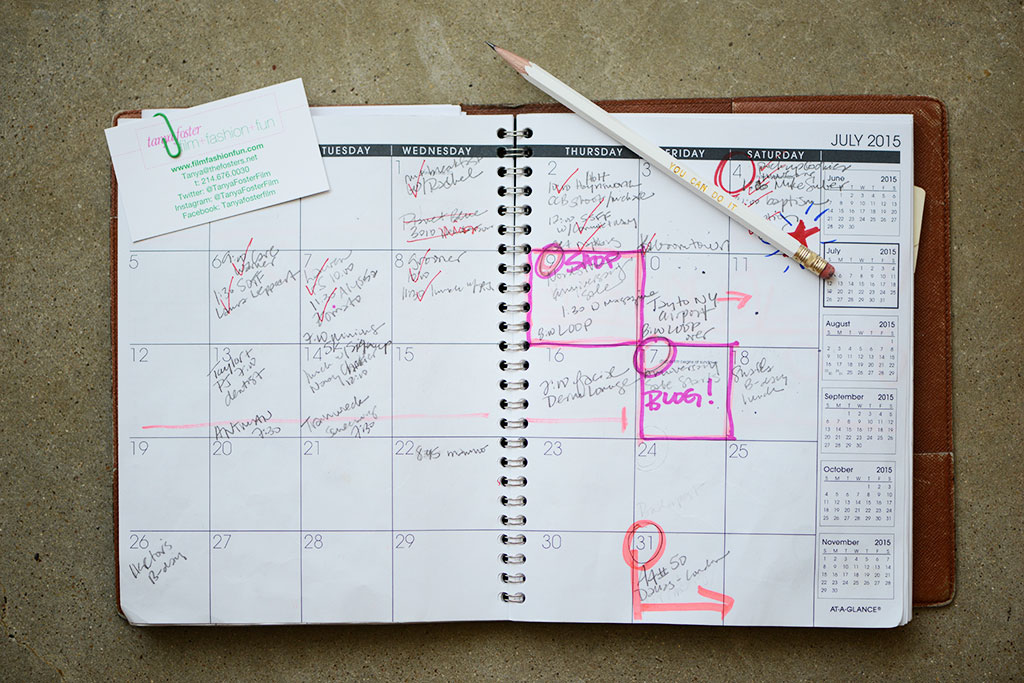 Day Planner Diaries: Tanya Foster
Tanya Foster, the woman behind the blog "Film+Fashion+Fun," is a big fan of keeping things moving. Good days are busy days, and too many blank spots on her calendar make her nervous. Luckily, there aren't many of those.
The former President and CEO of the Dallas Film Society, Foster is also a non-profit consultant, actor, producer, member of The Crystal Charity Ball, chair of the Stars & Stripes Film Festival, wife, mom… the list goes on.
So when it comes to organizing her time, Foster lives and dies by her planner. She looks at her schedule a month at a time and writes almost everything in pencil, "to keep some flexibility in there," says Foster. But the non-negotiable dates stay in bright color—vacation planning, holidays, even the Nordstrom Anniversary Sale makes the color cut. "You have to know your dates or you're going to get left out," she says. She also puts a satisfying red check mark after every completed task.
Her priceless planner isn't all business though. Tucked into its sides are a number of extras: thank you notes and stamps ("You never know when you will need to thank someone!"), family pictures, mementoes from her kids, her Christmas list, and business cards.
With the holidays right around the corner (we like to think ahead!), there's no better person to turn to than Foster to make sure our lives stay in check. Here are a few of Foster's top organizational tips.
How do you tackle an exceptionally busy month?
My rule is, "Lay a plan and work your plan." It's my favorite thing to say to people who are always frantic, like their hair is on fire. I think I've learned with age just to breath, and that there is nothing that can't be solved, somehow, someway. I feel like if you lay a good plan and then just work that plan, it's all going to turn out fine. It's when you don't lay a plan that everyone is like, "How are we going to do this? How are we going to do that?"
What do you do when you simply need to take a break?

I love to travel! And there are days where I will literally just turn everything off and go sit by the pool or take the dogs for a walk. I just unplug for a bit. It's not scheduled. I do love a good spa treatment though, because you have to disconnect. You can't be doing anything else.
Your number one live-or-die tip for organizing?
Calendar everything. If it's not on a piece of paper, it's not going to happen.
Planner Details?
At-A-Glance Monthly Planner Refill, trimmed to fit into a Louis Vuitton Agenda Cover
Jackie Veling is a

 D Magazine Editorial INTERN.