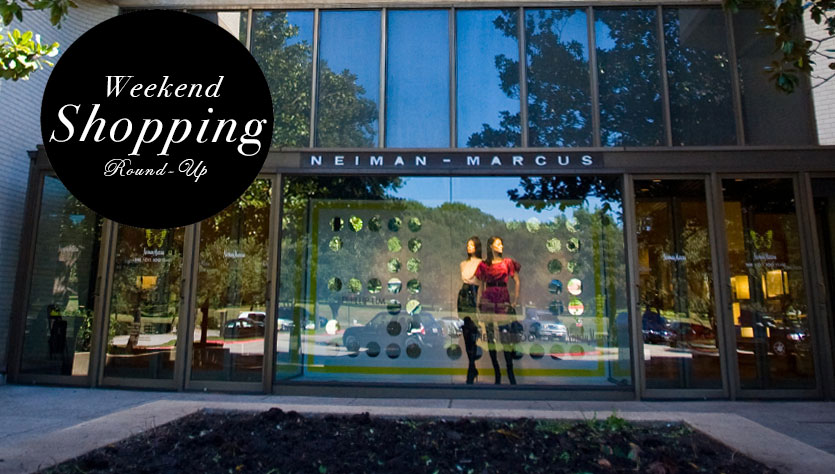 Where to Shop in Dallas This Weekend
Whether it's a sale you seek, or just a cool shopping experience, we've got you covered. Here's where to shop in Dallas this weekend. 
Madewell | Through Monday, April 13
If you're not going on mall walks, you're missing out and I suggest you give it a try this weekend at NorthPark. It will be great. The outside elements won't get to you, the after-walk snack options will be plentiful, and you can always take a break to stop into Madewell and take advantage of 25% off on shoes and dresses.
Lisa Perry Pop-Up at Forty Five Ten | Friday & Saturday 
If you can't stop by Art Ball this weekend to shop Forty Five Ten's exclusive pop-up in honor of their 15th anniversary, you can still get it on a little celebratory action at the boutique itself with a special pop-up shop featuring Lisa Perry's Spring 2015 collection.
Cole Haan | Through Tuesday, April 14th 
Grab the friends, grab the family, and take advantage of 30% off your entire purchase at Cole Haan during their Friends and Family event through Tuesday.
Alice + Olivia Pop-Up at Neiman Marcus NorthPark | Through Monday, April 12
Sure Neiman Marcus already carries Alice + Olivia, but this is a specially curated collection. When I see the words "special" and "curated" alongside "Alice+Olivia," that' really all I need to know.
Calypso St. Barth| Through Monday, April 13th
I'm always infatuated by Calypso St. Barth's French West Indies-inspired designs, but spring and summer is really the exotic store's time to shine. Grab the friends or the family (or both!) and take advantage of 25% off your entire purchase through Monday.
Beauty Live at Galleria Dallas | April 11 & 12th 
The annual beauty fest returns this Saturday and Sunday with national makeup artists, giveaways, makeovers, and a handful of beauty panels so you can take home tips and tricks. Bonus points for spotting ShopTalk editor Alison Finney on the panel of beauty experts!
Rachel Comey Pop-Up at TenOverSix | April 11th & 12th
Sip champagne and shop the latest forward thinking and feminine designs by Rachel Comey in-store at the Joule Hotel.